LG unveils world's largest Ultra HD OLED TV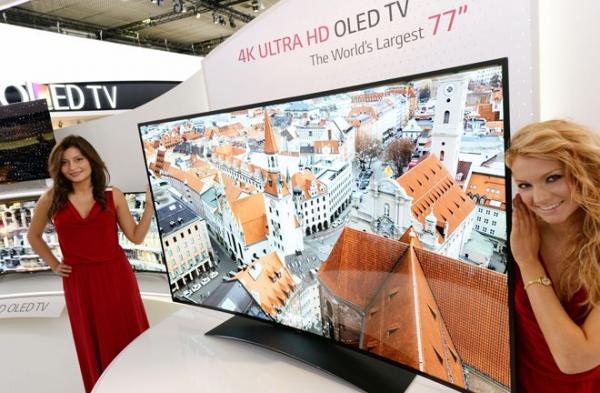 'A true home entertainment wonder that has to be seen to be believed' claims LG boss
LG has unveiled what it claims is the world's largest Ultra HD OLED TV at the IFA consumer electronics show currently taking place in Berlin. Described as 'a true home entertainment wonder that has to be seen to be believed' by LG Home Entertainment Company CEO and president Havis Kwon, the 77in curved OLED screen follows in the footsteps of the 55in model that was introduced to the public just eight months earlier at the Consumer Electronics Show in Las Vegas.
'LG was proud to be the first company to commercially launch OLED TV and we are once again setting our sights high with the Ultra HD curved OLED TV', stated Havis Kwon, president and CEO of LG Home Entertainment Company. 'This 77in TV is proof that we will never stop pushing the boundaries and exploring new possibilities.'
As well as being the largest OLED TV in the world at the time of writing, LG also claims that the 77in screen is also its most advanced TV to date. According to the press release, the screen combines LG's WRGB OLED and Ultra HD technology, enabling it to produce (ahem) 'infinite contrast ratio' as well as resolution four times greater than that of regular Full HD.
Click

here

to see what's inside Home Cinema Choice 306.

Reviews of Optoma and Epson 4K projectors, Philips' OLED934 TV, and Arendal's entry-level subwoofer; a roundup of classic movies on UHD Blu-ray; our annual gift guide; and a whole lot more...
Want to see your home cinema system featured in the pages of HCC? Click
here
for more info.