LG 84LM960V Ultra HD 4K TV review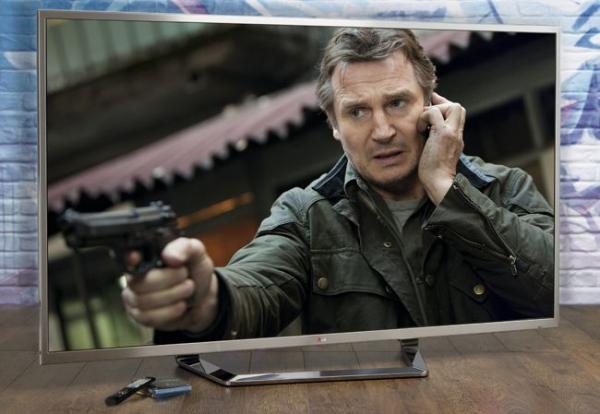 LG's debut 84in Ultra HD 4K TV marks the dawn of a new era for screen technology
The humble television is changing. As if touched up by a troupe of Kubrick monkeys, yesterday's Full HD TV is now on course for a revolutionary image upgrade to 4K Ultra high-definition, an evolution fuelled by advances in panel production, the development of new compression codec technology and a crying need to inject life into the moribund global TV market. Frankly, we couldn't be more excited.
4K Ultra HD was the star attraction at this year's International CES in Las Vegas, with every TV major dealing some form of high-resolution hand, and while native content remains a conundrum, there seems little doubt that industry-wide commitment is real. Of all the brands touting 4K, it's LG which appears to have the most to shout about. Its panel-making division, LG Display, is already the primary supplier of glass for most TV manufacturers and it remains the only outfit currently shipping UHD screens in volume, already shoehorning this massive 4K debutante into multiple stores across the land. Admittedly, it may be some time before you see them in the aisles of your local supermarket, but it's not going to be too difficult to locate a supplier. John Lewis, Currys and Richer Sounds (to name but three) have all signed up.
Not that Ultra HD will suit everyone. As 
a fledgling TV technology, it's still frighteningly expensive and this 84in screen may seem 
a little challenging to accommodate, but any tech promising four times the clarity of Full HD isn't going to come cheap and needs a really large display to be fully appreciated. That said, LG and others are introducing smaller sets at lower prices later this year. But that is next, this is now…
Big daddy display
There's no getting away from it, the 84LM960V is a phenomenal-looking beast with an immaculate finish. LG hasn't skimped on build quality. Despite what seems like an acre of metal and glass, it's relatively thin 
at 40mm, but a naked weight approaching 
70kg will make you think twice about wall-
mounting. The supplied metallic stand offers stylish curves and is easy to manage, but can prove distractingly mirrored, particularly when credits are scrolling above it.
The set's sound system is fully integrated, unlike Sony's rival 4K TV which hangs high-end speakers off the frame almost as an optional extra. Purely from an aesthetic viewpoint, the result is more harmonious, offering cleaner lines.
Connectivity is par for the high-end course: there are four HDMIs, component and Scart via adaptor, PC Ethernet and a trio of USBs, one of which handles timeshift duties to an external drive. Wi-Fi is built-in for those unable to hardwire Ethernet and there's WiDi and a Wi-Fi Share direct mode, which enables compatible mobile devices to be connected directly without burdening your home network.
Two remote zappers are included in the box, a standard LG IR control (which seems inappropriately ordinary considering the cost of this screen) plus the brand's wave-it-all-about Magic Remote wand.
The screen comes with a pack of four Passive 3D glasses, plus a pair of clip-ons 
for attaching to your prescription spectacles. As with LG's regular Full HD TVs, the 84LM960V offers passively polarized FPR (Film Patterned Retarder) 3D. Also included are two Dual Play goggles which enable simultaneous split-screen gaming. This actually works rather well. While there is some image ghosting between the two alternate views, the resulting images are clean enough for general gameplay.
Two tuners are on board: one for Freeview HD, the other for DVB-S2 satellite reception. Although intended primarily for European use, there's no reason why you couldn't hook up 
a spare Sky dish if you have problems getting 
a decent terrestrial signal. This will give alternative access to the Freesat channel bouquet, albeit without the navigational niceties of the Freesat EPG environment.
Feature attractions
In addition to 3D, the 84LM960V also offers network streaming functionality and access to LG's now mature Smart TV portal. This means there's a range of premium streaming services available, including BBC iPlayer, Netflix, Lovefilm and YouTube. The latter offers some 4K-labelled content, but while it looks nice enough, it simply doesn't compare with full-fat 4K delivered at upwards of 140Mbps. However, the set's 4K Resolution+ upscaler doesn't do too bad a job with HD catch-up steams.
The TV is DLNA compliant, with media playback facilities on a par with other premium LG Smart TVs. File compatibility covers MKV, AVI, MOV and MP4 codecs, while a Smart Share mode allows you to make the set discoverable to LG devices running the Smart Share app.
The user interface itself is somewhat disappointing, though. Rather than produce an Ultra HD-optimized GUI, LG has simply loaded up its stock UI. On a set of this size, it means the menus and text appear absolutely massive and not entirely sharp. How much nicer it would have been to get an Ultra HD remix of the interface. Hopefully LG will think hard about addressing this on its upcoming second-generation UHD models. It just doesn't do for a state-of-the-art panel like this to present a fuzzy face to the world.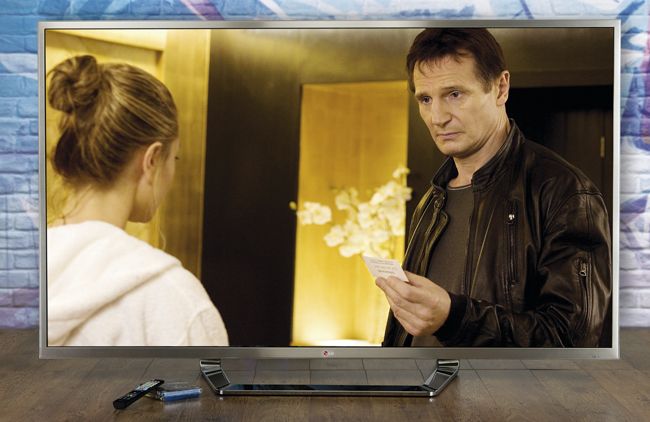 One ongoing problem facing any 4K panel proposition is the complete lack of commercial native 4K content to play on it. To get around that not inconsiderable hurdle, we evaluated this big LG with a UHD media server pre-loaded with 2D and 3D 4K test footage. An assortment of time lapse photography and CG animations may not give Sky Movies anything to worry about, 
but it says much that in Ultra HD this rather uninspiring collection transpired to be totally mesmerising. The level of absolute fine detail the screen can resolve is quite extraordinary. You can literally peer deep into an image, finding nuance and texture where previously there would only be a glowing pixel grid. It's like looking through an impossibly clean, pin-sharp window.
Thankfully, the 84LM960V quadruples regular Full HD resolution material with 
equal aplomb. BBC HD, remapped to 3,840 
x 2,160, is gloriously, cinematically smooth. 
Upscaled Rastamouse is a riot of colour, 
with immaculate detail in the rodent fur. 
With no pixel structure evident, this oversized animation looked extraordinary. The BBC's Africa documentary series is exponentially more impressive. Frankly it looked better than being there.
It's astonishing just how quickly you adjust to a screen of this size. The extra resolution translates to zero viewing fatigue; it's all wonderfully comfortable. Of course, one consequence of running a mega display is that you tend to avoid standard-definition content altogether. This isn't the hardship that it might once have been, particularly if you subscribe to a premium pay service from Sky or Virgin Media.
The panel does its best upscaling work with Blu-ray. Marvel's Avengers Assemble, a good-looking 1080p disc, takes on a vibrant density when upscaled that looks remarkably like a theatrical presentation. The premiere super group is even more formidable in 
Ultra HD.
Here's the caveat…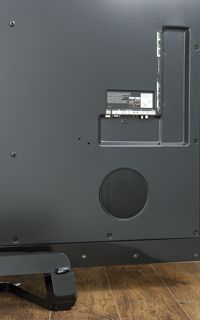 So far so good. However, while Full HD content looks surprisingly fine remapped to 
8 million pixels, there does seem to be a price paid in lag. There's a noticeable audio visual delay when navigating the menus. This problem should resolve itself on subsequent generations of kit as improvements are made to the relevant SoCs. For the most part, this processing delay is benign; however, it quickly becomes seriously detrimental when gaming. Keen players will find the lag all but destroys their FPS experience. A shame, as this massive window looks quite beautiful with video game content.
LG's huge panel uses edge-LED backlighting rather than a full array. For the most part this works well enough, with no shortage of dynamics. Light pooling is evident to the bottom left and right of the screen, but I didn't find it particularly intrusive – I've seen worse on smaller panels.
The 84LM960V delivers a solid enough black, with an appreciable level of shadow detail. There is some picture fizz evident in predominantly dark scenes, although from 
a short distance this really isn't noticeable.
LG has long been generous with tweakable options, and there's no change here. As well as the usual picture presets (Intelligent Sensor, Vivid, Standard, Cinema and Game) there are also Expert 1 & 2 modes for ISF calibrators. Advanced control options allow adjustments to Dynamic Contrast and Colour, Clear White, Super Resolution and Gamma. For the bulk of this review, the set was used with Dynamic Colour Off and Contrast Low.
The native motion resolution of the panel itself is generally good. With Full HD content, moving detail holds out to around 900 lines when measured at 6.5ppf. Engaging the various TruMotion modes bumps this up to Full HD, but inevitably creates fuzzy artefacts around certain moving objects. Horizontal panning is smooth. Ultimately, the set looked its best with either TruMotion off, or on the custom TruMotion setting with Deblur set at 0 and Dejudder at 5.
The 84LM960V's 3D performance is barnstorming. There's precious little crosstalk when viewed square on, and stereoscopic images exhibit none of the resolution drops we've seen on regular HD screens. Of course, as with any other FPR-style 3D panel, go vertically off-axis and images break up quite dramatically. Our UHD media server offered 
a selection of dimensional animation at 2160p30, which looked fabulous. Combine 
this level of immersion with lightweight passive goggles, and 3D becomes quite 
a compelling proposition.
In addition to converting 2D video content on the fly, you can also apply dimensional processing to your digital images. The end results are a good deal more interesting than randomly converting telly content, and the extra resolution available keeps detail on the right side of sharp. Photographers will surely get a thrill from seeing their work on a display this size. Pictures are scaled to 3,840 x 2,160 and look spectacular.
Sonically the set holds its own. A pair of 15W rear-mounted woofers offer plenty of mid-bass, while the downward-firing main stereo pair have enough volume and width 
to create a decent stereophonic spread.
The revolution will be televised
With a flurry of activity on the Ultra HD front coming this year, there can be little doubt that the format is developing sturdy legs. 
The high-efficiency HEVC codec has now 
been ratified, allowing chip production to begin in earnest. This will in turn lead to content distribution and the number of devices available will surely multiply.
The LG does beg the question whether 
a giant LED TV or projection technology is 
the way to go, though. Perhaps surprisingly, 
Sony's 4K VLP-VW1000ES projector is actually the cheaper option. Yet that £16,000 video-chucker is an unwieldy beast and requires a large venue to strut its stuff. On the plus side, it can deliver a super-large image that begins to rival what you might find in a commercial theatre. This 84in TV is the more intimate proposition.
Of course, it will take some time before panels of this calibre become a viable option for even well-heeled enthusiasts. LG's 84LM960V is probably best considered a taster for the new age of TV. And it's very fine dining indeed.
---
HCC VERDICT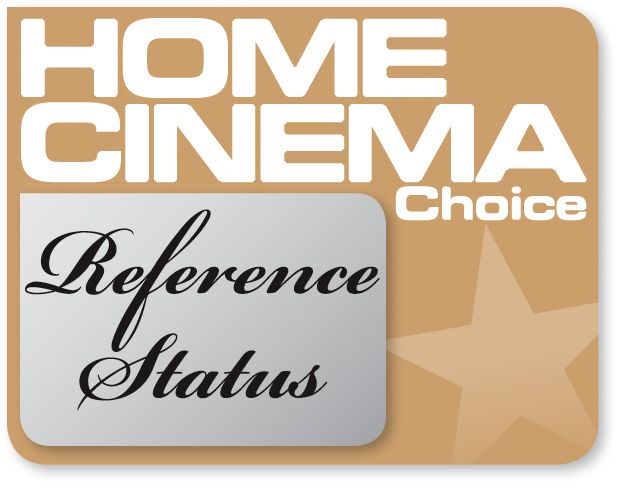 LG 84LM960V
Price: £22,500
www.lg.com/uk 
Highs: Dazzling Ultra high-def images (both native and upscaled); excellent build and design; Passive 3D impresses
Lows: User interface not UHD; noticeable lag; supplied remote feels cheap in comparison; 
bit pricey...
Performance: 5/5
Design: 4.5/5
Features: 5/5
Overall: 5/5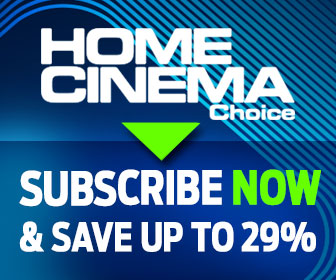 Home Cinema Choice #323

is on sale now, featuring: Panasonic JZ2000 4K OLED TV; LG SP11RA Dolby Atmos soundbar; Philips 806 OLED TV; Neill Blomkamp interview; hi-fi meets home cinema install; and more
Want to see your home cinema system featured in the pages of HCC? Click
here
for more info.