KEF Q Series 5.1 review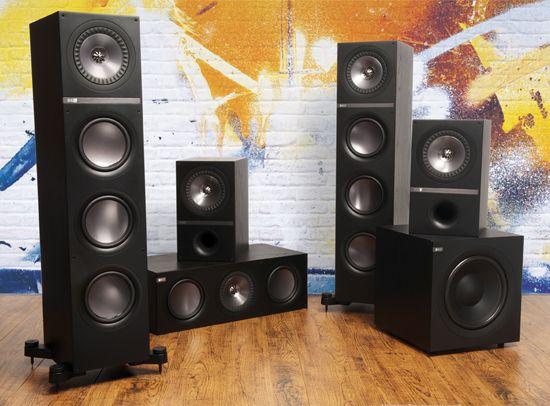 It's time to form an orderly Q...
Adam Rayner reacquaints himself with KEF's pioneering Uni-Q driver technology – and enjoys picking and choosing his own 5.1 array
Just for once, I am going to give you the meat and potatoes straight away, we can wait for a moment for the narrative… These speakers are bloody brilliant, in many ways and on a good few levels. They draw upon lots of their predecessors' technology, and while KEF makes speakers going right up to cost-no-object levels, this new Q Series (as against the still-sold 'Classic Q Series') have been made to a remarkably keen price for what they do. This has been done both by cutting corners where possible (the grilles aren't magnetic, for instance) and using evolved, proven design cunning for the sonic result to be so amazingly uncompromised everywhere else.
Memory lane
KEF was one of the very first high-quality UK speaker manufacturers I ever heard of. Back in the day, my mate's dad was a typesetter for the Financial Times, which enabled him to raise his five kids in a posh house in the shires. There was a pair of KEFs in his living room and they were delicious. A listen to Pink Floyd afterwards was always part of the pleasure of going over there to chop wood for the Aga to earn my Sunday lunch!
Then a few years ago, I had to go to KEF to review its mighty forty- thousand pound (well it was back then…) Reference system in full 7.2 glory. Using the Denon AVP/POA pre-power combo (dubbed The Death Star by the PR man) to run it on, I loved it and practically turned the room spherical with sound pressure during testing. Put it this way – the receptionist looked scared of me when we came out of the room.
One Reference customer made the 'yes' decision the week the review came out – so perhaps KEF has a soft spot for HCC. That might explain why, when asked to supply the new Q Series for us to review, they all but sent the lot [er, actually that was my fault – Ed].
You see, I do have 7.2 capability in my home with my Pioneer LX-series AVR driving a sizeable five-channel external amplifier and another big-bottomed stereo amp (as the on-board amps of the Pioneer are bloody good but not as 'reference' as I need – I use if just for the awesome processing). But my home is set up to have the cinema dominate one end of a typical suburban through-lounge, with the sofa against the wall as against floating in mid floor. So, personally, I favour reviewing a 5.1 system as it doesn't involve rearranging all my furniture. So imagine my surprise when I got sent 13.1 channels of speakers!
Picking my poison
Here's what I got and what I actually tried out. First, the inventory was a pair of the Q700 towers, two pairs of the Q500 towers, a big Q600C centre, two pairs of Q800ds dipoles and a set of Q300 bookshelfers to go with the Q400b subwoofer. Whew! I could have tried 7.1 with towers all round, or side towers and rear bookshelf, or 7.1 with two pairs of dipoles. As it was, I went 5.1 with the Q300 bookshelf speakers as rears, the Q700 and Q600C out front and the seemingly undergunned 200W 10in Q400b subwoofer on low-end duty. Afterwards, I also tried out the dipoles as rears, too.
This was cool for my room as it matches the configuration of myriad sets of speakers I have tested and meant that the fabulously sweet Uni-Q driver arrays were all the same size. I can hear the slight diff erence in unmatched tweeters and midband, even with genuine efforts made by makers to achieve even voicing.
That said, you can assemble any system you want to fit your world, as that Uni-Q driver array is a work of beauty. Hardly any gubbins inside to get in the way of the sound as the drivers' roll off s have a lot to do with the control. I gather the passive crossovers are very basic.
And the cabinets are cleverly made. The manual calls them 'Bass Reflex' in the specifi cations breakdown but that is the same term most manufacturers use to describe a ported speaker. One with a hole in it, like the Q300 speakers – although these do come with a foam port bung so you can seal them up and have them play a bit fl atter and reach a bit deeper. I left mine ported, figuring I'd rather benefit from port gain calculated by a geeky, goldeneared KEF engineer.
The centre and front left/right speakers have what look like multiple drivers. Yet they don't, they have ABR or Auxiliary Bass Resonators. These are dummy cones-in-suspension. Just like the cone assemblies of the bass drivers that have 50mm voice coils on their behinds, except ABRs just wobble. This I discovered when prodding them. You can see which drivers are connected, by micro-mimicmovements of the other cones caused by the back EMF you create with an even shove. But as I pushed one, the other just pooched out… interesting.
A passive radiator, as these are called generically, acts as both port and sealed box. You get the extra lows from the air being shifted and yet as there is no super-low frequency acoustic short-circuit – as happens below the tuning of a ported box – you get the speakers' driver reaching as low as its suspension will allow. All this tech translates to drivers that drop lower than a snake's belly with aplomb and control – very hi-fi.
The rest of the array can shake your room, too. I was thinking the Q400b subwoofer was measly at only 200W but it has a heck of a transducer – a 10in job that grips the low-end with precision and melodic accuracy, which is far too rare a thing in home subwoofers!
Hey, good-looking
As you can tell, I really enjoyed these speakers and don't care that they have square fronts rather that curvy swoopy woodwork. In fact, this 'industrial' design, as it's no doubt called by the marketing department at KEF HQ, is something of a breath of fresh air.
I also loved that, unlike a subwoofer I recently auditioned which used Ebony and offended my environmental sensibilities, these are made from eco-friendly materials. So: a gorgeous set of speakers, whose Uni-Q technology means delicate tinkly highs of fabulous transparency and beauty. They do get a bit harsh if you drive 'em too hard, but you will be raising all levels of hell and excitement before you achieve that.
Demo material included the new De Niro movie Limitless on Blu-ray. I had to screen it twice so I could take more notes as the KEF system quickly had me sucked into the action. It lapped up the film's excellent stereo rear-channel stuff – in bars and street scenes – as well as the huge fat richness from the front array.
I also swapped out the Q300s for the Q800ds dipoles. These angular cabinets, with their two out-of-phase 5.25in Uni-Q drivers, are pukka. They create a rear stage that seemingly disappears. It's just 'there'. Brilliantly crafted, but I still love that more discrete sound, so for me, it'd be a £150 saving on the use of Q300 rather than Q800ds.
Either way, these new Q Series speakers are clearly the off spring of some very clever parents and out-perform many systems from other makers at higher prices. And best of all, it's all in a rich hi-fi flavour beloved of British audiophiles. Clean, grippy yet not overblown. Pure KEF-ness, for a bit less.
---
HCC VERDICT
KEF Q Series 5.1
Price: £3,000 Approx
Highs: Wonderful, delicate transparency; grip and control; eyecatching aesthetics
Lows: Non-magnetic grilles leave lugholes when removed; can sound harsh at very high levels
Performance: 5/5
Design: 4/5
Features: 5/5
Overall 5/5
---
Specifications
KEF Q700 floorstander
Drive Units: 1 x 6.5in Uni-Q midbass driver with co-incident Uni-1in vented dome tweeter; 1 x 6.5in low frequency driver; 2 x 6.5in Auxiliary Bass Radiators
Enclosure: Two and a half-way bass reflex
Frequency Response: 40Hz-40kHz
Sensitivity: 87dB
Power handling: 130W
Dimensions: 295(w) x 917(h) x 312(d)
Weight: 15kg

KEF Q600c centre
Drive Unit: 1 x 6.5in Uni-Q midbass driver with co-incident Uni-1in vented dome tweeter; 1 x 6.5in lowfrequency driver; 1 x 6.5in ABR
Enclosure: Three-way bass reflex
Frequency Response: 45Hz-40kHz
Sensitivity: 87dB
Power handling: 150W
Dimensions: 629(w) x 210(h) x 302(d)
Weight: 14.1kg
KEF Q300 bookshelf
Drive Unit: 1 x 6.5in Uni-Q midbass driver with co-incident Uni-1in vented dome tweeter
Enclosure: Two-way ported
Frequency Response: 42Hz-40kHz
Sensitivity: 87dB
Power handling: 120W
Dimensions: 210(w) x 355(h) x 302(d)
Weight: 7.7kg
KEF Q400b subwoofer
Drive Unit: 1 x 10in
Enclosure: Sealed front-firing
Frequency Response: 28Hz-140Hz
On board power: 200 RMS Class D amp
Dimensions: 330(w) x 335(h) x 330(d)mm
Weight: 13.6Kg
Connections: Stereo phono input (right channel may be used in mono from LFE feed as 'Smart Connect') and high-level speaker input via supplied quick-release plug system

SPONSORED VIDEO

SPONSORED VIDEO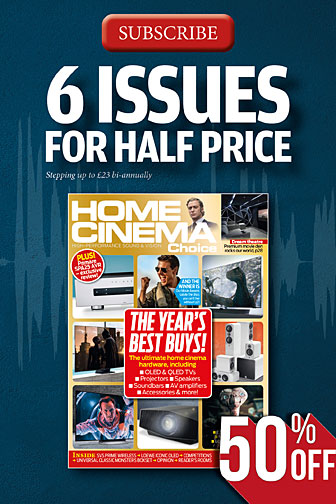 Home Cinema Choice #332

is on sale now, featuring: Samsung's 8K flagship; Anthem AVM 90 processor; B&W 800 Series Diamond; LG smart projector; Hollywood box office bombs; Hitchcock 4K; and more
Want to see your home cinema system featured in the pages of HCC? Click
here
for more info.