JVC DLA-X70 review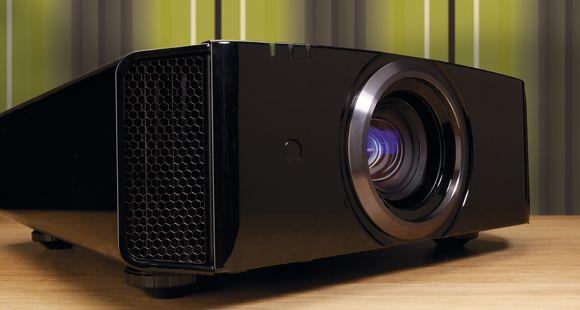 The brand's latest mid-range projector introduces buyers to the joys of 4K. Kind of.
With 3D's appeal apparently fizzing out for some, our geekometers are pointing towards 4K resolutions as being one of the next big things in AV.
Already top-end commercial cinemas are lighting up their screens with 4K projectors. Plus Toshiba has launched a 4K-resolution LCD TV, the 55ZL2, and Sony will soon start selling its 4K-resolution home cinema projector, the VW1000ES.
And then there's the JVC DLA-X70 '4K' projector sat on my test bench. Although actually, when you get into it, it turns out that JVC's take on 4K isn't the same as everyone else's.
The first clue to this is in the DLA-X70's price. At a smidge under £7,000 it's only around one third the cost of Sony's VW1000ES. But more telling is the rather important fact that unlike Sony's 4K projector, the DLA-X70 can't actually receive and show native 4K sources.
The DLA-X70's 4K claims come instead from its ability to turn normal HD feeds into 4K for output. But even this isn't as clear cut as you might imagine, since there's no upscaling processing involved. Instead the projector uses 'e-Shift' technology – developed by JVC in conjunction with Japanese broadcaster NHK – to essentially double the number of pixels that go into reproducing the original HD image without creating actual new image data. For more details, check out the 'e-Shift demystified' boxout below.
Also note that there's a further complication to e-Shift, in that it can't work with the Active 3D images the DLA-X70 is capable of showing. More on all this later.
In the mean time, I should probably get back to where I usually start my reviews: with the DLA-X70's looks. These are pretty nice as it happens, thanks to the projector's combination of a symmetrical design built around a centrally placed lens, and its gently curved, high-gloss black finish. It's a large, heavy unit but not unmanageably so.
Connections, meanwhile, include a pair of HDMIs for HD and 3D duties, while the custom installation market JVC has courted so successfully will be happy to see such system integration tools as an Ethernet port, a 12V trigger jack, an RS-232 socket, and a 'hard' infra-red control port.
It's also nice to find a D-Sub PC port. While these are common on most projectors, you don't get one on JVC's entry-level DLA-X30.
Topping the DLA-X70's spec sheet, meanwhile, is a native contrast ratio of 70,000:1. And yes, I said 'native'. There's no need, in other words, for the sort of stability-bashing auto-iris systems most projectors use to deliver a convincing/large contrast ratio. So predominantly dark scenes should be able to appear with inky black colours while still, crucially, allowing any bright, colourful bits to shine through – with more punch than would be possible if an auto-iris was having to reduce the overall brightness of the image in a quest to improve black level.

Get your goggles on
As noted previously, the DLA-X70 will playback Active 3D signals. Two pairs of JVC's Active shutter glasses are included for free with the projector. You also get a small, light external 3D transmitter: unlike Sony's VW95ES 3D projector, the DLA-X70 doesn't have a built-in 3D transmitter.
The external transmitter might not suit everyone, but I personally found it easy to accommodate, and it certainly didn't suffer any problems in terms of syncing with the glasses.
The glasses themselves aren't the best, though; they fall into the all-too-common trap of using narrow lenses, so that they don't take over your entire field of vision.
Heading into the DLA-X70's menus, the projector delivers a clear step up from the X30, thanks most notably to a full colour management system. This felt a touch imprecise at times, and its interface is unusual, but there's nothing here a qualified installer shouldn't be able to handle.
The colour management is joined, moreover, by a healthy and sensibly considered set of presets, including a THX one – the DLA-X70 has been 'quality approved' by the US group. There are also white balance and gamma controls, and the more basic setup issues of zoom, focus and image position are all handled by some extremely accurate and smooth motorised optics activated via the remote control.
Brightness worries

So JVC's DLA-X70 hasn't put a foot wrong so far. But there is one potential chink in its formidable armour: a claimed brightness of 1,200 Lumens. While this is higher than the figures delivered by JVC's pre-3D projectors, it's still not particularly promising on an Active 3D model, given that these tend to need plenty of brightness to compensate for the dimming effect of the glasses.
With this in mind, I began my picture tests of the DLA-X70 with a selection of 3D material – and came away passably impressed overall by what I saw. In fact, in some ways the DLA-X70's 3D performance is considerably better than 'passably impressive'. Once you've put the projector into its 3D mode (something that strangely doesn't happen automatically), colours look reasonably punchy and the image certainly feels brighter than the 1,200 Lumens spec led me to expect. Initially, too, it seemed as if the projector was pretty good at keeping a lid on the crosstalk noise that's the bane of many Active 3D displays.
Over time, though, it became apparent that the DLA-X70 isn't quite as 'crosstalk-free' as I'd hoped for. While it looks superbly clean when showing bright objects on dark backgrounds, it can struggle when darker objects are positioned against a relatively bright backdrop. So, for instance, during the torturous Golden Gate Bridge scene in Monsters Vs Aliens, as the deep red cables of the San Francisco bridge stand out against the light blue sky behind them, they appear on the DLA-X70 with noticeable reddish shadows to either side of them.
While such obvious crosstalk 'moments' thankfully don't crop up too often, it's undoubtedly the case that when they do appear they're distracting, and can reduce the image's overall HD clarity.
The clarity of 3D pictures takes a further hit, too, from some slight motion judder. It's a shame, perhaps, that the Clear Motion Drive processing engine built into the projector joins the e-Shift tech in not working with 3D.
For all my moaning about it, the DLA-X70's 3D picture quality remains good overall. It suffers because it sits side by side with the DLA-X70's 2D performance – a 2D performance that is barnstormingly, jaw-droppingly, pant-wettingly brilliant.
Shifting talents
Home cinema owners are used, of course, to JVC's D-ILA projectors being excellent. But thanks, presumably, to the innovative e-Shift technology, the DLA-X70 ratchets up the pressure on its rivals once again, delivering the sort of picture quality that you rarely see on a model with a price tag of less than five figures.
The balance the 2D image strikes between contrast and brightness, for a start, looks perfect. Dark scenes enjoy immaculately toned, flawlessly deep black colours, yet right alongside these within the same frame you can find outstandingly pure, vivid whites and a breathtakingly diverse and highly subtle colour palette. Furthermore, since the DLA-X70's contrast performance is achieved natively, there's no sense that shadow detail is getting lost in the drive to produce a perfect black colour. And there's also no sign of the sort of brightness 'stepping' you can get with projectors that have to make use of a dynamic iris.
The DLA-X70's two-dimensional pictures seem punchier than even those of last year's also brilliant X7 projector – a fact which I put down to JVC's e-Shift technology. By increasing the pixel density of the final projected image, the projector cuts down on the potential for 'dead' screen real estate, meaning the image can use the brightness from the lamp more effectively.

Sharp shooter
The extra pixel density really does make the image look sharper, too, helping it seem more solid, realistic and cinematically 'tangible', for want of a better word.
To be clear, the picture is not a rival for a true 4K source in terms of the detail and sense of depth it delivers, and Sony's 4K upscaling beast edges it, too. But it certainly looks better than a normal HD image, especially on really large screens.
Occasionally the e-Shifting can cause already noisy sections of background images to look a little too noisy. But this is a rare patch of 'trouble' that I can live with, considering the technology's many benefits. For instance, the greater pixel density also results in improved colour blends.
Regarding colours, even the presets look good right out of the box, so long as you don't forget to manually turn the picture presets back to a 2D mode from the 3D setting after you've watched a stereoscopic platter.
With the DLA-X70 also running very quietly in its low-lamp mode (though the noise does crank up a bit with the lamp output set higher for 3D), it really does deliver a reference 2D performance level for its price point. So much so that even one or two problems with its 3D performance can't stop its £7,000 price from looking like a bargain. Get a demo to see what I mean.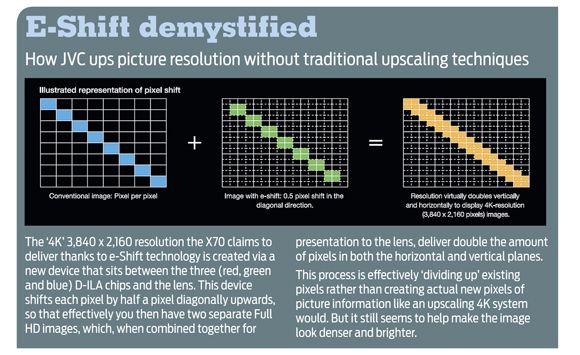 ---
HCC VERDICT
JVC DLA-X70
Price:£7,000 Approx
Highs: Sensational 2D pictures for the money; extremely well-built chassis, two pairs of 3D glasses included; setup is remarkably painless
Lows: Some crosstalk and motion judder with 3D
Performance: 4/5
Design: 4/5
Features: 5/5
Overall: 4/5
---
Analysis
GUI: Built-in test screens are on hand to get image size and focus accurate. The CMS is a bit fiddly, though
Power consumption: We measured an average consumption of 160W over a two-minute period, with a peak of 169W – eco warriors take note
Killer feature: There's no doubt – the e-Shift tech certainly improves the sharpness and detail of 2D sources
---
Specifications
3D: yes Active shutter
Full HD: yes 1080p24
Connections: 2 x HDMI; 1 x component; 1 x D-Sub PC input; 1 x 12V trigger; 1 x RS-232; 3D emitter; wired remote; Ethernet
Resolution: 1,920 x 1080 (but 4K via 'e-Shift')
Brightness: 1,200 Lumens
Contrast ratio: 70,000:1
Dimensions: 455(w) x 179(h) x 472(d)mm
Weight: 15.4kg
Features: Colour management system; gamma control; motorised focus/zoom/horizontal and vertical image shift; two pairs of 3D glasses and external transmitter included; crosstalk reduction; Clear Motion Drive processing; e-Shift technology giving faux 4K resolution; typical 3,000-hour lamp life; 20dB fan noise

SPONSORED VIDEO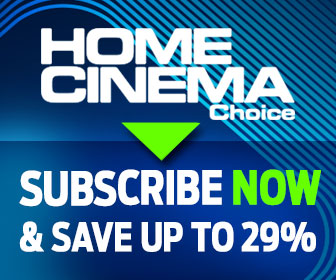 Home Cinema Choice #332

is on sale now, featuring: Samsung's 8K flagship; Anthem AVM 90 processor; B&W 800 Series Diamond; LG smart projector; Hollywood box office bombs; Hitchcock 4K; and more
Want to see your home cinema system featured in the pages of HCC? Click
here
for more info.