JVC DLA-X500R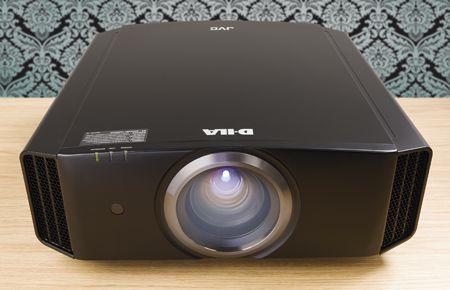 The 4K world is confusing for punters. Is it 4K or UHD? Do you need an HDMI 2.0 socket for proper 4K playback? Is 'true' 4K 4,096 x 2,160 or 3,840 x 2,160? What compression/coding format will eventual 4K discs use? And so it goes. Frankly, the last thing the burgeoning 4K world needs is a projector that can take in 4K content, uses a technology called e-shift 4K but isn't actually a 4K projector. Except that in some ways it sort of is.
In other words, I'm not feeling at all happy with JVC for causing my already overloaded AV brain to veer even closer to implosion with the latest angles on the 4K 'situation' suggested by its DLA-X500R projector. Hopefully its performance will be good enough to see off my impending headache and put a movie-loving smile back on my face.
The DLA-X500R is an attractive thing – so long as you share my view that 'serious' and 'meaty' add up to attractiveness when you're talking about quality AV gear. Available in matt white or black, its large, squarish footprint, striking vent 'wings' down each side and large centrally-mounted lens all suggest a projector that's out to take no prisoners – an impression underlined by its substantial heft.
The sense of a quality build is enhanced still further by the fact that the lens is adjusted completely mechanically, with the remote providing access to brilliantly extensive focus, image shift and optical zoom adjustments.
Connections are up to snuff too, including two HDMIs, a 12V trigger port, and both Ethernet and RS-232C options for adding the projector to a wider home control network. There's also a little circular port where you need to plug the provided 3D transmitter 'dongle' if you intend to take advantage of the DLA-X500R's 3D capabilities.
Without further ado let's get some clarity on the truth behind the DLA-X500R's '4K' claims. The single most important point is that it doesn't actually employ any native 4K-resolution D-ILA projection chipsets. So it can't output a genuine, pixel-for-pixel native 4K picture. Even when it receives a native 4K source (which it can do), it has to downgrade it to 1080p before its optical system can work on it.
However, what it does do that rivals at its £5,000 price level do not, is use JVC's e-shift 3 technology to output a signal with four times as much pixel density. How? By running images through two imaging devices offset diagonally from each other by half a pixel.
This ends up producing the '4K' pixel count JVC is so keen to talk about, while processing goes over every frame of the image to try and figure out how best to apply the extra pixels now available.
Last year this processing worked on clusters of pixels over eight frequency bands; this year, the processing is powerful enough to look at every single pixel of every single frame when working out how best to apply the '4K effect'. I'll look at what difference this makes later.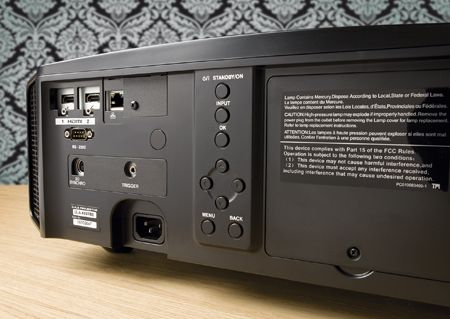 Tweaker's paradise
Despite there being two higher-end models in JVC's lineup for 2014, the DLA-X500R still comes equipped with an expansive picture calibration system. Among the sort of pro-installation-friendly tools on offer are adjustments for gamma (combining preset values and manual control over the gamma curve), colour profile, colour temperature (including a 6,500K setting), colour tint and, of course, the usual brightness, contrast and 'universal' colour elements.
There's also plenty of control over the e-shift system via the rather obscurely labelled MPC menu. Here you can simply toggle 4K e-shift on and off, or else tweak the levels of its sharpness, dynamic contrast, smoothing and noise reduction (NR) elements.
Being able to massage these parts of the e-shift system proves very welcome, as I found images to look much more immersive and effective if I moved the NR element down to just 1 and nudged the Enhancement setting down to around its 35 level from its 50 default. You don't have to follow my lead here, though; the key point is that the flexibility is there to make e-shifted images appear how you personally want them to, especially when it comes to the extra sense of sharpness that they deliver.
Two further adjustments available in the DLA-X500R's reasonably clean menus are rather less useful. The first is JVC's Clear Motion Drive – a frame interpolation system for tackling D-ILA's tendency to cause resolution loss when displaying motion. This system has, to be fair, improved greatly since its earliest iterations, but it still generates a few more unwanted processing side effects than I'm comfortable with. Most of the time I left it off.
The dynamic iris system, meanwhile, feels more like something JVC has added in frustration at the outlandish contrast ratio figures quoted by rival projectors, as opposed to something that necessarily improves picture quality by any great deal. While the dynamic iris addition allows JVC to claim a vast contrast ratio of 600,000:1 for the DLA-X500R, its native ratio (as in, totally stable, with no light 'manipulation') of 60,000:1 remains by far its most important spec. With the dynamic iris left off the DLA-X500R still delivers stunning, class-leading black levels for its price point while retaining a more consistent and thus immersive light level than you get with the dynamic iris on.
There is slightly more punch to the DLA-X500R's images with the dynamic iris in play, but personally I'd trade some of that for increased consistency every time.
Image manipulation
Now that I've stumbled into talking about the DLA-X500R's performance, I'll get stuck into my impressions of the DLA-X500R's all-important 4K e-shift shenanigans.
Basically there are two sides to the e-shift coin. On the tails side, e-shifted pictures do not look like genuine native 4K pictures. They don't have the same level of detail, precision and clarity – even when you feed in a native 4K source.
However, while e-shift 4K doesn't deliver a picture to rival a native 4K one, it does frequently improve on the look of normal Full HD footage. There's clearly – especially on very large screens of 100in and more – a greater sense of pixel density when watching Blu-rays. This gives the image a finish more like traditional celluloid or 4K digital cinema than a normal 1080p projection chip could.
In other words, it's a feature that I have no problem leaving on. The lovely cinematic finish bestowed upon the image pretty much eradicates all traces of visible pixel structure or jagged edges, and it's great to see that JVC's improved e-shift 3 engine delivers the extra pixel density on a more subtle, localised basis than it has previously, virtually removing the tendency to generate unwanted pixel noise in some areas.
A great example of this can be seen in the early Casino Royale sequence where James Bond attempts to drag a suspect he's chased down out of an embassy. The final section in the backyard is an oddly grainy sequence on the Blu-ray, and previously this has caused e-shift to leave some parts of the picture looking excessively noisy. With the latest iteration of JVC's tech, the engine spots 'problem' areas and handles them more gently, resulting in a noticeably more even image.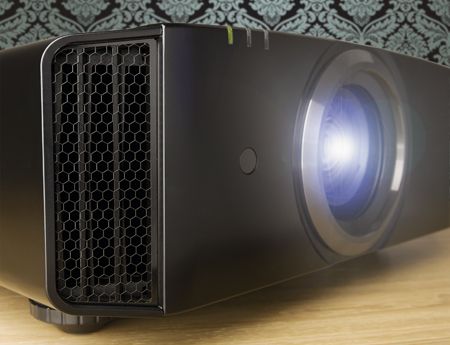 Black velvet
I mentioned earlier how the DLA-X500R can deliver a class-leading black level response in terms of both its depth and its stability. I should add that the DLA-X500R's native contrast performance is so good the projector can deliver exceptional levels of shadow detail in even the darkest images (such as the climax of The Silence of the Lambs in Buffalo Bill's blacked-out basement), avoiding the hollow look sometimes seen with projectors that call on dynamic irises for their black talents.
Excellent native black levels are usually a prerequisite to an impressive colour performance, something certainly true of JVC's mid-range model. Its rich, grey-free black foundation leads to a colour range of rare expansiveness, subtlety and accuracy. The car and driver livery in Rush, for instance, looks consistently gorgeous. You do have to iron out slight tonal biases with a couple of the DLA-X500R's picture presets, but the tools are there to achieve this relatively straightforwardly.
If there's been one disappointing thing about JVC's recent projector output, it's 3D. D-ILA 3D has tended to lack brightness and suffer with rather aggressive crosstalk ghosting noise. It's a relief, therefore, to slip on one of the DLA-X500R's two pairs of free 3D glasses and find it tackles both these issues very successfully, leaving you with a pleasingly punchy, much sharper 3D picture than the brand has managed before.
Motion in 3D images can look a little indistinct, for want of a better word, but this is a relatively small complaint in the context of all the great stereoscopy on show. Indeed, 3D may have failed to take the TV world by storm, but it absolutely has a place in a projector-based home cinema, and those who buy JVC's PJ should dig out their Gravity Blu-ray pronto.
Not quite whisper-quiet, but...
The DLA-X500R fares better with cooling fan noise than its predecessors. Or perhaps it would be more accurate to say that the improvements made to its optics meant that I didn't feel as much need to run the PJ on its highest (and noisiest) lamp output setting, as I have tended to before. Even with 3D.
In fact, aside from the potential confusion the DLA-X500R creates around its 4K capabilities, there's only one serious complaint I can raise against JVC's stellar projector: input lag. My tests measured input lag in excess of 120ms, which is high enough to upset your console/PC gaming skills when you consider that figures of 30ms or less are really needed for an unimpeded gaming performance.
I know no review of a premium non-native 4K projector can finish without some discussion of whether such a projector is still worth buying. Certainly holding off for more native 4K projectors to appear – including, we hope, one from JVC in the not-too-distant future – could be advisable if you love high resolution and are really patient.
However, despite Sony's incredible feat in getting its VPL-VW500ES native 4K projector down to £8,500, I suspect it could be some time before 4K projectors of that level of quality plummet to the £5,000 price point of the JVC DLA-X500R. So if that's the sort of budget you're looking at, I'd say you should bag yourself a DLA-X500R immediately, since it's far and away the finest projector in its class.
Specification
3D: Yes. Active
4K: No – 1,920 x 1,080, but does offer e-shift 3 4K up-res technology
Connections: 2 x HDMI; Ethernet; RS-232; 12V trigger output; 3D transmitter jack
Brightness (claimed): 1,300 ANSI Lumens
Contrast (claimed): 60,000:1 native, 600,000:1 dynamic
Dimensions: 455(w) x 179(h) x 472(d)mm
Weight: 14.7kg
Features: D-ILA projector; e-shift 3 4K technology; Clear Motion Drive processing; dynamic iris option; built-in lens memory; motorized lens adjustment; high and low lamp modes; two pairs of 3D glasses and transmitter dongle included; 2D-3D convertor; 4K signal input (up to 60fps, 4:2:0 colour base) seven-axis colour management system; +/- 80% vertical lens shift; +/- 34% horizontal lens shift; 2x zoom; 21dB fan noise (low lamp mode)

SPONSORED VIDEO

SPONSORED VIDEO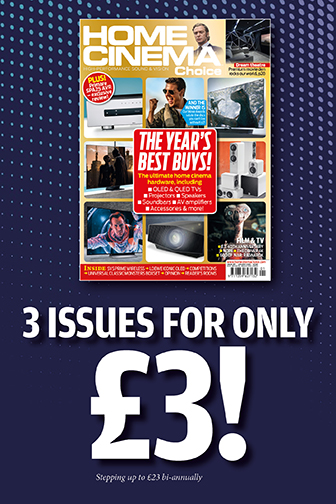 Home Cinema Choice #332

is on sale now, featuring: Samsung's 8K flagship; Anthem AVM 90 processor; B&W 800 Series Diamond; LG smart projector; Hollywood box office bombs; Hitchcock 4K; and more
Want to see your home cinema system featured in the pages of HCC? Click
here
for more info.