Iomega TV with Boxee media player review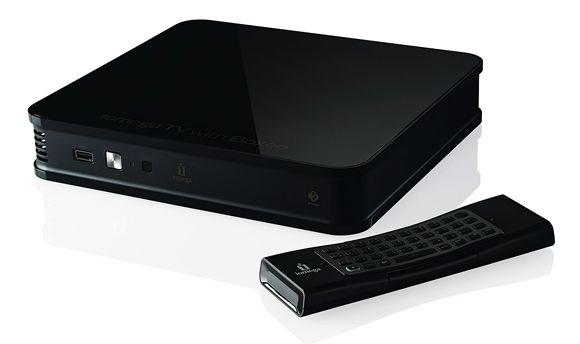 Smart media player leaves us wondering if watching TV will ever be the same again...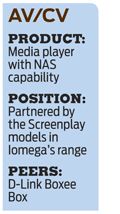 Once again we have to thank the hackers for something cool. An offshoot of the XBMC multimedia player that was installed on many hacked Xboxes, Boxee adds – amongst other things – social networking integration and plugin (app) support. It's available for Windows, Linux and Apple devices, but licensed hardware products designed around the software are now available.
One such product is Iomega TV, which is built around an Intel Atom processor. In addition to Boxee, this incorporates a NAS for storing photos, video and music that can not only be played locally, but also streamed to other players or computers on your network. Versions prefitted with 1TB and 2TB hard drives are available – or you can get a version with no local storage.
Iomega TV is compact, smart and quiet. Its front panel is distinguished only by a USB port (for local media), standby button and remote sensor. Around the back, you'll find Ethernet (integral Wi-Fi is onboard, though), HDMI, an optical digital output and analogue phonos for composite video and stereo audio.
The accompanying handset is quite ingenious. On one side are basic Boxee controls; flip it over and you'll find a keyboard for entering URLs. But while it might look pretty, it's a disappointment ergonomically. The enormous joypad buttons of the Boxee side surround a tiny OK/pause button. There's no raised 'pip' on the latter, so it's too easy to activate the wrong function.
At one time during my review it stopped working altogether, but the next morning normal behaviour had miraculously been restored – maybe an automatic software update was responsible. During the intervening period, I continued using Iomega TV courtesy of Boxee's Wi-Fi-remote Android app.
There's a web interface, but it doesn't support remote control. Instead, it deals with multimedia scanning (for the NAS DLNA server), folder/server management and enabling the 'personal cloud' (for securely sharing files with invited internet users). AV and network settings are only available via the device's own menus. From here you can, for example, tell Iomega TV what audio formats your connected equipment can handle.
Kicking and streaming
Boxee's user interface gives you some idea of how the internet is dragging TV, kicking and screaming, into the 21st century. The lower half of its home page totes recommended clips. Above these are a row of icons that access the main features. As can be expected of a platform described as a 'social media centre', one of these is labelled Friends, and allows you to recommend content to pals if your Boxee user-account is linked to Facebook and/or Twitter. 'Shows' accesses some popular programmes. Boxee seems to have some kind of relationship with Five as its more popular US fare (CSI, for example) can be streamed to your TV. The programmes are bookended by ads, but there are no breaks or logos.
Then there are the movies – over 1,000 of 'em, ranging from microbudget independents to Chaplin classics. Some are supported by ads, while others are tied in with subscription services. Selection is done via a Kaleidescape-style cover art/poster arrangement. Another feature – 'Apps' – provides more content. Most are American in flavour, and there are some real draws. Like The Onion? Then its latest spoof news reports are a couple of clicks away. Basketball followers will make a play for the NBA app, while financial obsessives will find the Wall Street Journal to their taste. Others are more international, including weather, 'net radio, YouTube, Flickr and RSS feeds. Some of the video is in hi-def (720p, I suspect).
Although there's specific no UK on-demand support, you can access the relevant site with the Iomega TV's web browser. It supports Flash, and I was able to view BBC iPlayer programmes in HD.
During browsing sessions, the onscreen cursor is moved by gently brushing your fingers against the remote's joypad. More importantly, the text-entry box doubles as a search facility. Put in whatever you're after, and Boxee might find it.
Other features of note are 'watch later', which will remind you when new episodes of a favourite TV show (if available) are ready, and, of course, the HD-capable media player, which is compatible with all common formats and works well in all but two respects. Firstly, it won't play multiple files in a folder sequentially. Secondly, if a folder has subfolders in addition to playable content, then only the latter is accessible.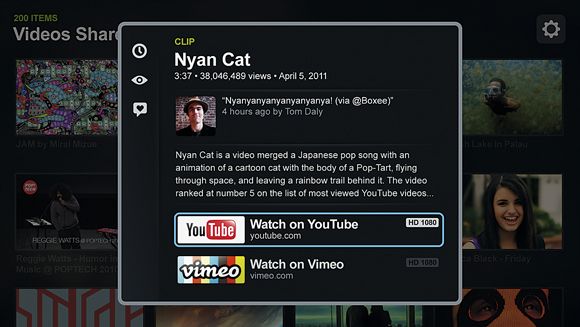 Pristine picture
Picture quality from the Iomega TV can be excellent – in particular, playback of the BBC iPlayer HD and clips from The Onion was pristine. Sometimes, though, apps failed to complete – or some of their content wouldn't stream reliably, presumably because of network congestion.
The web browser and user interface are impressively responsive, although on rare occasions my sample would stop working until a reboot was forced. As a DLNA server, Iomega TV worked fine with all of the network players I tried it with – it's just a shame that you have to laboriously copy all content via the network. A device-mode USB port would have allowed Iomega TV to be recognised as an external hard drive.
So, on the whole, Iomega TV with Boxee is an intriguing proposition – a comprehensive media player with some neat bonus features. But it's not without its niggles.
---
HCC VERDICT
Iomega TV with Boxee
Price: From £210 Approx
Highs: Slick user interface; excellent plenty of content available; comprehensive multimedia support
Lows: More AV output options wouldn't go amiss; some apps failed to work properly; no device-mode USB port
Performance: 4/5
Design: 4/5
Features: 4/5
Overall: 4/5
---
Specifications
HDD: yes (1TB or 2TB) - HDD-less version also available
Connections: 1 x HDMI; 2 x USB; 1 x Ethernet; 1 x optical digital; 1 x composite video; 1 x stereo analogue audio
Video file format support: DivX3/4/5/6; XVID; H.264; VC-1; ASF; WMV9; MPEG-1/2/4; .iso/.vob (DVD); .mp4; .mov; .m4v; WMV; .FLV; MKV; .ts/m2ts/mts/tp/trp
Audio file format support: MP3; WAV; WMA; OGG; AAC; AC3; DTS; FLAC; APE; Dolby Digital Plus
Image file format support: JPEG; BMP; GIF; TIFF; PNG
Dimensions: 245(w) x 35(h) x 163(d)mm
Weight: 0.9kg
Features: Boxee 'social media' platform; streaming of movies and TV programmes; runs Boxee 'apps'; web browser; 'search' function; integrates with Facebook/Twitter; onboard NAS with DLNA multimedia server (uPnP/iTunes); double-sided remote with QWERTY keypad; personal cloud; HD-capable multimedia player with comprehensive format support; integral Wi-fi (802.11b/g/n); Web interface; Intel Atom processor; third-party remote-control apps for Android and iOS; supports USB storage devices formatted as FAT32, HFS+, NTFS, EXT2, EXT3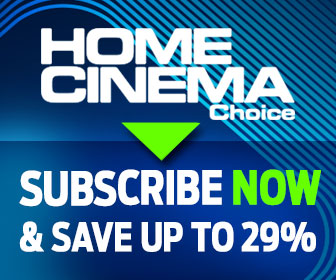 Home Cinema Choice #316 is on sale now

, featuring: Sony VPL-VW790ES 4K laser projector; B&W 600 S2 Series speakers; CEDIA home cinema awards; Humax Aura PVR; tech tips; disc reviews; opinion; and more.
Want to see your home cinema system featured in the pages of HCC? Click
here
for more info.