Imerge MS1-3D/XiVASafe Blu-ray server review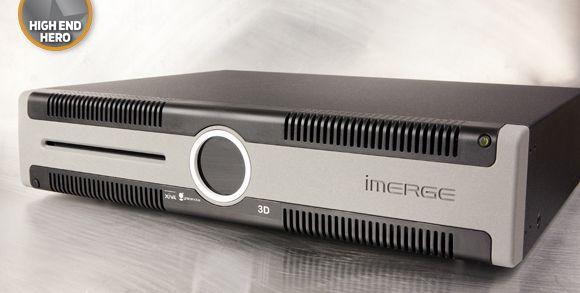 High-end AV server specialist takes a giant leap into the third-dimension
When Imerge launched its first audio server in the 1990s it altered how people thought about music in a way that has proved to be astonishingly prescient. Today, with the flagship MS1-3D, the brand has 3D Blu-ray in it sights.
As its moniker indicates, this server not only rips and stores your Blu-rays, DVDs and CDs, it's fully compliant with stereoscopic BDs. Think of it as a high-end media server for the Avatar generation.
There are caveats of course. The MS1-3D only comes to life when some third-party software is installed; straight from the box the thing only copies CDs and unencrypted movies. Not that you need worry; your friendly neighbourhood AV dealer will sort out the fine print during the product's installation.
The resulting media server experience is epic. It's like having your very own Netflix store (albeit one without the inevitable streaming compromises), right down to the tiled artwork interface. Only this one isn't populated with elderly back-catalogue dreck. Instead, it's your handpicked movies, TV shows and music delivered in pristine quality – important if you're installing it in a home theatre with a mammoth display.
For well-heeled home entertainment enthusiasts who don't have the time or inclination to get their hands dirty with PLEX, XBMC or YAMJ, it's the Holy Grail.
Hanging in there
Imerge may lay claim to creating the entire media server market, but it's been far from plain sailing for the company since those early days of CD rippers. The company was forced into premature closure during the Summer of 2010 after its US owners walked away from the business. Thankfully, the brand was saved by pro-audio outfit Prism Sound. As it happens, a more simpatico saviour it would be difficult to imagine.
Prism Sound is a major player in the entertainment industry, making hardware and software that has been used to produce everything from Metallica to the soundtrack of The Lord of the Rings trilogy. The UK-based outfit jumped at the chance of being able to extend its reach from production studios to domestic consumer.
Currently, the only comparable competition for this system comes from Kaleidescape, the US-based media server company that continues to find itself mired in legal wrangles with Hollywood majors. There are other ripping server solutions available, primarily based on Windows PCs with My Movie software solutions, but while good, these lack the slickness of this Imerge newcomer.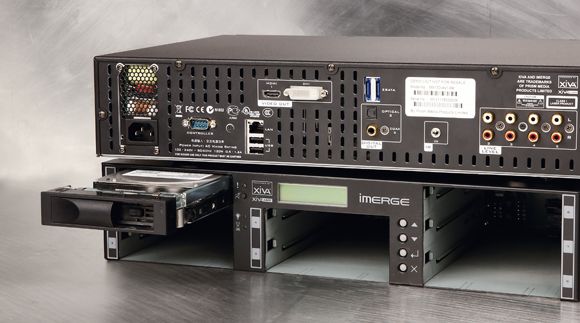 Plus ça change
While this new unit looks physically identical to the first-generation MS1, there have been considerable changes beneath the bonnet – this is much more than just a 3D upgrade. There's an improved power supply and internal fan, plus operational improvements like beefed-up language support, undoubtedly crucial for Imerge when it comes to exporting. A dozen different tongues are provided, including Russian and Chinese, selectable from the setup menu.
The player is also faster than the last iteration of the MS1. It can rip a Blu-ray ISO in about half the time it took previous models; around 30-45 minutes (DVDs and CDs are obviously copied rather faster). CDs can be compressed either as 320kbps MP3s or 128kbps WMA. While there's still no provision for FLAC, I have it on good authority that a dual encode MP3 and FLAC upgrade is in the works, which will be available as a firmware update in due course.
The MS1-3D remains a sizeable bit of kit, considerably larger than a Blu-ray player and comparable to an off-the-shelf big-box PC. However, this model appears quieter than its predecessor, and is similar to a PVR in terms of operating noise.
Rear connections include an HDMI v1.4a output, plus DVI, Ethernet, optical and coaxial digital audio outputs, four pairs of stereo phonos, an IR blaster minijack, two USBs, eSATA and RS232 control ports. The latter allows custom installers the option of integrating it with the likes of Control4 and Crestron.
As a hardware hub it's versatile. In addition to acting as a uPnP server, the MS1-3D can support four simultaneous analogue streams for multiroom audio distribution. The output quality isn't too shabby either, with Wolfson Delta-Sigma 24-bit DACs offering higher fidelity.
Keeping things safe

Differentiating this from PC-based servers, there is no local storage. The MS1-3D is designed to work with Imerge's own iSCSI XiVASafe hard drive system. While you can pull content from an external eSATA drive, Imerge sells the system with proprietary HDD storage to guarantee security and performance should any drive fail. A sliding scale of configurations are available: 3TB, 6TB, 12TB and 18TB. You can get around 300 Blu-rays on a 12TB XiVASafe, and 1,800 DVDs. A 3TB XiVASafe and MS1-3D system retails for £9,500.
The company insists that the XiVASafe is essential for installs, particularly on mega-yachts where there are considerable environmental concerns. Unfortunately this diligence ensures that non-boat owners will be paying well over the odds for their HDD space, particularly if they scale up. Even Jonathan Ross might baulk at the prospect of a Enterprise-grade hard drive infrastructure complete with environmental control being dedicated to his movie collection. But then, on second thoughts, maybe he wouldn't…
Mitigating against this though, power users can take advantage of a DigitalSafe share, which can be used to store additional content, from personal photos to documents and business data, within the XiVASafe environment.
Metadata madness
The key to maintaining a coherent online media collection is metadata, and the MS1-3D tries hard to identify and tag all content loaded on it. It scrapes a trio of databases for sleeve art and info, and gives you the opportunity to edit when there's a choice available. The system is not always successful, though. While it correctly identified my DVD of Attack the Block, it was flummoxed by a Blu-ray of Ryan Gosling's Drive. Even when opting for a manual search, it was unable to offer up Blu-ray sleeve art so I had to content myself with the DVD jacket.
Similarly, a cast recording of The Lion King stage show was identified, but no album art was forthcoming. These failures are a little odd, as the system looks up Gracenote and AMG for artist, cast information and related artwork. The system also has access to the GD3 database, which is where more obscure metadata can be added directly by Imerge owners. Helpfully, the system will automatically check to see if databases have been updated whenever a movie is archived. This should go some way to catching errant entries in time.
Having your media available at the click of a remote is a liberating experience. While I'm all for collecting and treasuring packaged media, you can't escape the fact that it's easier and more convenient to graze online. And as your online library grows, you can filter the way it appears; films can be displayed by title, genre, director or year.
Integrated music store
One unique embellishment to the Imerge experience is the brand's online music store. Opened in 2010, it has a back-end provided by 7digital, the media distribution giant part-owned by HMV. While there's not been a lot of development with the user interface since the doors opened, the GUI remains delightfully intuitive.
Browsing the XiVA store itself can provide considerable amusement even if you don't intend to buy anything. You can explore an artist's background and repertoire, scour their back-catalogue and make lateral jumps to related genres or artists. You can also hop directly from a movie in your library to the store if you want to find out more about the soundtrack album. The number of tracks available is extensive, but you may discover a few artists aren't featured.
If you do like what you find, downloads are available as DRM-free 320kbps MP3s. Online purchases are imported directly into the MS1-3D's music library.
This collection can also be accessed via iTunes, making it easy to move music onto a portable device or another media player. To get previously-ripped MP3s on to the MS1-3D, you need to drag and drop titles to the 'Import' share. Music plays back with album art.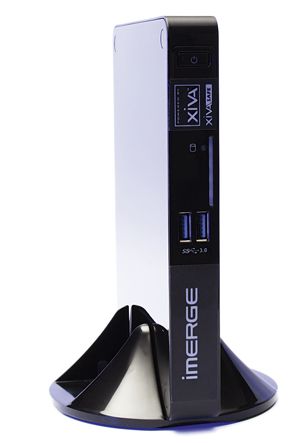 While the music folder is widely accessible, the video folder is completely locked down. You can't drag ISOs from it or import new ones to it. The system doesn't play content in common file formats such as MKV, DivX or AVI, either.
Once ripped by the MS1-3D, DVD VOBs and Blu-ray ISOs look and behave just like their physical counterpart. They load complete with menus and special features (BD-Live excluded), while video quality is as if played locally from disc. Both 2D and Full HD 3D Blu-rays unspool without unwanted artefacts. While the supplied remote doesn't exactly correspond to a typical Blu-ray player handset, making navigation a little challenging, Imerge provides an iOS control app as an alternative controller.
One of the main failings of the first-generation MS1 server has also been addressed. That early iteration was unable to deliver lossless audio from Blu-ray rips, an annoying flaw for such a high-end proposition.
Thankfully both DTS-HD Master Audio and Dolby TrueHD soundtracks are now delivered intact, provided the gear at the other end of the HDMI cable (for example an AV receiver) supports the format. Conversely, if the server registers that it's connected to a plain old television, it outputs stereo. Similarly, the MS1-3D will exactly match the native refresh rate of any connected display.
One long-awaited new addition to MS1 family is the remote client. Until now, if you wanted to stream content to different rooms from your XiVASafe cloud, you'd effectively need multiple MS1 boxes – clearly a wild extravagance.
Soon though, enthusiasts will be able to expand their systems with small, quiet client devices. Rather ingeniously, these can be placed into a small VESA harness that bolts directly onto the back of a flatscreen, using the holes nominally provided for wall mounting. This makes for a very discreet installation. Vertical stands will also be available (pictured above). Ultimately, the introduction of such clients should make the Imerge universe a much friendlier place. The company says they'll retail for approximately £2,000 when launched.
Luxury treat
Overall, this latest implementation of the MS1 can be considered a high-end, luxury treat. Purely from an execution point of view, it has significantly evolved since the first-gen model. Many niggles of that early server have been resolved, and the end result is a home entertainment solution that's extraordinarily rewarding. Buyers need to invest considerable time populating it with content, but once that has been achieved, your media collection is in safe, slick hands.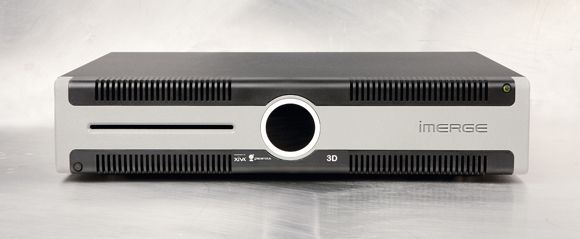 ---
HCC VERDICT
Imerge MS1-3D
Price: from £9,500
Highs: Excellent user interface; high-quality video performance; integrated XiVA store
Lows: Expensive XiVASafe storage solution; metadata lookup not 100 per cent reliable
Performance: 5/5
Design: 4/5
Features: 5/5
Overall: 5/5
---
Specifications
Server: Imerge MS1-3D with external iSCSI XiVASafe storage, various capacities available: 3TB, 6TB, 12TB, 18TB. 1TB eSATA drives also available.
Connections: HDMI v1.4a; DVI; optical digital audio output; coaxial digital audio output; eSATA port; Gigabit Ethernet; 2 x USB; RS232 serial port; 4 x line-level stereo audio outputs
Dimensions: 435(w) x 150(h) x 315(d)
Weight: N/A
Features: Full HD 3D compatible; online XiVA music store; cover art/metadata lookup via GD3, AMG and Gracenote; 1080p GUI; Wolfson Delta-Sigma 24bit DACs on analogue outputs; Dolby TrueHD, and DTS-HD Master Audio support

SPONSORED VIDEO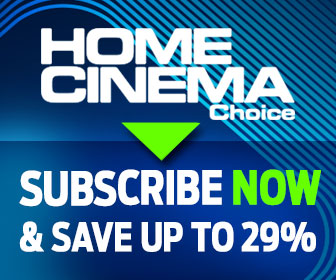 Home Cinema Choice #332

is on sale now, featuring: Samsung's 8K flagship; Anthem AVM 90 processor; B&W 800 Series Diamond; LG smart projector; Hollywood box office bombs; Hitchcock 4K; and more
Want to see your home cinema system featured in the pages of HCC? Click
here
for more info.