Home Cinema Choice 294 on sale now!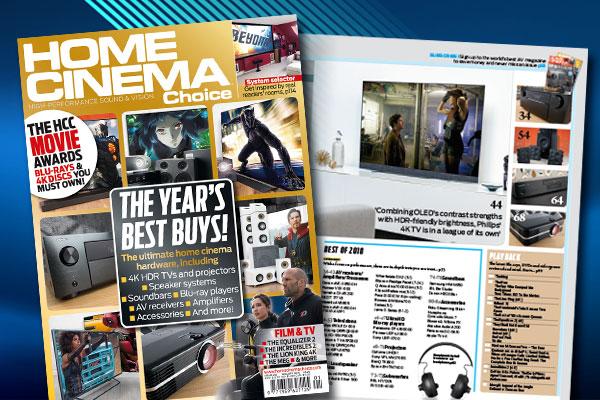 The January 2019 issue of
Home Cinema Choice
is on sale today and as usual it's packed with all manner of AV goodness. This month we take a look back at the hottest home cinema hardware from the past year, round up some of our favourite readers' rooms, and reveal the Blu-rays and 4K discs you must own in our 2018 Movie Awards!
• The year's best buys: From 4K HDR TVs and projectors, to speaker systems, sounders, Blu-ray players, AV receivers, amplifiers and accessories, we round-up the ultimate home cinema equipment released in 2018!
• Movie Awards 2018: From restored classics and TV series to big budget blockbusters, we reveal the best-of-breed Blu-rays and 4K discs from the past 12 months that deserve a place in every film fan's collection!
• System selector: Seeking some inspiration for your own movie den? Check out these terrific readers' rooms for some AV hints and tips!
• New year, new tech: We gaze into our crystal ball and predict the technology trends that will be making a splash in the coming year!
• Also: Optoma shines a light on its new ISF-certified 4K projector screens; Wilson Audio takes the wraps off its latest high-end speaker; BT reveals how its new Wi-Fi Discs will transform not-spots into hot-spots; we go behind-the-scenes at the UK's first Dolby Cinema 'Lux' theatre; Walt Disney restoration guru Theo Gluck on the art of bringing classic animated movies back to life on Blu-ray; plus all of the usual news, opinion, competitions and Blu-ray/DVD reviews.
Home Cinema Choice #311 is on sale now

, featuring: Samsung Q950TS 8K QLED TV; Emotiva 11-channel power amp; Meridian in-wall speakers; binge-worthy TV boxsets; Color Out of Space interview; disc reviews; opinion; and more.
Want to see your home cinema system featured in the pages of HCC? Click
here
for more info.