Home Cinema Choice 281 on sale now!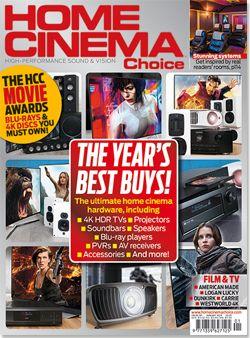 2017's best AV kit! Movie Awards! Readers' rooms revisited! Subterranean cinema! It's all here!
Our yearbook special rounds up the best home cinema gear available in an extended reviews section. From 4K HDR TVs and projectors to next-gen AV receivers and amplifiers, soundbars and soundbases, Blu-ray players, loudspeaker systems, accessories and more, we've left no stone unturned in bringing you the ultimate home cinema buyer's guide.
Of course, there's no point in having a killer home cinema system without having the very best discs to play on it. Our annual Movie Awards is here to help, celebrating the year's must-own 4K and Blu-ray releases, from restored classics and TV series to big-budget blockbusters.
Looking for inspiration for your movie den? Then look no further. Not only do we check out a superb subterranean pro-install that packs a lot into a surprisingly compact space, but we also revisit four of our favourite readers' room from the last year.
Also: Bluesound gives its Pulse soundbar a 5.1 update; Polk shows off its new HTS subwoofer range; IMAX bigwig Gio Dolci talks virtual reality experiences and expanded aspect ratios; fan-favourite audio brands Klipsch and Jamo return to the UK; meet the innovative hybrid headphones that know what your ears like and adjust accordingly; win a bundle of Christopher Nolan 4K Blu-rays; plus all of the usual news, opinion, competitions and disc reviews.