Home Cinema Choice 278 on sale now!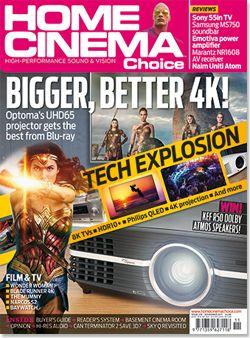 Looking for a bigger, better 4K home cinema experience? If so, then projection is the way to go – and to see why you don't have to look any further than this month's cover star, Optoma's UHD65. Check out our in-depth review to find out why this range-topping 4K HDR DLP compact projector is well worth auditioning for a spot in your set-up.
We also take a trip to Europe's biggest annual technology expo to witness an explosion of smart speakers, revamped projector ranges, OLED TV challengers and get ready for a new format war as HDR10+ starts making waves with AV manufacturers and Hollywood studios.
We're giving one lucky reader the chance to give their existing home cinema set-up an audio upgrade as we give away a pair of KEF's R50 Dolby Atmos speaker modules worth £600!
Also: We reveal why you really should be making the most of your system's ability to play hi-res audio files; With TV manufacturers ditching stereoscopic tech, what does the future hold for 3D Blu-ray?; Humax shows off its next-generation FVP-5000T PVR; Room EQ specialist Dirac discusses its new calibration app; Sony's affordable KD55XE8596 4K TV; Marantz's slim-line NR1608 AVR; Samsung's sophisticated HW-MS750/SW-W700 soundbar/subwoofer system; Wonder Woman explodes onto Blu-ray; plus all of the usual news, opinion, competitions and Blu-ray/DVD reviews.