Home Cinema Choice 272 on sale now!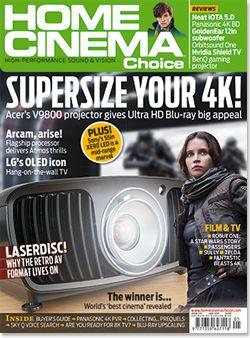 Acer Ultra HD projector! Arcam Atmos AVR! LG Wallpaper TV! LaserDisc! Rogue One! It's all here!
Taking centre-stage on the cover is Acer's flagship V9800 Ultra HD projector. Check out our in-depth review to find out why this 4K DLP debutant is tailor-made for supersizing your Ultra HD Blu-ray collection.
Further examples of cutting-edge home cinema kit can be found in our review of Arcam's awesome new AV860 reference-level preamp/procesor and our journey to San Francisco to 'hang out' with LG's innovative W7 OLED 4K 'Wallpaper TV'. Or, if you prefer something a little more retro, we take a look back at the history of LaserDisc and reveal why we still love this vintage movie format.
Elsewhere, we step inside the stunning Star Wars-styled home cinema install that won the prestigious Best Home Theatre gong in CEDIA's Global Awards. And if that's not enough Force-related fun for one issue, our expert reviewers give their verdict on Disney's Rogue One: A Star Wars Story Blu-ray. Is this the home cinema demo disc you've been looking for?
Also: The hits and misses of videogame movies; Panasonic shows off the world's first 4K UHD Blu-ray recorder combi; Philips steps up its commitment to OLED and Freeview Play TV tech; Neat's space-saving mini-floorstanding IOTA 5.0 speaker array; Sony's mid-range KD-55XE9005 55in direct-lit 4K LED TV; Orbitsound's One P70 Bluetooth soundbar with airSOUND tech; Second-generation Nvidia Shield TV set-top box; Fantasic Beasts and Where to Find Them 4k; plus all of the usual news, opinion, competitions and Blu-ray/DVD reviews.