Home Cinema Choice 252 on sale now!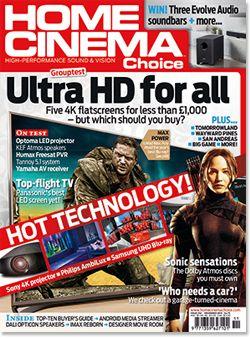 Ultra HD TV grouptest! Dolby Atmos Blu-ray roundup! 4K Blu-ray player! It's all here!
As TV technology moves forward we're here to make sure you keep up - starting with a grouptest of five sub-£1,000 4K/Ultra HD TVs from Finlux, John Lewis, Panasonic, Philips and Samsung. And the 4K fun doesn't end there, as we also have an in-depth review of Panasonic's TX-50CX802 TV, the brand's best LED screen to date!
We also reveal the hottest home cinema kit on show at this year's IFA AV expo, including Samsung's debut Ultra HD Blu-ray player, Panasonic's first foray into the world of OLED TV, and more Ambilight craziness from Philips.
Elsewhere we reveal the highs and lows of next-gen audio as we roundup the first wave of Dolby Atmos platters. Meanwhile, Mad Max: Fury Road and San Andreas add even more object-based audio thrills to this month's selection of Blu-ray reviews.
We're also giving three lucky reader sthe chance to win a stylish Evolve Audio SB-2501 Bluetooth soundbar!
Also in the issue: BT Sports contemplates adding Atmos audio to 4K broadcasts; West End IMAX cinema chosen for European debut of new laser projection system; Sony brings HDR to projectors; the future of AV connections; Tannoy's affordable HTS 101XP sub/sat package; Optoma's rejuvinated HD91+ DLP LED projector; Technisat's Bluetooth-equipped Audiomaster BT soundbar; WeTek's affordable Android media player; and much more!
Plus all the usual opinion, news, disc reviews and competitions. Enjoy the show.
Want to make sure you never miss an issue of HCC? Then it's time to subscribe – click here for more info.
Looking for a back issue? Then click here.
| | | |
| --- | --- | --- |
| | | Home Cinema Choice #310 is on sale now, featuring: M&K Sound and ATC 5.1 speaker systems; Bang & Olufsen Dolby Atmos soundbar; Philips 2020 TV range unveiled; Samsung and Hisense 4K HDR TVs; disc review; and a whole lot more. |
Want to see your home cinema system featured in the pages of HCC? Click
here
for more info.