Home Cinema Choice 250 on sale now!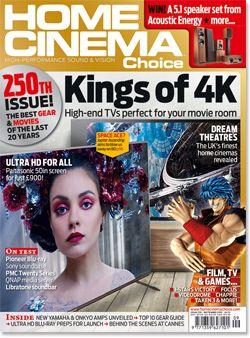 The best gear and movies of the last 20 years! High-end TV grouptest! The UK's best pro installs! It's all here!
To celebrate our 250th issue, we take a look back at the technologies and movies that have shaped home cinema over the 20 years since HCC first hit the shelves.
Looking towards the future, we pit a trio of forward-thinking Ultra HD TVs from LG, Samsung and Sony against one another in our grouptest to see which should be crowned the king of 4K!
Take a tour of the UK's finest home cinemas and movie dens as we reveal the cream of the custom install crop crop from this year's CEDIA Award winners!
We're also giving one lucky reader the chance to win an Acoustic Energy 1-Series floorstanding 5.1 loudspeaker array, worth £1,200!
Also in the issue: Blu-ray Disc Association boss spills the beans on Ultra HD Blu-ray; Sony explains why its shunning Dolby Atmos and DTS:X in favour of multiroom audio; Panasonic's TX-50CX700 LCD TV delivers 4K and Firefox for under £1,000; Sony's STR-DN860 entry-level 7.2 channel AV receiver; PMC's premium Twenty Series 5.1 speaker package; Libratone's stylish Diva soundbar; Pioneer's over-achieiving BDP-LX58 Blu-ray player; QNAP's living room-friendly TS-453mini NAS Bluesound's versatile multiroom system.
Plus all the usual opinion, news, disc reviews and competitions. Enjoy the show.
Want to make sure you never miss an issue of HCC? Then it's time to subscribe – click here for more info.
Looking for a back issue? Then click here.
| | | |
| --- | --- | --- |
| | | Home Cinema Choice #310 is on sale now, featuring: M&K Sound and ATC 5.1 speaker systems; Bang & Olufsen Dolby Atmos soundbar; Philips 2020 TV range unveiled; Samsung and Hisense 4K HDR TVs; disc review; and a whole lot more. |
Want to see your home cinema system featured in the pages of HCC? Click
here
for more info.