Home Cinema Choice 244 on sale now!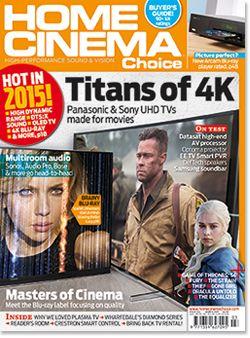 4K TVs! HDR displays! Multiroom audio grouptest! Masters of Cinema! DTS:X 3D! It's all here!
We get our hands on Panasonic's TX-55AX902 and Sony's Bravia KD-65S9005B 4K/Ultra HD TVs and discover that these two titanic tellys are truly made for movies.
From High Dynamic Range displays and Android TVs to 4K Blu-ray players and DTS:X 3D we check out the hottest tech on show at this year's CES expo in Las Vegas.
Love the idea of streaming music around your home, but don't know which wireless audio eco-system to pick? Let Team HCC make things a little easier for you as Sonos, AudioPro, Bose, Pure and Samsung battle it out to be crowned the multiroom maestro in our grouptest.
Also in the issue: The masterminds behind Eureka's Masters of Cinema label talk Blu-ray and beyond; Brit brand Arcam serves up a high-end Blu-ray deck with serious audiophile ambitions; Datasat keeps an eye on next-gen speaker setups with its LS10 surround sound processor; telecoms provider EE takes timeshifting to another level with its EE TV Smart Box
Plus all the usual opinion, news, disc reviews and competitions. Enjoy the show.
Want to make sure you never miss an issue of HCC? Then it's time to subscribe – click here for more info.
Looking for a back issue? Then click here.
Click

here

to see what's inside Home Cinema Choice 306.

Reviews of Optoma and Epson 4K projectors, Philips' OLED934 TV, and Arendal's entry-level subwoofer; a roundup of classic movies on UHD Blu-ray; our annual gift guide; and a whole lot more...
Want to see your home cinema system featured in the pages of HCC? Click
here
for more info.