Home Cinema Choice 243 on sale now!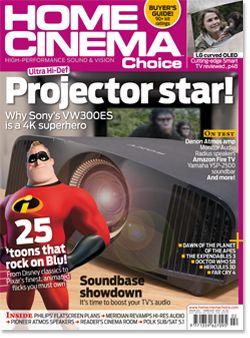 4K projector! Curved OLED! Soundbase grouptest! Dolby Atmos! Next-gen Ambilight! It's all here!
Sony cuts the cost of entry to the world of bigscreen Ultra HD home cinema with the arrival of its sub-£6,000 VPL-VW300ES projector. Find out why it's a true AV superhero in our in-depth review.
With Disney's latest animated smash Big Hero 6 exploding into cinemas, we take a look at the very best 'toons available to buy on Blu-ray. From hand-drawn psychedelia to cutting-edge CGI, every one of these discs deserves a place in your film library.
Thinking about giving your TV a sonic upgrade? Then you'll definitely want to check out our s'oundbase showdown' , where we pit a quartet of audio boosters from Canton, Roth, Samsung and Yamaha against one another.
Also in the issue: Dutch tech brand Philips reveals why the future is looking particularly bright for its TV wing; LG brings the excitement back to Full HD with its 55EC930V curved OLED Smart TV; Denon takes a do-it-all approach to AV receivers with its Dolby Atmos and Auro-3D compatible AVR-X5200W; Amazon heats up the media player market with its Fire TV box
Plus all the usual opinion, news, disc reviews and competitions. Enjoy the show.
Want to make sure you never miss an issue of HCC? Then it's time to subscribe – click here for more info.
Looking for a back issue? Then click here.
Click

here

to see what's inside Home Cinema Choice 306.

Reviews of Optoma and Epson 4K projectors, Philips' OLED934 TV, and Arendal's entry-level subwoofer; a roundup of classic movies on UHD Blu-ray; our annual gift guide; and a whole lot more...
Want to see your home cinema system featured in the pages of HCC? Click
here
for more info.