Home Cinema Choice 238 on sale now!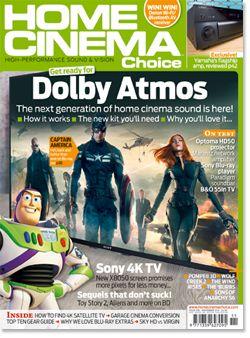 Brilliant cinema rooms! Tons of soundbars! The future of 4K! It's all here...
In our grouptest we roundup eleven soundbars and soundbases to find out which is best for giving your flatscreen TV a sonic boost. Sonos, Samsung, Sony, Pioneer, Canton, Tannoy and Panasonic are among those brands battling for top spot.
Meanwhile, we review the new Sony STR-DN1050 AV receiver, Full HD TVs from John Lewis, Panasonic and Samsung, DALI's on-wall Rubicon LCR speakers, JVC's DLA-X700R high-end projector, and much more, in our hardware section.
Also in the issue: We chat to CEO of Hammer Films, Simon Oakes, about bringing the legendary studio back from the dead; showcase the UK's best home cinemas in our CEDIA Awards special; have our ears battered by Noah on Blu-ray; report on the specification shenanigans of 4K/Ultra HD; reveal the audio and video stars of the 2014-2015 EISA awards; and explain why you need an air-conditioner in your cinema room...
Plus all the usual opinion, news, disc reviews and competitions. Enjoy the show.
Want to make sure you never miss an issue of HCC? Then it's time to subscribe – click here for more info.
Looking for a back issue? Then click here.
Home Cinema Choice #311 is on sale now

, featuring: Samsung Q950TS 8K QLED TV; Emotiva 11-channel power amp; Meridian in-wall speakers; binge-worthy TV boxsets; Color Out of Space interview; disc reviews; opinion; and more.
Want to see your home cinema system featured in the pages of HCC? Click
here
for more info.