Hi-Fi Show Live 2017 set to stun your ears!

Experience some of world's most desirable gear at this weekend's high-end audio showcase
The Hi-Fi Show Live 2017, the specialty high-end audio event organised by the passionate audiophiles that bring you HCC's sister magazine Hi-Fi News & Record Review, takes place this weekend (Saturday 21st and Sunday 22nd of October) at the Beaumont Estate in Old Windsor, Berkshire – and a limited number of tickets are still available.
Exhibiting brands include AudioQuest, Bowers & Wilkins, Chord Company, Chord Electronics, DALI, ELAC, GoldenEar, Isotek, JBL, KEF, Krell, Linn, MartinLogan, Oppo, Primare, Revel, Rotel, Sennheiser, Sonus faber, Tannoy and Wilson Audio (plus many, many more), and the show promises some of the very best audio demonstrations ever attempted in the UK.
Each of The Hi-Fi Show Live 2017's major suites will offer audiophile heaven, with scheduled presentations and demonstrations by a mix of famous designers, engineers and hi-fi personalities. Other suites will offer interactive listening sessions with the best headphones and headphone amplifiers, vinyl and hi-res/networked audio systems. Many of the key brands, equipment and systems demonstrated at The Hi-Fi Show Live 2017 will be exclusive to this event, so this is your one chance to hear them all under one roof!
Tickets (either day tickets or full weekend passes) can be purchased online here, and you can also download The Hi-Fi Show Live 2017 Souvenir Show Guide by clicking the image below...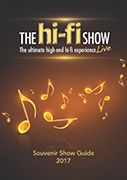 For further info about The Hi-Fi Show Live 2017, and a full list of exhibiting brands, head over to the Hi-Fi News website.
Click

here

to see what's inside Home Cinema Choice 306.

Reviews of Optoma and Epson 4K projectors, Philips' OLED934 TV, and Arendal's entry-level subwoofer; a roundup of classic movies on UHD Blu-ray; our annual gift guide; and a whole lot more...
Want to see your home cinema system featured in the pages of HCC? Click
here
for more info.