GoldenEar SuperSub X subwoofer review
Two active drivers, two passive radiators and over 1,000W of grunt are packed into this sub while keeping it on the small side
We seem to be in the middle of a faintly deranged arms race on the subwoofer front at the moment. The challenge of this contest is to see who can direct the largest amount of power at the largest spread of drivers in the smallest overall box (although a separate competition to design the biggest device going is also apparently underway).
And if this is an arms race, then GoldenEar has decided to go nuclear and release two new subwoofers. The smaller unit, the SuperSub X, is seen here. Just a shame for my metaphor that it isn't called Trident...
Specification-wise, the GoldenEar is fairly eyebrow-raising. In a chassis no more than 35cm in any direction, it has two 8in opposed drivers and two 9.5in by 10.5in passive radiators, meaning that four of its notional six sides are given over to radiating area. And given that at least one of them needs to have controls and inputs on it, we're fast approaching the maximum a cube sub could possibly pack. Feeding this driver complement is a faintly alarming 1,400W of power. Basically, this is a small but extremely furious box (the step-up model, the SuperSub XXL, gains 200W and increases driver size to 12in for the active units, and 13in x 15in for the passive ones).
Four's company
The thinking behind the SuperSub X's armada of drivers is more logical than trying to win at subwoofer top trumps. As the forces generated by the drivers are opposed and balanced, the performance of the sub should be more controlled and even than that engineered by a single driver hammering away. GoldenEar claims that an additional benefit should be a more even fill of low-frequency energy in-room. Frequency response is rated all the way down to 12Hz, but without any roll-off figure specified.
The connectivity on the SuperSub X is straightforward if a little on the thin side. A pair of phono connectors allow for a stereo signal to be sent to the unit and if you flick a switch, the left-hand connection will become an LFE feed that bypasses the internal crossover. Beyond this, you get controls for volume and crossover points and can choose between auto on and always on. This means that there is no high-level input, phase control or remote control, all of which are commonly encountered at this price point. Compared to rivals from SVS, like the slightly more expensive SVS SB-13 that features such niceties as onboard EQ, the SuperSub X feels a tad sparse.
On the plus side, the small size of this sub makes it easy to accommodate. You could, I'd hazard, get away with sneaking it into a regular living space. It's built like a small tank and is impressively heavy. And while it would be a push to call it attractive, it won't scare the horses.
A minor point of irritation is that the LFE input on my sample seemed susceptible to ground hum. This was cured by using a heavily-shielded stereo interconnect, doubled up into a single length cable, via coupler.
Taking control
Partnering a Neat IOTA five-channel package, the SuperSub immediately demonstrates a refinement over the more affordable ForceField models, in that despite the large radiating area and prodigious power output, it feels controlled and like it was designed to handle this much energy. Even under severe provocation, the cabinet remains completely inaudible and free of vibration, whereas when I previously played with a third-of-the-price ForceField3, it actually managed to move around a bit, like a dog tearing free of its leash.
This allows you to concentrate on the task in hand – enjoying movies. With films with a hefty bass track, the GoldenEar is absolutely devastating. Its ability to load the room during the Hong Kong fight sequence in Pacific Rim (Blu-ray) is absolutely joyous. Should you wish to have an inkling as to the forces involved in being hit in the face with a small cargo vessel, then this is the device for you.
Put another way, if you didn't know the dimensions of the subwoofer generating this level of fury, you'd swear blind it was much larger.
Neither do its talents end at simply being wilfully unsubtle. Using the SuperSub X to produce the LFE track of Kingsman: The Secret Service (Blu-ray) is also an impressive experience. There is an appreciable filling out of the bottom end of the orchestral score, and Colin Firth's artfully choreographed fight sequence in the pub never feels overblown or out of scale, but instead benefits from the visceral and believable force of punches being landed and bullets thwacking off umbrellas. I admire the way in which the SuperSub X goes about its business.
But there are caveats. There is a speed and tempo past the point where the cohesion and clarity of the low-end does start to suffer. The pounding techno background of the 'Hero's Duty' sequence of Wreck it Ralph (Blu-ray) has a slight sluggishness to it that robs it of some of the energy it really needs to be completely convincing.
This is also present in my regular go-to torture test – the final performance of jazz drum explosion Caravan in Whiplash (Blu-ray). Through the SuperSub X, the skilfully-worked kick drum isn't the defined series of beats it is on some devices, and the piece isn't quite as funky-sounding as a result. I'm not a huge fan of using subwoofers for music [you're sacked – Ed] but if you do need one for both roles, this is not really the SuperSub's comfort zone.
Ballistic bass
So with this woofer it pays to play to its strengths. The SuperSub X is a thrillingly ballistic performer that hits far harder than a box with these compact dimensions has any right to. It can create bone-jarring impacts, and goes deep enough to find soundtrack secrets that can be overlooked. It's clear that GoldenEar has worked extremely hard to ensure that its vast power output is contained and used to good advantage, and it's easy to live with day-to-day.
A remote control or some form of EQ would make it more fun, though, and it's not the most musical device you'll hear at the price.
Specification
Drive units: 2 x long-throw 8in opposed drivers; 2 x 9.5in x 10.5in opposed quadratic passive radiators Enclosure: Sealed Frequency response (claimed): 12Hz-250Hz On board power: 1,400W ForceField digital amplifier Remote control: No. Dimensions: 356(w) x 324(h) x 337(d)mm Weight: 18.2kg Connections: Stereo phono input; LFE input

SPONSORED VIDEO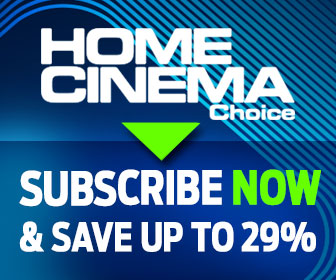 Home Cinema Choice #326

is on sale now, featuring: Sky Glass; Anthem AVM 70 processor; Sony XR-65X90J; BenQ gaming projector; Christmas gift guide; Hollywood franchises on Blu-ray; Fast 9 4K; and more
Want to see your home cinema system featured in the pages of HCC? Click
here
for more info.