Focal Sib Evo Dolby Atmos 5.1.2 review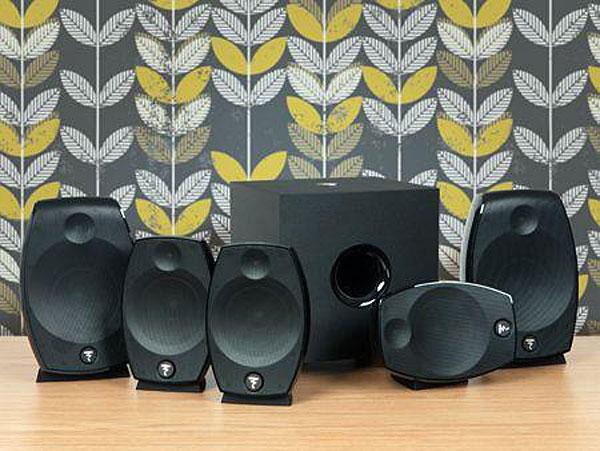 Focal's latest speaker pack is such an obvious idea I'm surprised I haven't come across something like it sooner. Take a 5.1 sub/sat system, build in some Dolby-certified upfiring drivers into the L/R speakers, and – as Focal's French design team no doubt said – voila!
The range chosen for this Atmos invention is Focal's Sib – it's long-running smallscale (but not its smallest) cinema series, previously featured in HCC more than a decade ago. Sib has now evolved to become Sib Evo. (That name applies to the non-Atmos modules in this six-pack, too – there's a Sib Evo 5.1 system featuring regular speakers).
All five of the satellites feature a 5in midrange driver below a 0.75in soft dome tweeter. The two Atmos units get an additional 3in 'full-range' driver (rated 90Hz-20kHz) set in the top. There's no dedicated centre speaker; you simply take one of the three standard models, release the screw holding in its rubber stand, and use this as a cradle with the speaker positioned horizontally. You can rotate the Focal badge if you want.
That extra driver means the Atmos members of the Evo range have to be a good chunk larger than their counterparts. In fact, they are rather portly, certainly bigger than the likes of KEF's Eggs or B&W's M-1s. I'm not entirely sure I love the design, either. They have curved sides, concave grille and a very slight lean back when on their plinths, but they don't quite go far enough to look, well, sexy.
Wiring up is bit fiddly, too, as they feature bare-wire terminals that open and shut via a push-button. This clamps your cabling well, but on the Atmos modules both sets are close together.
The subwoofer – the Cub Evo – isn't curved at all. It's just a black MDF-finished box, with downfiring 8.25in woofer, rear control panel, and a front-facing port. Only a status light on the back – sandwiched between crossover and gain dials, phase flip-switch, auto power switch and LFE/stereo phono inputs – lets you know its 200W amp is ready to rumble. A funky, high-gloss Focal logo in the top panel does catch the eye, though.
Making room for more
Installing satellite speakers with Atmos drivers throws up a few issues. External upfiring modules are designed to sit on top of floorstanders, which will typically mean around/just above ear height, or you can place them wherever you want. With the Sib Evo, your Atmos drivers will be wherever you sit the speakers, and this means that if you're the person who has enjoyed the flexibility of smallscale speakers and housed them around a flatscreen TV on an AV unit, they're going to be a bit low down. Happily, two discreet wall-mounts are supplied. Or you could use existing stands (as I did) or invest in Focal's Hip Evo stand.
Focal suggests a 3m distance from speaker to listening position, which is suited to a small-to-mid-sized room.
The system took a bit longer to set up that most sub/sat packs I've played with, because of those Atmos units. As usual, my AVR calibration routine set the Atmos channels too low initially, and I did end up moving the speakers slightly forward from where they'd usually sit. But after a session with Dolby's test disc, I was happy with the rain falling on to my head during the Amaze trailer and felt good to go.
These speakers sound good – as they should for the money. There's a steeliness to their presentation, a strong mid-range from those 5in drivers, that brings body to movie soundtracks even when the LFE channel isn't in full-flight. Above this, the tweeters coax out high-frequency details without sounding brittle or flirting with distortion.
They're snappy and quick, too, although not as immediately aggressive or exciting as other home cinema speakers. The emphasis here leans towards mid-range solidity and impact...
This makes them an easy listen. Animated movie Bolt (Sky Cinema, Dolby Digital 5.1) is presented as a frisky mix of tight Foley effects, clear dialogue and energetic score. As Bolt and Mittens land on the roof of a speeding train, details like a creaking metal ladder or the whoosh of air feel like part of a cohesive whole.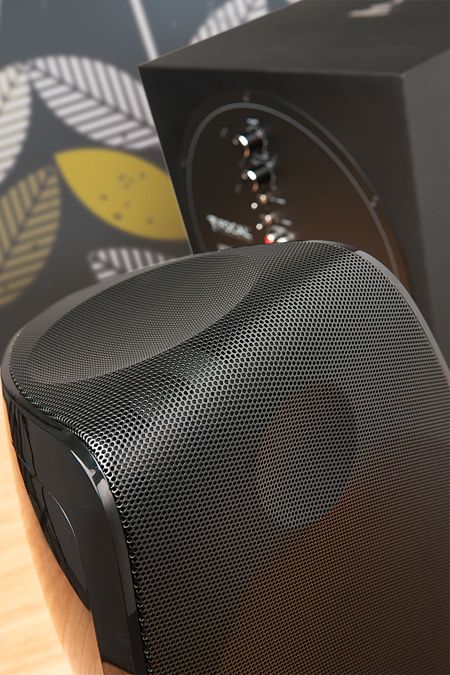 Bass response is laudable, too. As with the tweeters, the combined weight of the Cub Evo and the 5in drivers doesn't reach the frequency extremes of high-end home theatre, but the woofer works well at boosting the size of the satellites' output without sounding over-bearing. Integration from sub to Sib is excellent.
And when it's called upon to generate real low-end presence, it's happy to oblige. The storm-laden clouds that roll over Everest (Everest, Blu-ray) are signalled by a massive, roiling LFE throb that fills the soundstage. It's not so low as to worry your building's foundations, but will easily have you breaking out in a grin.
So what of Atmos? Unbroken (Blu-ray, Dolby Atmos) gives the Sib Evos plenty of moments to prove their mettle and they largely succeed. The opening dogfight sequence offers buzzing Japanese Zeros and bullet-fire seemingly arriving from all angles, with noticeable info up high. Later in the movie, a storm whips waves and wind through the soundfield as our heroes' dinghy is battered; then the clouds burst with a life-saving downpour that had me inadvertently glancing ceiling-wards.
With another disc (The Magnificent Seven remake, Ultra HD Blu-ray), the final shootout in Rose Creek begins with chiming church bells that resonate eerily throughout all the speakers (including those upfirers). In the following fight, gunfire from a second-floor balcony attacks my listening position from left and above as the camera sweeps upwards.
Is it the most authoritative Atmos experience I've ever heard? No. The Sib Evos' drivers don't have the potency of the larger designs (such as KEF's R50s – £600-per-pair – or PSB's £350-per-pair Imagine XAs), meaning that height detailing can feel less pronounced. But that doesn't take away from the effect they have of expanding a soundmix and delivering on specific imagery. You can discover exactly what they add to the equation by simply unhooking the speaker wires that feed the Atmos terminals – do this and the soundfield shrinks inwards and that sense of dimensionality diminishes. That extra layer pays dividends.
Surround sound immersion of the more traditional kind is rewarding, with the non-Atmos Sibs working as a quintet to pan effects and push through dialogue. Presentation from each enclosure is direct rather than expansive, however, which works well for localised effects but can leave you sensing a few gaps (those wanting rear back speakers can pick up the regular Sib Evos in a 2.0 package).
With music, therefore, the Focal system's strengths are its rhythm and drive, and even-handedness, but you'll likely want to step up to the brand's audiophile floorstanders for a cavernous, seamless stereo image. I have no qualms about streaming my Spotify library through them, though.
Fun, fun, fun
So this is a welcome innovation from Focal. Dolby Atmos upgraders are provided with an alternative option to in-ceiling installation or matching standalone enclosures with existing gear. Of course, before buying, consider the size of these speakers and where you will install them – there's a little less flexibility here.
Atmos isn't the be-all-and-end-all of Focal's newcomer either. Whether your audio source is 3D or flat, this package will deliver it with control, clarity and a sense of fun. Highly recommended.
Specification
Sib Evo Dolby Atmos
Drive units: 1 x 5in Polyflex midbass; 1 x 0.75in soft dome tweeter; 1 x 3in full-range Dolby Atmos driver
Enclosure: Rear-ported Dolby Atmos speaker
Frequency response (claimed): 65Hz-25kHz (90Hz-20kHz for Atmos driver)
Sensitivity (claimed): 90dB
Power handling (claimed): 25W-200W
Dimensions: 295(h) x 195(w) x 190(d)mm
Weight: 3.25kg
Sib Evo
Drive units: 1 x 5in Polyflex midbass; 1 x 0.75in soft dome tweeter
Enclosure: Rear-ported
Frequency response (claimed): 70Hz-25kHz
Sensitivity (claimed): 90dB
Power handling (claimed): 25W-200W
Dimensions: 252(h) x 162(w) x 162(d)mm
Weight: 1.8kg
Sib Cub Evo (subwoofer)
Drive units: 1 x 8.25in downfiring Polyflex woofer
Enclosure: Front-ported
Frequency response (claimed): 35Hz-150Hz
Onboard power: 200W
Remote control: No
Dimensions: 305(h) x 208(w) x 299(d)mm
Weight: 8kg
Connections: LFE input; stereo phono input

SPONSORED VIDEO

SPONSORED VIDEO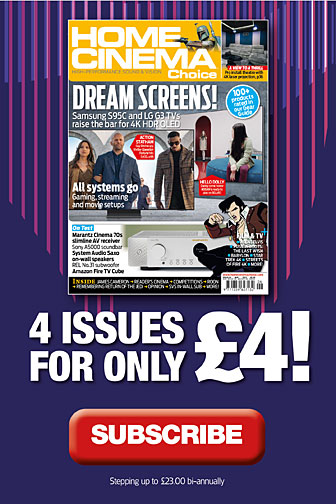 Home Cinema Choice #332

is on sale now, featuring: Samsung's 8K flagship; Anthem AVM 90 processor; B&W 800 Series Diamond; LG smart projector; Hollywood box office bombs; Hitchcock 4K; and more
Want to see your home cinema system featured in the pages of HCC? Click
here
for more info.