Film Fanatic: Edited for TV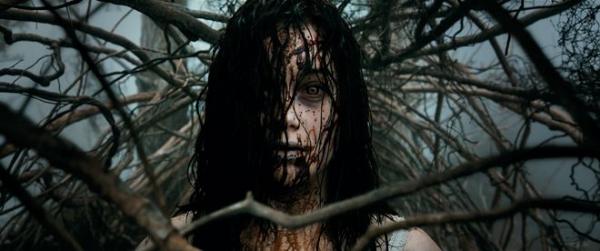 How a UK television screening of Evil Dead gave fright fans a real shock earlier this year...
Fright fans got a whole lot more than they bargained for when they tuned in for the UK terrestrial TV debut of the Evil Dead remake earlier this year. Thanks to a cock-up at the film's UK distributor StudioCanal, the dead-lucky Channel 4 viewers who sat down to watch the film in January saw an alternate cut of the film that hasn't been screened anywhere else in the world.
Running some five minutes longer than the original cinema cut, this extended version of Fede Alvarez's remake added a host of new scenes as well as an alternate ending. While some of this new material was devoted to plot and character, the fact that it also featured more, not less, gore soon dispelled any notions that it was a specially-prepared TV cut of a film using the new material to compensate for trims to onscreen violence.
All of this points to the version Channel 4 was supplied with as being the original cut of Evil Dead that was slapped with an NC-17 rating by the MPAA. Naturally, the film was then edited to secure a more commercially acceptable R rating. This was the version that was subsequently released around the world in cinemas and on DVD/Blu-ray.
Quite why this version has never seen the light of day in any official capacity is certainly curious – there's clearly still plenty of interest among horror fans given the prices bootleg DVDs of the TV broadcast are commanding online. Still, it'll be interesting to see if a DVD or BD release materialises to tie-in with the Ash vs. The Evil Dead TV series when the show begins airing later this year.
This situation got me thinking about other alternate versions of films that have turned up on TV over the decades. The most famous is undoubtedly The Godfather: A Novel for Television. This was Francis Ford Coppola's seven-hour TV miniseries re-edit of the first two films in his famous crime saga, which screened on NBC over four nights in 1977. Restructuring the two award-winning films into chronological order, it had to tone down the violence and language to meet with broadcasting standards, but added over an hour of previously deleted footage. It's a slog to get through and mucks up the films something rotten, but is still a fascinating experiment.
'Flip you, melon farmer!'
Arguably just as famous (and much more amusing) in its transition to TV was Alex Cox's 1984 cult hit Repo Man. Supervised by the director, not only does the cleaned-up network TV version add a couple of extra scenes, it also boasts the most inspired, surreal and hilarious over-dubbing of profanity that has ever been performed, with the term 'melon farmers' (can you guess what that replaced?) quickly taking on a life of its own. Thankfully, this hilarious alternate version of Repo Man is still easy to get hold of thanks to Masters of Cinema including it as an extra on the 2012 Blu-ray release.
Also well worth a look is the US TV edit of John Carpenter's Halloween, which made up for trims to its violence with brand new scenes (shot at the same time as Halloween 2) that cement the family link between Laurie Strode and Michael Myers.
But for my money they don't get any better than the open matte version of Jaws: The Revenge that used to turn up on ITV in the days before widescreen TVs became commonplace. This seemed to go out of its way to showcasing the inner workings of the fake shark every time it appeared on screen...