The Expendables: Bullet Proof Limited Edition Blu-ray review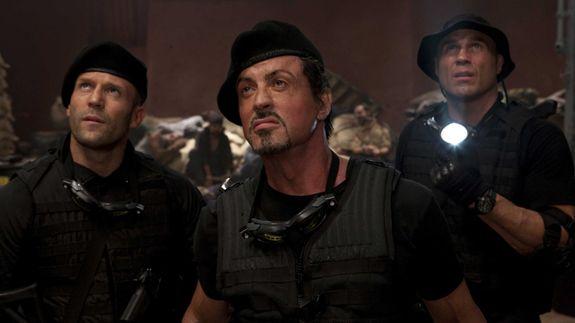 The kings of ass-kicking action join forces to kick-ass on Blu-ray
The Expendables is pure wish fulfilment for fans of '80s action movies. The plot is little better than most Direct-to-DVD fodder (blow up some foreign-types and save the girl), but who cares when it's jam-packed with so many memorably staged fights, shootouts and explosions? And then there's the incredible roster of testosterone-fuelled talent onboard including Sylvester Stallone (who also wrote and directed the flick), Jason Statham, Jet Li, Dolph Lundgren, Randy Couture, Terry Crews, Mickey Rourke, Steve Austin, Gary Daniels, Eric Roberts and even fun cameos by Bruce Willis and the Governator himself, Arnold Schwarzenegger!
Picture: Like its leading men, nobody would accuse The Expendables of being a particularly good looking film, but it certainly gets the job done. Likewise, Lionsgate's AVC 2.40:1 1080p encode does its best with the material its been given, but you shouldn't go expecting too much in the way of hi-def eye-candy. The biggest issue is that The Expendables is - for the most part – an incredibly dark film. Couple that with confined locations filled with smoke and the resulting imagery tends to lack sharpness. On the positive side, the ever-present blacks are rock solid and, during the handful of daylight sequences, the encode serves up some impressive fine object detail and a robust colour palette.
Picture rating: 4/5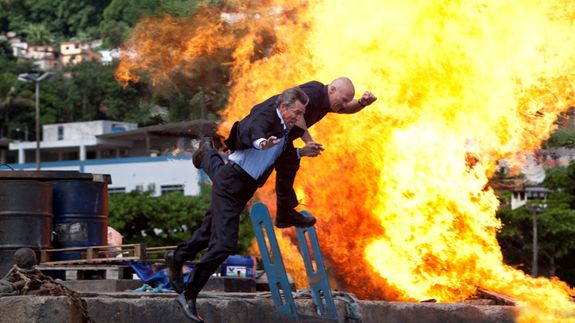 Audio: Sly's latest action extravaganza hits Blu-ray with a bombastic DTS-HD MA 7.1. It barely ever stops for breath, but it's the final act (Chapters 13 to 15) that proves to be a real standout thanks to its seemingly endless run of action where every punch and kick is accompanying by bone-breaking room-shaking bass, while gunfire and explosions are pleasingly precise and make full use of the soundstage. If there's one niggle, it's that some of the Stallone's mumbled dialogue is rather low in mix and can be difficult to make out, but I found exactly the same problem with the cinema release.
Audio rating 4/5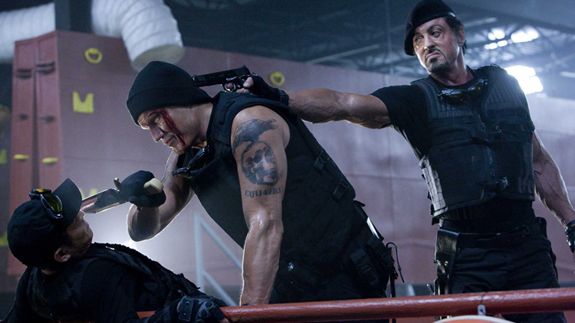 Extras: This limited edition steelbook is definitely the version to go for to the inclusion of a bonus DVD housing the exceptional in-depth 88min documentary Inferno: The Making of The Expendables. Headlining the Blu-ray platter is a commentary by Stallone that actually works much better when large portions of it are re-used by the disc's standout feature – Ultimate Recon Mode. Another take on the Maximum Movie Mode concept, this enthralling extra mixes Sly's commentary with PiP behind-the-scenes footage and seamless branching to full-screen interviews with the cast and crew. Also included on the disc is a 27min post-production doc, gag reel, deleted scene, trailer, two TV spots, poster gallery, D-Box Motion Code and BD Live Facebook/Twitter integration. The set also includes a bonus DVD copy of the film.
Extras rating: 4/5
We say: Essential rather than expendable – pick up this limited edition set before they're all gone.
Lionsgate, Region B BD/R2DVD, £30 approx, On sale now
HCC VERDICT: 4/5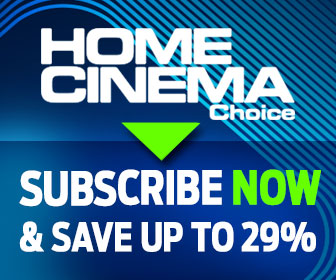 Home Cinema Choice #321

is on sale now, featuring: Anthem MRX 740 AV receiver; SVS 3000 Micro subwoofer; LG C1 OLED TV; Westerns on Blu-ray; surround sound setup tips; loft cinema conversion; and more
Want to see your home cinema system featured in the pages of HCC? Click
here
for more info.