Eclipse TD520SW subwoofer review
Eclipse is the audio side of Japanese automotive technology company Fujitsu Ten. As a speaker brand, it is famous for its egg-shaped single-driver models, the Time Domain series. The design of these premium speakers isn't just for show – its effect upon the internal physics is to reduce back wave disturbance. And a single full-range transducer has no passive crossover, nor tweeter, thus no distortion in that crucial part of our hearing. In these days of bat-frequency super-tweeters there are those who deride the ability of a single driver to reproduce the absolute top tones, saying they are not as bright as designs with separate HF drivers. But then you actually hear the Eclipse speakers and such discussion goes out of the window. It's hilarious to watch someone get their first Time Domain experience; the detail and accuracy literally boggles.
Applying cunning enclosure acoustics and profoundly muscular motors driving very rigid small diaphragms works a treat for most musical frequencies. But bass is different. It requires logarithmically more energy and power to move a thousand times more air than a mid-band/high-frequency transducer. Yet essentially, Eclipse's approach to bass remains the same. It wants speed and it wants accuracy.
Opposites attract
The design of the Eclipse TD520SW subwoofer is all about achieving that goal. It is a sealed box with diametrically opposing 8in drivers. These are made from paper pulp cones with a little Kevlar, and sit in a robust cast chassis supported by chunky magnets. An aluminium shaft joins the two for supreme rigidity.
The driver arrangement is bipolar; the opposing cones operate in phase, both pushing out at the same time. Some other companies opt for an out-of-phase dipolar driver system, but these are about shifting great gouts of air with a happy gift of better accuracy than normal. The Eclipse approach is to use relatively small drivers (as well as this 8in model the company also makes a model with a pair of 10in drivers, the TD725SWMKII) and to drive them hard with a grip of iron.
This brings me on to the TD520SW's onboard amplifier. ICEpower digital technology, licensed from Bang & Olufsen, is employed here. The claimed 250W seems to be below where the market has got to these days (the likes of SVS are putting 500W amps inside £750 woofers) but Eclipse seems to think it is up to the task, and brags about it on its website.
Having been a major player in the 2.1 market, Eclipse has developed a unique dual-discrete connection system. The subwoofer offers two gain potentiometers, each partnered to their own low-pass filter (LPF) – one is for connection from your AV receiver via the line-level input for multichannel applications, the other is for 2.1 use with a stereo amp (via either the additional line-level input or the speaker-level terminals). The idea being that you can bypass the sub's crossover on each input (either by using the LPF bypass function or connecting at speaker level), therefore only using the one on your amp and reducing any delay in the low-range signal getting to the drivers.
There's a control panel on the woofer's front face, but you perform all functions, including input select, mute and dimming of the display LEDs, from the supplied full-sized remote.
Knock, knock...
First up on Blu-ray was the crescendo opening sequence of Limitless (which I previously picked as my favourite subwoofer demo sequence). It's a tremendous woofer workout, as Russian gangsters try to smash their way into a fortress flat while our protagonist is teetering on his balcony balustrade. This is all about leading edges, hammers on a metal door, explosive wavefronts and fear-register bass. The banging and crashing starts quietly but grows and grows. With one sub I had on test it made it spit its grille across the room.
It took some time to balance the Eclipse subwoofer with my speakers. In an ideal world, you would be using the brand's Time Domain speakers with one of these – it's very much designed to work in perfect harmony. I paired it with my B&W floorstanding system, and I would rather have had the dual 10in model, or had five TD eggs to hook up as reference, for the TD520SW initially felt like a bit of a mismatch in my rig.
Yet once I adjusted relative levels, the allure of the TD520SW was apparent. Its bass output is rich and even though the specification looks less than profound, it reaches down with an accurate lack of undertone harmonic that surprised me enough to reveal I was guilty in some way of prejudging it. Yes, I had a minor marvel.
This subwoofer is beautiful and as inert as exposed rock when running. Those 8in paper/Kevlar drivers are highly compliant yet are held in an ICEpower fist. The onboard amp has a high damping factor and the bass tone has a fulsome quality that I have only heard from Morel carbon drivers in the past.
Eclipse's passionate blurb about speed is partly wrong, though. The skill here is not only about acceleration, it is about braking. There is simply no overhang and you don't hear that normally. There's no uncomfortable bass boom or onward wobble at all. This works brilliantly for rapid LFE effects.
With music material, the TD520SW exhibits a cracking cease-to-exist performance when tweaked and positioned correctly (those opposing, side-firing drivers merit placement at an angle to parallel surfaces). I dug out some old Peter Gabriel on DVD-Audio and enjoyed the effortless control and accuracy.
Oscar-winner No Country For Old Men did find this sub's weak spot, however. The distant thunder captured on the mix was real-sounding and satisfying, but lacked the infrasonic weight of big air-movement that rival movie-mad subwoofers at this price can deliver.
The fast option
So be assured, this may be the highest-fidelity subwoofer around. It's certainly fit to pair with the most astonishing-resolution loudspeakers I ever heard (Eclipse's Time Domains) and even if you don't own those you're advised to audition if detail, speed and awesome stopping distance are your primary urges, rather than simple heavyweight bass.
Specification
Drive Units: 2 x paper pulp/Kevlar 8in drivers, opposed, in-phase, with aluminium bar linking the rears of each driver's motor
Enclosure: Sealed box
Frequency Response: 25Hz-150Hz
On-Board Power: 250W ICEpower Class D
Remote Control: Yes
Dimensions: 459(w) x 420(h) x 444(d)mm
Weight: 37kg
Connections: 2 x line-level inputs; speaker-level input; speaker-level output

SPONSORED VIDEO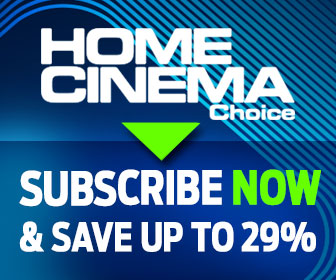 Home Cinema Choice #326

is on sale now, featuring: Sky Glass; Anthem AVM 70 processor; Sony XR-65X90J; BenQ gaming projector; Christmas gift guide; Hollywood franchises on Blu-ray; Fast 9 4K; and more
Want to see your home cinema system featured in the pages of HCC? Click
here
for more info.