Dune HD Base 3D review

Dune HD's Base 3D shows how media player manufacturers are rising to the challenge of Smart TVs, tablets and the latest Blu-ray players. Although not ridiculously expensive, the Base 3D is easy to install (it even checks for new firmware when connected) and offers plenty of features that you won't find on non-specialist gear. It's very much a media player for the serious AV enthusiast.
A look at the Base 3D's slim but full-width fascia hints towards just one of its feature strengths – under a flap is a 3.5in SATA HDD bay. Nothing unusual there; many such players can accommodate an internal hard drive for storing all of your favourite movies, photos, TV programmes and music in one secure place. In this instance, though, the drive just slips into the unit, a sprung bracket holding everything in place. No screws or wires to mess around with, in other words.
Dune HD lets the side down somewhat by failing to provide a device-mode USB port that would allow your computer to treat the Base 3D's HDD as an external drive itself. But it's still definitely worth adding your own memory; with an HDD on board, the versatility of the unit is greatly enhanced. Connect it to your network (Wi-Fi and Ethernet hookups are provided – use the latter for the most robust connection) and you'll find that it's capable of acting as a file-server (SMB), too. In other words, your additional media devices will be able to stream content stored on it. Neat. Local storage alternatives include a trio of USB ports, and an SD slot for convenient playback of photos or video from a digital camera/camcorder, which immediately makes it more user-friendly than most modern Smart TVs.
Media marshal
Naturally, the Base 3D is also capable of pulling media off other servers lurking on your home network. SMB, NFS and uPnP/DLNA protocols are supported, meaning that it's unlikely you'll encounter any access problems. As regards compatibility with different media types and compression standards, the Base 3D absolutely trounces the average Blu-ray player, and many direct competitors, come to think of it.
Music fans are well catered for. MP3, WMA, FLAC, OGG and WAV audio? You got 'em – and in 24-bit, if available. There's even a headphone socket for personal listening.
A fluorescent display and (sparse) front-panel controls are provided, but selecting tracks is best done with the attractively designed onscreen menu system.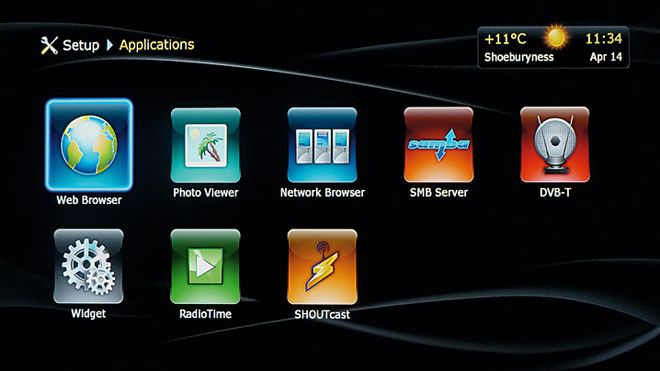 Stereo DTS and Dolby Digital soundtracks can be fed out from the analogue phonos on the Base 3D's rear. Coaxial and optical digital audio outputs handle multichannel, but you're more likely to hook the unit up to your AVR via its HDMI port. Do this and the wonders of Blu-ray-sourced DTS-HD Master Audio and Dolby TrueHD soundtracks (passed through) will be open to you, because the Dune can handle BD rips – in native 1080p24, too. The best option
is to get the third-party ripping software to generate an ISO disc-image. Note that on selecting this file for playback you don't get the Blu-ray's complex menus – instead, you're presented with a list of chapters. These are left intact for quick selection of a specific scene, and you can choose from 2D and 3D content if available.
For those with a collection of the latter, stereoscopic compatibility from a media player is a real boon. 3D Blu-rays employ a technology known as MVC (Multiview Video Coding) to squeeze the left- and right-eye views into a single stream. The player then transmits it, using a process called frame packing, as a standardised Full HD 3D signal that your display can understand. And guess what? The Base 3D does the same. I tried a couple of 3D BD rips with an Epson EH-TW7200 projector, and they played fine.
The PJ even automatically recognised the 3D format used. With one of them, I did, however, have to engage the projector's 'invert glasses' function to get the correct results.
The Base 3D, like any other hi-def player or digital TV set-top box, is also compatible with the side-by-side and top/bottom 3D formats. Then there are all the video codecs and standards. X.264/H.264, MPEG-1/2, MP4,
FLV, MKV... all of the key ones were grist to the Base 3D's mill. You can even play recorded TV transport-streams (.TS files, both SD and HD), which is handy if you own a PC with tuner. And if you don't, PVR facilities can be added to the Base 3D simply by plugging in a USB tuner. It might not be able to deal with Blu-ray menus, but DVD ones are a different matter. With VIDEO-TS folders and ISO images alike, you get exactly the same features and menus that would be expected when playing the original disc with a conventional DVD player.
Talking of menus, I've only touched the surface. During playback, a pop-up pane provides you with access to various functions. Among them are the ability to change deinterlacing mode (handy for playing back old SD material), zoom, audio lip-sync adjustment, time-search, subtitles and audio track selection.
And then there are all the other things the Dune HD can do that aren't exactly headline features, including internet radio, games (including Sudoku, Chess Challenge and Tetris), Facebook/Twitter apps and a web browser. More features can be added via an app store. You can even control the unit from your smartphone via a free iOS/Android app, which I found to be a perfectly adequate substitute for the no-frills handset.
Stable performer
It would, of course, all be utterly pointless if the Dune HD had a lousy performance, but it's quite responsive in use and delivers audio and video to a high standard – thanks in part to its high-tech Sigma SMP8673 media processing chip. It's at least as good as a budget 'big-name' Blu-ray player – HD pictures are characterised by strong detail and dynamic range, and the unit has a good stab at SD upscaling. Onboard audio is also fine, although most users will instead be relying on their AV receiver to do the decoding. Network streaming proved to be glitch free, too.
Overall, this is an exciting and worthwhile media player for the AV addict who demands a little more. The full-width design looks great (although it's not the most reassuringly solid of devices) and its format support and ease-of-use are hard to fault. Where it falls foul of the mainstream competition is its provision of video-on-demand apps, but you've probably got a million other devices that access Netflix, haven't you?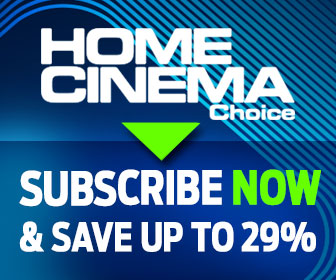 Home Cinema Choice #316 is on sale now

, featuring: Sony VPL-VW790ES 4K laser projector; B&W 600 S2 Series speakers; CEDIA home cinema awards; Humax Aura PVR; tech tips; disc reviews; opinion; and more.
Want to see your home cinema system featured in the pages of HCC? Click
here
for more info.