Devolo Gigagate review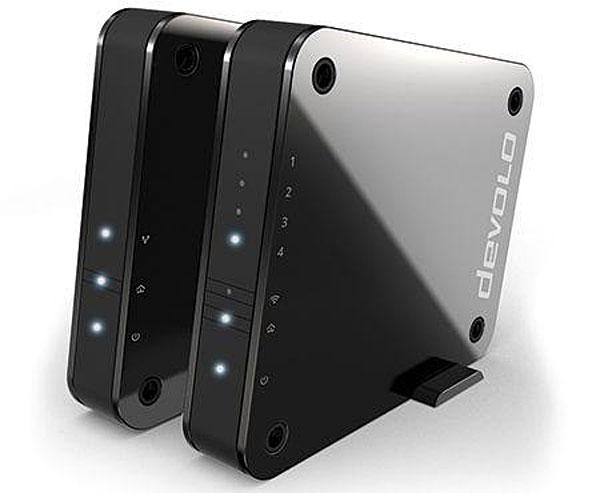 This wireless bridge from Devolo might suit those looking to set up a media room in attic or garage
In the past, we've extolled the virtues of powerline networking, where data is basically superimposed on your mains wiring by a couple of boxes that plug into convenient wall sockets. One's near your broadband router, while the other is located where remote network coverage is required. Now Devolo is offering a cutting-edge alternative in the form of the Gigagate, a wireless bridge.
The two boxes that comprise the Devolo Gigagate starter kit still have to be plugged into the mains, but for power only. Data is instead sent and received over a high-speed point-to-point Wi-Fi link – up to 300m range, it's claimed – on the relatively quiet 5GHz band. And by high-speed we mean up to 2Gbps. This is achieved via 4x4 MIMO (multiple-in, multiple-out) 'Wave 2' radio technology bought in from Californian Wi-Fi specialist Quantenna Communications.
It allows four simultaneous 802.11ac connections, sharing the overall load, to be made. AES encryption is employed to ensure security.
Both units are stylish columns with LED status indicators and slide-out feet that allow them to be positioned vertically as well as horizontally. The router-end device, the base station, has a single Gigabit Ethernet port that under most circumstances would go to your router. The satellite, which is placed where connectivity is required, has an integrated hub that sports no fewer than five Ethernet ports for your various devices. One of them is Gigabit Ethernet, while the others are 100Mbps. You would use the first for devices where the highest-possible speed is essential – a PC, console or NAS, for example.
Wi-Fi as a bonus
As with most Devolo powerline kit, the satellite also has a 300Mbps Wi-Fi access point, complete with WPS functionality, but a lack of meshing means it's independent of any existing coverage provided by your router. So, that's a maximum theoretical total of 1.7Gbps – which should be well within the 2Gbps capability of the Gigagate link. Further satellites, to a total of eight, can be added, all using the 2Gbps 'pool'.
Getting the system going is literally plug-and-play – no messy configuration required. Its transparency, as far as your network is concerned, equates to running an extra long cable from your router to a simple Gigabit Ethernet hub, to which your remote devices are attached. That said, the base generates a web page that – amongst other things - provides status info, enables it to be paired with additional satellites and deals with Wi-Fi configuration issues like encryption keys and network name.
It was difficult to fault Gigagate in performance terms – the connection was reliable, no streaming or connection errors being experienced. It worked fine with a Humax streamer, chowing down on SD and HD channels at the other end of the link.
I then tried streaming a NAS-stored movie rip. 33Mbps video was conveyed, free of glitches, to an A.C. Ryan player – even when a Cambridge Audio streamer, connected to one of the satellite's Ethernet ports, was playing a 24-bit audio file. But that shouldn't surprise; the web interface's bridge monitor page reported receive and transmit data rates of 780Mbps and 1073Mbps respectively.
So should you buy Gigagate? Mains networking has now reached an impressive level of development and speed, and is cheaper. Gigagate comes into its own where the desired location is on a different mains phase, and Devolo's says it's also ideal for a 'multimedia corner where multiple devices will be connected by Ethernet cables to achieve the best possible and reliable speed.' I can't disagree with that...
Specification
Connections: Gigabit Ethernet (base); Gigabit Ethernet; 4 x 10/100Mbps Ethernet; single-band (2.4GHz) 02.11a/g/n/ac
Wi-Fi (satellite) Dimensions: 30(w) x 140(d) x 150(h) mm Weight: 500g
Features: Plug-and-play installation; 2Gbps point-to-point link with AES encryption; 300m claimed range; multiple satellites can be added; 4x4 MIMO technology; status LEDs; WPS support; 300Mbps speed and WPA security for Wi-Fi access point; web configuration/status interface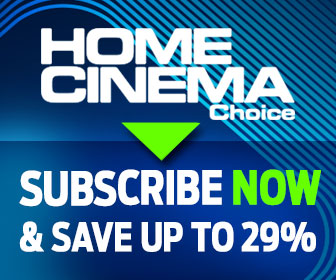 Home Cinema Choice #316 is on sale now

, featuring: Sony VPL-VW790ES 4K laser projector; B&W 600 S2 Series speakers; CEDIA home cinema awards; Humax Aura PVR; tech tips; disc reviews; opinion; and more.
Want to see your home cinema system featured in the pages of HCC? Click
here
for more info.