DC Exhibition: Dawn of Super Heroes review
From the gleaming cityscapes of Metropolis to the beaches of Themyscira, via an overnight stay in crime-ridden Gotham, the new DC Exhibition: Dawn of Super Heroes is a whistle stop tour of the DC universe.
Mingling film props, costumes and storyboards with scads of original comic art, the show has begun a six month residency at The O2 in London, and if you're an unapologetic DCU addict, or just have a love of genre cinema, it's well worth a visit on the Boom Tube. HCC donned a cape and cowl and took a closer look...
A co-production of DC Entertainment and Art Ludique-Le Musée, the exhibition is rich in heroic detail. With 45 original costumes and props, 300 or so concept sketches and more than 200 pages of original comic art, there's no shortage of spandex to revel in.
After the gauntlet of merch, visitors are ushered through a predictable chronological warren. Our advice is walk slowly, else you might miss some gems. A running loop of Fleischer Superman animation reveals influences on Hayao Miyazaki; superhero fashionistas will want to savour Christopher Reeve's cape and Lynda Carter's Wonder Woman bathers.
The Batcave offers perhaps the widest variety of exhibits. The only people to get closer to the costumes used in the Tim Burton Batman movies are Devito, Nicholson and Keaton. For what it's worth, that penguin suit appears to have aged rather better than Michelle Pfeiffer's Catwoman outfit.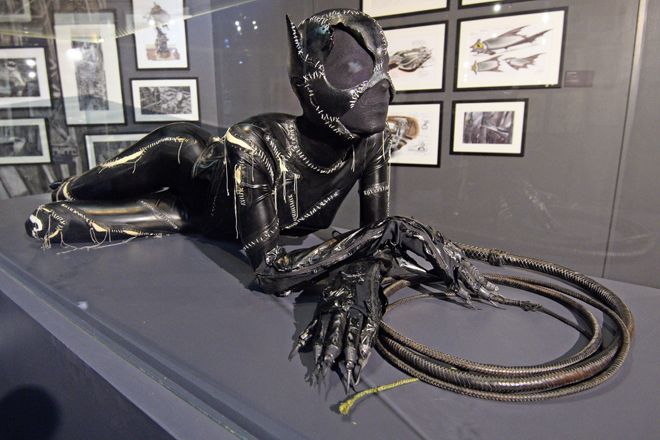 The artistry of Anton Furst's original concept art for Tim Burton's Batman remains astounding. Ever wondered just how awesome the full-size Batpod from The Dark Knight Rises is close up? This is the place to find out.
There's a lot of context on offer. Video clips document the DCU throughout, and there's specific narration via little audio paddles. There's so much to digest, in fact, that I did the show twice. Reading and watching first time around, and then listening to the narration second time around.
Much will be familiar, but there are also items I've never seen before, such as early concept art for Tim Burton's Superman Lives, which was to star Nick Cage as a tousled hair version of the Last Son of Krypton.
The show also acknowledges the impact DC's iconic characters had on Sixties pop culture, with references to Andy Warhol, Roy Lichtenstein and, of course, Batman '66.
Curator Jean-Jacques Launier was given full access to the Warner archive for the exhibition. "Many of these props and artefacts are priceless. Some of the sketches, like the first ever Joker sketch, would be worth millions," he says.
He's not wrong. The real treasure here is the art. Around every corner is an iconic cover in its raw pencil and ink form, sourced from private collections and dealers, or comic page depicting hand drawn visceral action.
The fine art style of Neal Adams, be it in his Superman vs. Muhammad Ali pencils or legendary Green Lantern/Green Arrow covers, is a joy to behold. The photorealistic painting of Alex Ross similarly beautiful. And the opportunity to see the clean, classic original lines of Curt Swan's Superman, juxtaposed against the raw, scratchy style of a young Frank Miller's Dark Knight will be worth the price of admission alone for many.
Make the effort to seek out Jack Kirby too. Comic art doesn't get much better than his original cover for Forever People #1.
Inevitably, the exhibition is heavily skewed to the trinity of Superman, Batman and Wonder Woman. But there's a nod to members of the Justice League and Suicide Squad, particularly Harley Quinn.
Whether your interest is in DC's movie franchises or the wider legacy or Jerry Siegel and Joe Shuster, Bob Kane and Bill Finger, this exhibition is a pilgrimage worth taking. Catch it before it's up, up and away.
DC Exhibition: Dawn of Super Heroes runs at the O2 in London until September 9.
Tickets: Adult £22 / Child £11 / Concession £19.80 / Family of 3 £39.60 / Family of 4 £55 / Family of 5 £60.50.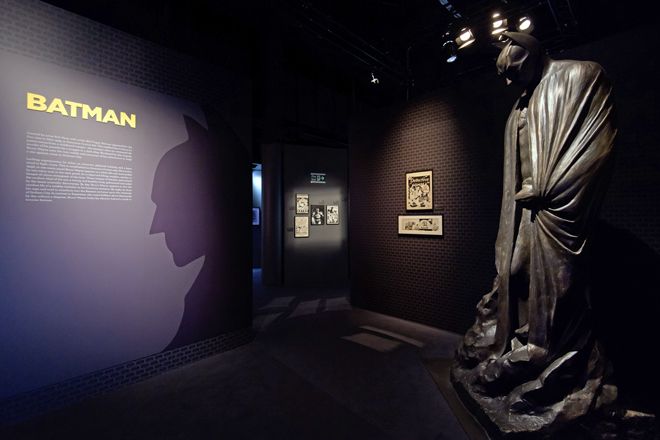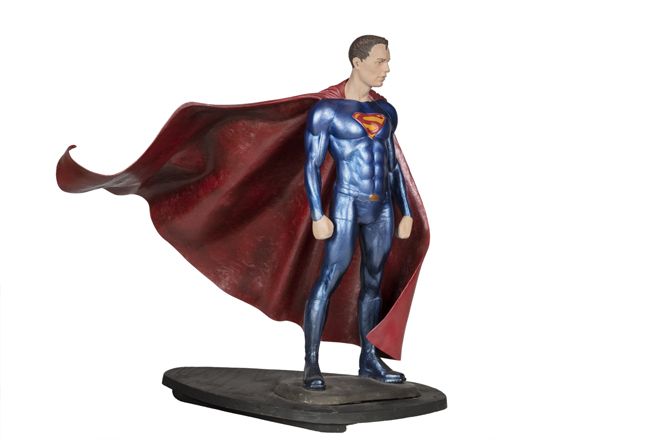 Home Cinema Choice #311 is on sale now

, featuring: Samsung Q950TS 8K QLED TV; Emotiva 11-channel power amp; Meridian in-wall speakers; binge-worthy TV boxsets; Color Out of Space interview; disc reviews; opinion; and more.
Want to see your home cinema system featured in the pages of HCC? Click
here
for more info.