Conan the Barbarian (1982)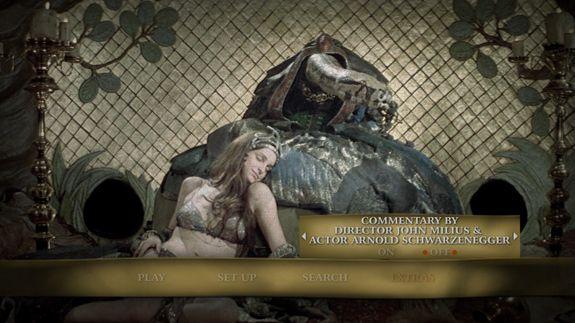 What is best in life? To hear the lamentation of Blu-ray fans wailing about AV quality!
Conan the Barbarian may not be particularly faithful to Robert E Howard's original pulp writing, but this 1982 flick is a rollicking piece of fantasy filmmaking that almost single-handedly made Arnold Schwarzenegger a Hollywood superstar and heralded a renaissance in the swords n sorcery genre. Written by Oliver Stone and directed by John Milius, it's a suitably bleak and macho piece of filmmaking where men are muscular, women are barely dressed and camels exist only to be punched in the face. In other words, it's bloody brilliant.
Picture: 'Crom's eye!' This hi-def outing for the Cimmerian brute is every bit as rough and ready as the man himself. Presented as an AVC 2.35:1 1080p encode, Conan the Barbarian doesn't appear to have had much spit and polished applied to it recently. Small scratches and other minor blemishes are evident in a number of scenes and (outside of close-ups) there's very little to get excited about in the way of fine detail. Much of this may well be down to the original materials (the film stock used features a heavy grain structure) as even the colours don't appear particularly vibrant. It's a definite step up from previous DVD incarnations, but perhaps not as big a leap forward as fans may have been expecting – so it will be interesting to compare this to Universal's imminent US Blu-ray release to see if there are any differences in image quality.
Picture rating: 3/5
Audio: Disappointingly, this Blu-ray release suffers from the same problem as Fox's old R2 Special Edition DVD – the glaring omission of the original mono soundtrack. In its place we have a DTS-HD Master Audio 5.1 mix, which appears to be the same surround track used on the DVD release, only now in lossless form. Which means it's the same forced surround effects (which, thankfully, aren't too intrusive) and limited dynamics as before, only now with the added benefit of Basil Poledouris' triumphant score sounding richer than ever.
Audio rating: 3/5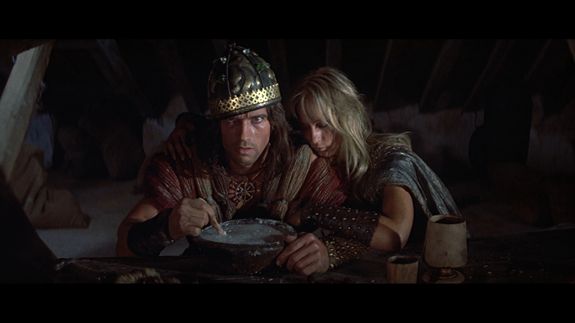 Extras: The majority of the extras here will be familiar to owners of the earlier R2 DVDs including a commentary by John Milius and Arnie, a 5-min reel of deleted scenes, a 53-min Making of… documentary, a featurette on Conan's literary background, a special effects comparison, an animated art gallery and a pair of trailers. However, it does serve up a new featurette about the film's sword maker and archival interviews from 1982 that hasn't been seen before. It's also worth noting that Universal is promising an extended 136min cut of the film and new U-Control features on its US release, neither of which appears on this UK release.
Extras rating: 3/5
We say: A rather mediocre HD disc for one of Schwarzenegger's best-loved films
20th Century Fox, All-region BD, £20 approx, On sale now
HCC VERDICT: 3/5