Cinematic sneak-peek: Blade of the Immortal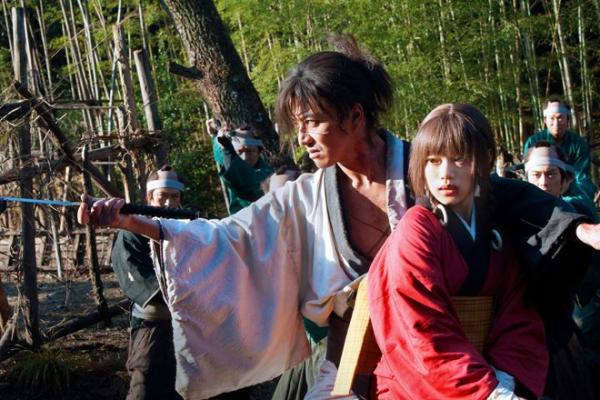 Released through the theatrical arm of cult video label Arrow, Blade of the Immortal is a bloody treat for action fans. Based on the manga of the same name, this is a samurai action movie with a frenetic modern aesthetic, framed with gorgeous cinematography. The opening prelude, shot in highly dynamic monochrome, recalls classic Japanese Samurai cinema, before splashing into vivid hues.
Our titular hero (played by Takuya Kimura) is a samurai warrior who cannot be killed. He's literally held together, and healed, by mystical bloodworms. This cursed immortality has left him wreathed in scars and craving a solitary existence, until a young girl, (Hana Sugisaki), seeks him out to avenge the murder of her parents.
Hiroaki Samura's original supernatural samurai manga ran for nearly 20 years, ending in 2012, winning a Will Eisner Comic Industry Award during its run. What we have here is a rather less convoluted story, which invites some comparisons (at least in terms of its immortal protagonist) with Logan, another iconic comic book creation.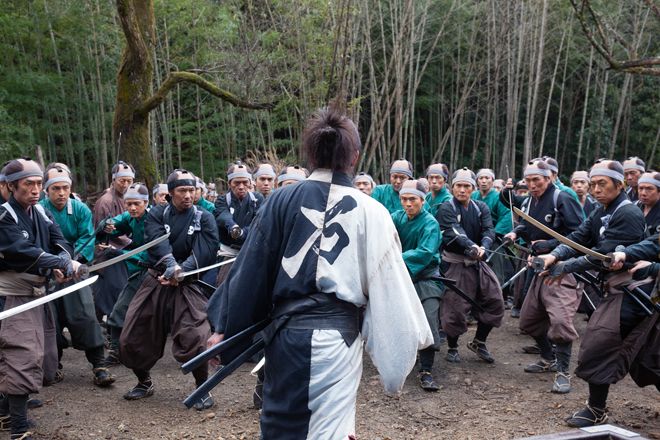 Blade of the Immortal runs for 140 minutes, and often seems like there's yet more unseen on the cutting room floor, but beyond a brief mid-way lull, never lets up on the mayhem. An armoury of fantastical weapons, memorable adversaries, and some stunning set pieces, keep the blood pumping.
There's an energetic physicality to the escalating battles, but as the credits reveal, a huge amount of visual effects work has been employed here. Yet the film remains rough and raw, it's not an obvious CG-fest by any stretch.
Director Takashi Miike reportedly didn't call 'Action' at the start of the shoot, instead telling his crew: "'The scene we're about to take now is a battle to the death!" And that's exactly how they look. The action builds to a final confrontation of grin-inducing magnitude, as 300 (give or take) face off with our Wolverine-like hero and his charge.
Incredibly, Blade of the Immortal is Miike's 100th film. This is a genre the director knows well. The celebrated 13 Assassins was released in 2010, followed by Hara-Kiri: Death of a Samurai in 2011 (both also produced by Jeremy Thomas). Miike's swordfights are inventive and beautifully shot by cinematographer Nobuyasu Kita; the ultra wide 'Scope frame an expansive canvas for the action. Catch it theatrically if you can, and then look out for the Blu-ray next year. This is swordplay cinema with a sharp new edge.
Blade of the Immortal will be slicing its way through selected cinemas across the UK on December 8, courtesy of Arrow Films.