Cars 2 3D
Formula Four storytelling benefits on Blu-ray from Formula One 3D performance
It had to happen eventually. Pixar has finally made a film that left me cold. While I didn't find the first Cars even half as bad as I'd been led to believe, this sequel's mix of spy action and fish-out-of-water antics seems to have been created to appeal solely to kids and sell them more merchandise along the way ("Now with missile-firing action!"). Still, I'm sure the target audience will absolutely lap it up.
Picture: Given its track record, it comes as no surrpise that Pixar's latest look absolutely stunning in hi-def. The AVC 2.40:1 1080p imagery on offer here is simply sensational. Colours are rock solid, detailing is incredible and technically the entire thing is pristine.
But even that doesn't prepare you for the 3D disc's MVC 2.40:1 1080p encode. Bright, vibrant and completely stable, it flies in the face of everything you've been led to believe about 3D at home. The sheer depth and dimensionality it delivers is simply astounding Simply stunning.
Picture rating: 5/5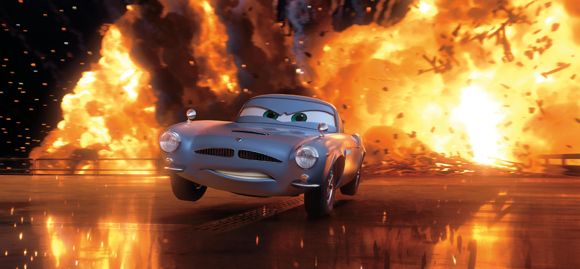 Audio: The film's DTS-HD MA 7.1 audio is every bit as impressive as the film's visuals. The races and action scenes give the filmmakers plenty of scope for letting loose with dynamic surround effects, and those revving engines ensure that rumbling LFE is never far away. It might be a kids' film, but this soundtrack demands to be played loud.
Audio rating: 5/5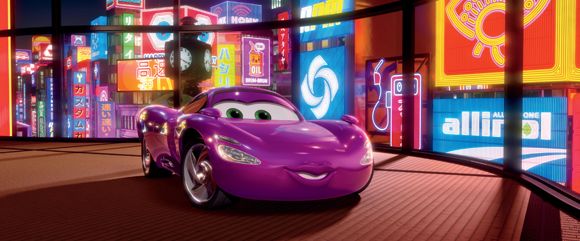 Extras: While the standard 2D Blu-ray release offers up very little in the way of extras, this multi-disc 3D BD set is packed with them. The 2D Blu-ray is accompanied by an audio commentary from directors John Lasseter and Brad Lewis, plus two animated shorts – Hawaiian Vacation (the first of several planned Toy Story shorts) and the Mater's Tall Tales: Air Mater. The later short is repeated as the sole extra on the 3D platter, although there – like the film it supports – it is presented in 3D.
Which leads us to the bonus Blu-ray available exclusively as part of this 3D set. First up is The Nuts and Bolts of Cars Land, a look at the making of the Disney's upcoming theme park attraction. The rest of the disc is taken up with an interactive globe, allowing you to access sub-menus based around locations featured in the film. In these you'll find additional short animations, trailers, production featurettes, 3D set explorations, art slideshows, deleted scenes and much more. And make sure you check out every part of the globe itself, as there are also several Easter Eggs waiting to be discovered.
Extras rating: 4/5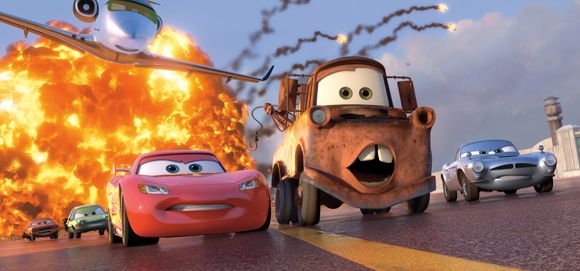 We say: This mediocre sequel sets a new standard for 3D animation of Blu-ray
Walt Disney Home Entertainment, All-region BD, £25 approx, On sale now
HCC VERDICT: 4/5