Boston Acoustics A Series review
Adam Rayner enjoys a 5.2 experience and wonders whether he should deck out his whole house in gloss white

In all big industries, there is a fair bit of corporate take-over manouvering, acquiring new brands under one overall owner as a trend. The benefits can be huge, with technicians excellent in one field suddenly finding that their colleagues from the newly-bought division can help them with the stuff that they're good at. But when take-overs happen, there's always fear amongst the fans that there will be a dilution of the essence of why they love a product in the first place.
I recall a big fuss about the REL subwoofer company being sold – I was sure that the original designer was the goose that laid the golden eggs and that without him REL would be stuffed. Thankfully, the new owners were chosen to be just as bonkers as he was – and all was well.
Likewise the surround package I auditioned here from Boston Acoustics. Now part of the same outfit that owns Denon and Marantz, Boston has a fine heritage of excellence as a brand with its own philosophy and approach firmly established long before it was bought and sold. It's one I love and have referenced in the past – for their no-compromise automotive line of speakers, the catalogue had a picture of a Rolls Royce on the front flying a foot in the air over a rally-style dirt track jump. It was about Rolls Royce quality with lairy attitude and performance.
Like so many speaker companies, Boston seems to have an offering at all price points, with three ranges of separates; to whit, the VS at the top, then the RS, and then this A Series. There's also the SoundWare sub/sat systems and a good selection of speakers for outdoor use. Thus, its main design thrust doesn't show through that easily on the surface.
But the system here has a deliciously revealing 'intent', revealed simply by the array that Boston's UK people supplied to have reviewed.
You see, I had not one but two pairs of the flagship A360 floorstanders to go with the A225C centre. A sane person might choose the A26 bookshelf designs for rear use instead.
Four play
Anyway, once I'd moved my furniture around a bit, I had four of the biggest loudspeakers in the range, one per corner. These feature a pair of 6.5in Deep Channel Design DCD) drivers, ported to the rear. Despite there then being a 3.5in version of the same DCD driver coupled to a tweeter above, making this a three-way design, there is but a single set of binding posts to the rear – no clusters of connectors all joined up with jumpers for those who actually bother with forests of speaker wire to bi-wire or even tri-wire.
The A360 enclosures were clad in a laminate, glossy white for our system, although satin cherry (would have been my fave) or black are also available. The grilles are inset within the front baffle to form a smooth front profile, and look smart when fitted. There are eight stumpy legs on the grilles' behinds, with felt on the end to avoid scratching the tower's leg-hole-free finish.
Each has a Neodymium magnet that grips on to the steel embedded within the cabinets' faces. When removed, the A360s look a bit gap-toothed with flanges of cabinet edge protruding, yet the towers are only badged on the front drop, not the grilles and the expensive magnet system means you are definitely intended to use them grille-free.
One niggling gripe was that one of the A360s had its badge applied crooked. The human eye is excellent at spotting this sort of thing. Applying a very expensive 3D decal to a £720-a-pair loudspeaker is not the sort of thing you should do drunk. I would be a bit annoyed if I was a buyer and it was my pair.
Cosmetics are carried through to the centre and woofer – or rather, in this case, woofers. As, instead of auditioning a 5.1 setup with, say, the ASW 650 (a forward-firing, 300W, 10in job) we opted to dabble with a pair of the down-firing ASW 250s.
Same driver, almost the same box, but instead of ported and driven pretty hard forwards-firing, this is sealed and down-firing so as to 'acoustically load' against the floor by dint of being raised up upon stumpy rubbery feet. This gives the speaker itself a lovely comfy environment to work in.
The classic, oft-debated 'use two' edict of home cinema subwooferage is therefore invoked. Here, you get twice the surface area of driver cone, (always directly proportional to Sound Pressure Level), the system drops to the limits of the drivers' suspensions rather than tailing off rapidly below any tuned frequency of a ported system, and you keep weight and scale right up there, as the two amps add up to a half kilowatt of peak thud.
Boston recognises the hooliganistic nature of both the end user and Hollywood sound engineers, so supply some control against over-driving sub bass and the distortion that goes with it. With Boston, it's called BassTrac and is a proprietary circuit 'designed to track the bass input signal to the amp and prevent the amp from being driven into audible distortion.'
I set the speakers up and then fiddled with the few controls on one woofer, with the other off. Then changed over and did the second woofer on its own. Then played both together and turned both down. Then played the movie material and music and turned them down again! I was guilty of wattage-prejudice. Basically, the woofer works beautifully with a friend and the system's whole synergy was wonderful.
Once set up and in full flight, I was deeply impressed by the A Series. Some of this will undoubtedly be down to the input of Ken Ishiwata, the experienced audio superstar of sister brand Marantz who was called upon to lend his ears to the exercise.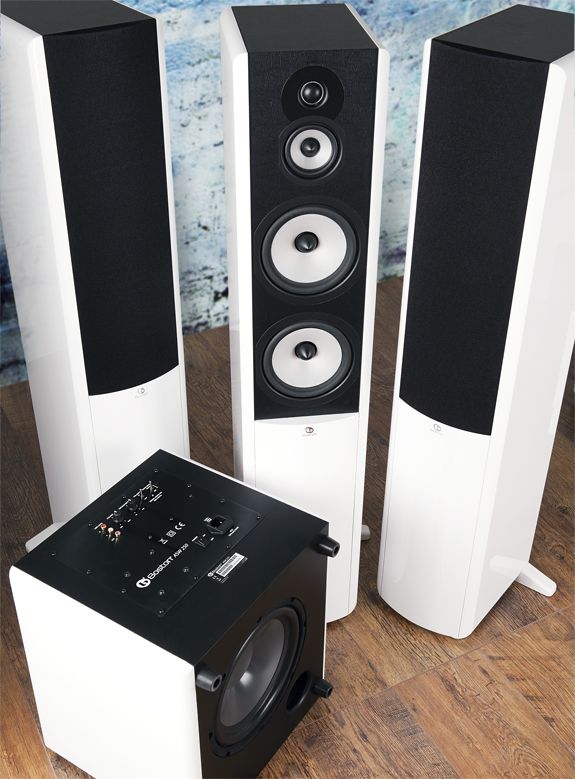 Upmarket audio
Boston gives little given away about the technology in the beautifully compliant DCD drivers, compared to some manufacturers, and less still about what a Kortec tweeter is, but all I can relate is that they sound as a whole, way more upmarket than they have any right to at this price point.
You can tell, just by listening, that there is lots of filtered-down speaker R&D tech in these cabinets, derived from years of hard toil, all flung into a white-hot wok belonging to a chap who knows European tastes and has produced a bit of an event.
I used the alien-road-tip comedy Paul on Blu-ray as my test platter. First, the bass from the A360 towers is both prodigious and tight. The centre kept up amazingly well and I really felt no need to gripe – for once – that the lineup should have a more potent centre channel offering with 6.5in, not 5.25in, drivers. It rocked. I was able to find limits for the woofers – particularly the sequence where the dog gets flattened by the flying saucer – but the sheer scale of the overall system was still ridiculous.
And this exquisite scale came with a wonderful sense of detail and placement. Edges of strings, clanking cutlery in restaurant scenes and even the raspy bite of a V8 engine all sounded surprisingly clear and tactile. Music was handled beautifully,, too. No bloom or boom, just full-fat surround with all the odd cues. Get this – at one point I actually looked up, thinking something was falling off my son's gaming shelf nearby, only to realise it was the sound of a wooden bell tree percussion instrument. Rueful grin!
Elsewhere, the sweet midband was shown in the clack of a payphone being hung back up on its cradle. It was rich and sensuous like fruit cake. Dynamics were good, if not huge, but oh my, this system does a lot for the money. The scene where our protagonists are playing out a scene of an early Star Trek episode features a good meaty weight to a bodyslam and the A Series thrust it out mercilessly.
Full-bodied performance
All in all, this is remarkable set of speakers. Eminently affordable, tasty to look out and imbued with a full-bodied, powerful audio performance. And, yes, getting the big 'uns all-round is well worth it.
---
HCC VERDICT
Boston Acoustics A Series
Price: £2,200 Approx
Highs: Great detail; deep bass; smooth mids and wonderful fidelity; gorgeous design; value for money
Lows: The packaging's a bit ropey…
Performance: 5/5
Design: 5/5
Features: 4/5
Overall: 5/5
---
Specifications
A360 towers
Drive Units: 2 x 6.5in ceramic glass fibre polymer Deep Channel® Design woofers; 1 x 3.5in Deep Channel® Design Midrange; 1 x 1in Kortec® soft dome tweeter
Enclosure: Three-way, rear-ported
Frequency Response: 38Hz-25kHz
Sensitivity: 90dB
Power Handling: 200W
Dimensions: 345(w) x 1,060(h) x 274 (d)mm
Weight: 20Kg
A 225C centre channel
Drive Units: 2 x 5.25in ceramic glass fibre polymer woofers; 1 x 1in soft dome tweeter
Enclosure: Two-way, rear ported
Frequency Response: 65Hz-25kHz
Sensitivity: 89dB
Power Handling: 175W
Dimensions: 406(w) x 160(h) x 225(d)mm
Weight: 7Kg
ASW 250 subwoofer
Drive Unit: 1 x 10in ceramic glass fibre polymer woofer
Enclosure: Sealed, down-firing to acoustically load against floor on short legs
Frequency Response: 35Hz-150Hz
On board power: 100W RMS, 250W peak
Dimensions: 372(w) x 357(h) x 415(d)mm
Weight: 14.6Kg
Connections: Phono stereo input; single LFE socket

SPONSORED VIDEO

SPONSORED VIDEO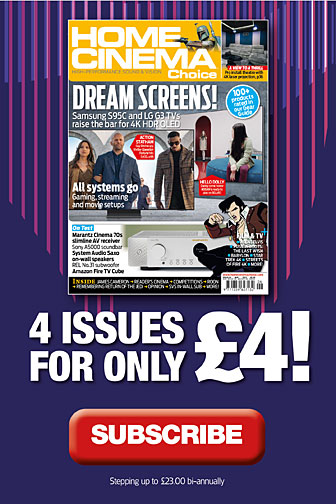 Home Cinema Choice #332

is on sale now, featuring: Samsung's 8K flagship; Anthem AVM 90 processor; B&W 800 Series Diamond; LG smart projector; Hollywood box office bombs; Hitchcock 4K; and more
Want to see your home cinema system featured in the pages of HCC? Click
here
for more info.