Bluetooth speakers: Bose vs Geneva Sound vs Harman/Kardon vs Loewe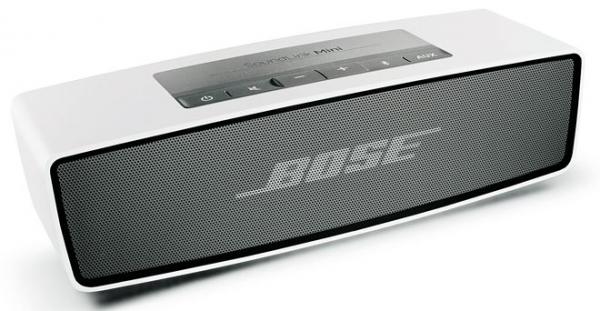 Which of these mid-range models earns Best Buy status?
A few years ago Bluetooth was a dirty word in the audio market. Apple AirPlay and Wi-Fi Direct offered higher-quality, lossless, wire-free streaming and Bluetooth was reserved for budget speakers that looked bad and sounded worse. How times change.
Bluetooth has upped its game. While AirPlay and Wi-Fi Direct have proved complex, expensive to licence and heavy on battery drain, Bluetooth has become more power-efficient and lifted its audio quality significantly. The A2DP profile brought stereo streaming and better low-frequency response and apt-X has upped data to a level where even many audio connoisseurs struggle to tell it apart from lossless standards.
With Bluetooth showing its teeth (and remaining remarkably cheap to licence and easy to use) even high-end speaker manufacturers are flocking to it in droves. The household names in this grouptest highlight this and each has added their own flourishes, such as NFC to pair devices simply by touch, and hands-free calling.
Each speaker here was subjected to an array of music styles and run continuously at different volumes for a real-world battery test. The bass of AWOLNATION, percussion of Cat Power, acoustics of Gotye and Nirvana unplugged, electronics of Arcade Fire, pop sensibilities of Naked and The Famous, plus some Bach, formed the core of the test tunes.
Bose SoundLink Mini
Whereas rival brands have endowed their offerings with bonus features, Bose has gone for the exact opposite approach. Its debut Bluetooth speaker has a laser-like focus: no hands-free calling, no NFC, no apt-X. There's Bluetooth 2.1 with A2DP, 3.5mm auxiliary output, volume controls and mute and power buttons. This is a no-frills speaker.
But it remains a premium device. The SoundLink Mini's design is minimalist but its gentle curves appeal as does its compact size (180 x 58 x 51mm), first-rate build quality and durable metal chassis. A nice touch is that Bose ships the speaker with a charging cradle which means, while it can be charged directly, it can also simply be sat on its dock.
Bose is typically secretive about its audio tech specs, beyond revealing the SoundLink Mini packs two tweeters and dual bass radiators. Its deceptively heavy 700g heft bodes well, however, and this is reflected in the sound, which is wonderfully deep and rich. In fact, the Mini is noticeably louder than the much bigger Loewe Speaker 2GO (tested below). Put all four speakers in this test together and the Mini has easily the most crowd-pleasing sound signature.
But cracks do emerge. The SoundLink Mini's performance is, to a certain extent, lacking in clarity. The luxurious electronic arrangements of Arcade Fire's Reflektor are a little muddled, and if you enjoy classical music you'll find this speaker does more justice to the bass section than the strings. Battery life is also disappointing. Bose claims seven hours yet my tests saw it fall just shy of six hours, making it a little short for all-day listening. That said, the pricing is surprisingly competitive compared to its roundup challengers and, despite a lack of features, I can't see many not being seduced by its warm, reassuring tones.
​HCC Verdict: 4/5
£170, www.bose.co.uk
---
Geneva Sound Model XS DAB+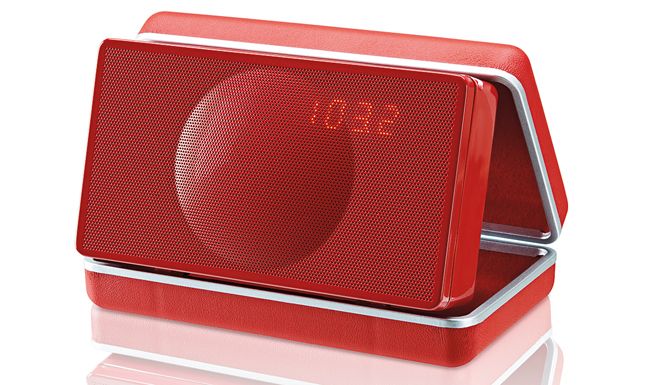 While the Bose SoundLink Mini leans toward a bass-heavy performance, Geneva Sound has always prided its products on detail and clarity, and the Model XS sticks to these principles while throwing in both style flourishes and features galore.
Its design is ingenious – the speaker and its hard case are inseparable, with the case acting as a protector when not in use and as a stand to keep the XS angled for better sound projection when its fired up.
It is also the only speaker here to feature a removable battery so you can purchase spares. It's practical and hardwearing.
Other features include a useful DAB+ digital radio tuner. There is a digital clock display and alarm as well, so it is a compelling travelling companion. There's no hands-free calling option, though, which may annoy the wannabe Gordon Gekkos out there.
Unfortunately these positives are compromised by a lacklustre audio performance. The 2 x 3W tweeters and 6W subwoofer simply can't keep pace with the rivals. Bass reproduction feels underpowered and it's the quietest of the four on test.
This is a shame because give the XS acoustic material and it sounds superb. Nirvana's famous unplugged sessions in New York sound great, delivering the full rasp of Kurt Cobain's strained vocals. Yet start up AWOLNATION's Sail and it flounders. Meanwhile, the already meagre five-hour rated battery lasted just a little over four hours.
A £220 ticket also heavily counts against the XS because it doesn't sound like a speaker in this price bracket. It is perhaps the most practical, portable and usefully featured model here and will please the frequent traveller, but for those wanting something powerful to take to the park on a sunny day, or simply park on a bedside table, it isn't the answer.
​HCC Verdict: 3/5
£220, www.genevalab.com
---
Harman/Kardon Esquire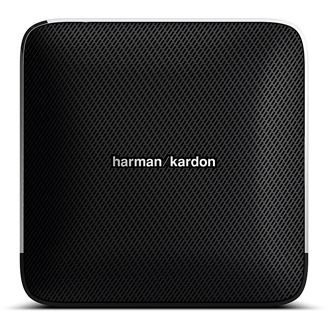 Out of the box, the Harman/Kardon Esquire is unassuming, with a square design that lacks the compactness of the SoundLink Mini and the trickery of the Model XS. But it is wholly practical, and the rock-solid aluminium chassis and leather back add a touch of luxury. Measuring 147mm wide/high and 46.5mm deep, and weighing 700g, it remains portable.
Unlike the other Bluetooth speakers auditioned which use barrel chargers, the Esquire employs microUSB like every (non-Apple) gadget you own. It also has a useful five-dot battery indicator, whereas the rest require either button combinations to speak their charge level or only warn you when they are low. It offers crystal clear hands-free calling and NFC device pairing. Simple button controls adorn the top surface.
More importantly, the Esquire's 2 x 10W tweeters and bass radiators punch well above their weight. Remarkably, this is the loudest speaker on test by some margin, making it great for uncritical outdoor use. It does share the Geneva Sound Model XS's interest in mid- and high-range clarity and detail, lapping up both the pop of Naked and The Famous' Young Blood and driving treble of Cat Power's He War. Yet bass is still satisfying – not quite as rich as the Bose SoundLink Mini but able to handle AWOLNATION's Sail with aplomb.
There are a couple of niggles, though. Harmon/Kardon has pulled the apt-X support which is featured in its larger Onyx home speaker, and there's no full-size USB port for charging a device. And the rather cheap carry case feels like an afterthought.
But the Esquire finishes on a high. It hit its 10-hour claimed battery life, putting it noticeably ahead of its rivals in the longevity stakes, and at a new price of £170 (down from an original £230) it is the joint-cheapest speaker here.
​HCC Verdict: 4.5/5
£170, www.harmankardon.co.uk
---
Loewe Speaker 2Go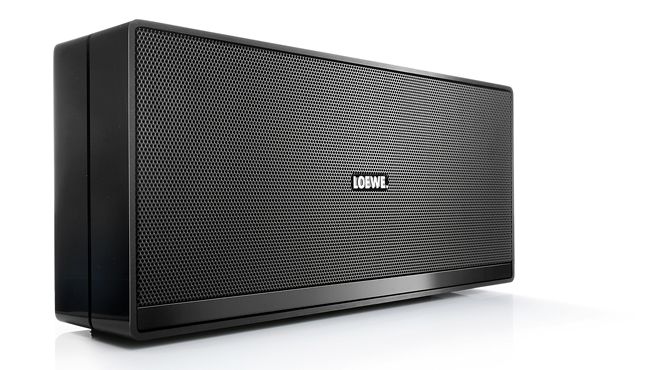 When Loewe released a portable Bluetooth speaker it was the final market validation the standard needed. The Speaker 2GO is typical of the brand. From the outset it is determined to make an impression – at 240mm wide and 1.3kg it is by far the biggest and heaviest speaker on test here. In fact I'd say its dimensions are pushing what most would like to carry around.
Needless to say Loewe counters this with premium build materials and the Speaker 2GO is wonderfully put together. Its looks are somewhat love/hate, though, and I'm not a big fan of its boxy design and mirrored top/sides.
Less contentious is the Speaker 2GO's audio performance. Loewe has nailed the low-frequency response often lacking in portable designs and it is notably warm and crowd-pleasing on AWOLNATION's anthemic Sail. It isn't all smooth sailing though – detail in higher frequencies isn't as impressive and this is apparent in the guitar plucking on Gotye's Someone I used to Know. There also isn't as much sound dispersion as I'd like for a speaker claiming a considerable 40W, courtesy of two 10W tweeters and a 20W woofer. This is a shame as its support for apt-X means the Loewe has the wireless chops to provide better.
Loewe gets back in my good books via this speaker's practicality. There's NFC for device-pairing, hands-free calling with a superb echo-cancelling mic, an auxiliary out and a USB port for charging devices connected to it. The 2,500mAh battery will fully charge most smartphones and I found it lived up to its eight-hour claims on moderate to high volume.
Price predictably is a negative. £200 may be affordable for a Loewe product, but it is more expensive than both the Bose and Harmon/Kardon models tested here.
​HCC Verdict: 3.5/5
£200, www.loewe.tv/uk
---
Conclusion
This quartet illustrates perfectly the wide-ranging nature of the Bluetooth speaker market, with price points, technical specifications and additional features all varying. And our overall scores vary, too...
However, each speaker remains a high-quality device. Build materials are luxurious across the board and each model can claim to offer something that none of its rivals do. As such, which one appeals most to you will be a personal choice.
For us the Harman/Kardon Esquire just sneaks into top spot. This is due to its all-round audio performance, high volume output, long-lasting battery and convenient microUSB charging. It also matched the useful hands-free calling feature of the more expensive Loewe Speaker 2GO while being the joint-cheapest on test.
In second place is the Bose SoundLink Mini. Its lack of features will alienate some but its rich, warm audio is a crowd-pleaser and its compactness and volume advantage over the hefty Speaker 2GO make up for the Loewe's greater functionality. And it matches the Harman/Kardon in value-for-money terms.
The Loewe Speaker 2GO is third due to its high price tag and relative lack of punch for something so big but its audio is satisfying, the hands-free option works brilliantly and we love its ability to charge other USB devices.
This means the Geneva Sound Model XS lies in fourth place. In this line-up this is far from a disgrace but its weak output and noticeable lack of bass is a problem. Were this improved in a future version, the XS's clever form factor, replaceable battery and useful DAB radio could see it challenging for top honours.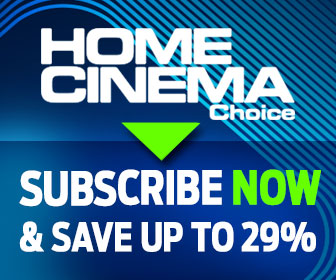 Home Cinema Choice #316 is on sale now

, featuring: Sony VPL-VW790ES 4K laser projector; B&W 600 S2 Series speakers; CEDIA home cinema awards; Humax Aura PVR; tech tips; disc reviews; opinion; and more.
Want to see your home cinema system featured in the pages of HCC? Click
here
for more info.