Bang & Olufsen Beosound Stage soundbar: first impressions
Bang & Olufsen is now shipping its first soundbar, the Beosound Stage, and has given it an early public showing at the annual Esquire Townhouse event, a showcase for all things luxe.
HCC
, was invited along for an early audition and an up close look at its design and finish.
The brand, which is approaching its 94th birthday this November, has long had a reputation for high-end design, coupled with a talent for AV excitement. Both ingredients can be found in abundance here.
'You might think we're a bit late to the market,' said Tom Mckenna, Channel Manager. 'We didn't want to rush it. We thought we might as well get it right…'
The Beosound Stage certainly stands apart from the crowd. With industrial design from Danish firm NORM, it merges traditional Scandinavian design with Japanese minimalism.
There are two iterations at present – one, priced £1,250, with an aluminium trim (and available in Natural or Bronze Tone finishes), the other a Smoked Oak variant. The latter employs small pieces of oak interwoven with dovetail joints, synonymous with Danish cabinetry, and commands a premium £1,900 price tag.
There's a small 2mm gap between the frame and the cover itself, allowing it to act as both a frame and halo to the speaker. The cloth grille can be changed to match your decor – although an attempt to show use just how easy it is to pop off the grille proved fruitless. Many hours, and several bent credit cards later, the Bang & Olufsen guys gave it up as a bad job.
The Beosound Stage employs eleven individual speaker drivers, each with their own 50W amplifier module. There are four bass drivers in a stereo configuration, which work in unison to produce a tight low-end delivery.
These are joined by mid- and full-range drivers in a triangular formation, optimised for mid-range and vocal performance, and tweeters positioned left and right. These are actually angled, so that the soundbar can be positioned flat on a shelf if required. Users need to specify in the accompanying app that the system is table- rather than wall-mounted.
Bang & Olufsen describes the Beosound Stage as a 3.0 system. It offers support for AirPlay 2 and Google Chromecast. Connectivity includes an HDMI input, HDMI out with eARC and a 3.5mm stereo jack.
While the Stage is Dolby Atmos compatible, it doesn't feature any drivers dedicated to handling height, instead using height virtualisation technology. And it can't be partnered with wireless rears for a 5.1 system. It's probably best thought of as wide stereo.
First impression are that it's a big soundbar, suitable for 55in and larger screens, and creates a suitably huge soundstage with enormous dynamic welly. A run through of the Live Aid set from Bohemian Rhapsody cleanly separates crowd ambience from the band. It's impossible not to tap your toes to Brian May's distinctive riffs and John Deacon's plunging bass-lines. And the speaker's vocal presentation is excellent.
The Beosound Stage also sounds surprisingly convincing as an audio-only speaker. Bang & Olufsen suggest that it'll find a role as a multiroom speaker in its own right, well away from any screens, as it integrates with the brand's proprietary wireless network products. That could be a bit of a stretch, but its Bluetooth 4.2 performance is certainly hi-fi credible.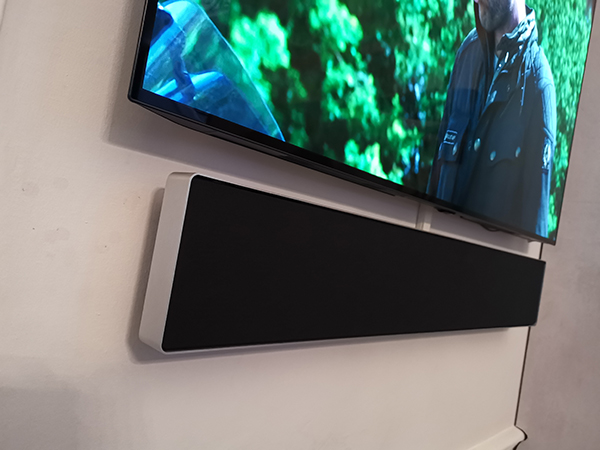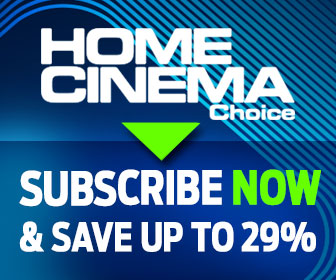 Home Cinema Choice #323

is on sale now, featuring: Panasonic JZ2000 4K OLED TV; LG SP11RA Dolby Atmos soundbar; Philips 806 OLED TV; Neill Blomkamp interview; hi-fi meets home cinema install; and more
Want to see your home cinema system featured in the pages of HCC? Click
here
for more info.