Artcoustic Spitfire SL review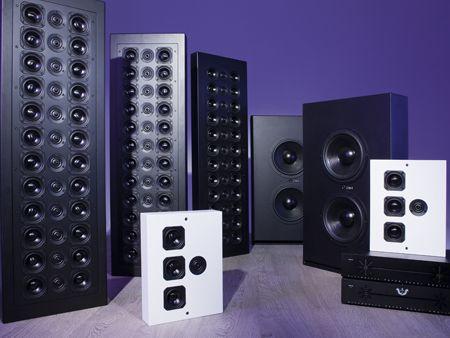 These high-end speakers sound great and provide discreet installation options

Artcoustic is well known for its living room-friendly on-wall speakers that can be specified with custom grilles to match your room's décor – indeed, you could argue it's perhaps too well-known for them. There's a temptation to see any company with products that wouldn't look out of place in an interior design mag (especially with a name like Artcoustic) as, well, not a proper home cinema player. Yet that couldn't be further from the truth.
While Artcoustic will happily sell you a stereo pair of wall-hung monitors in a variety of colours, it's equally keen to help you achieve home cinema heaven, via its larger-scale cabinets that are designed to fit behind a projector screen and make light work of the most raucous Blu-ray soundtracks. And it's that sort of array that's on test here.

The company hails from Denmark – counting the likes of DALI and Dynaudio as its neighbours – and began life back in 1998. As a relatively small outfit compared to the big speaker brands, it's still able to boast about all its products being handmade in its native country.

Unusually for a loudspeaker manufacturer, Artcoustic doesn't go down the 'top, middle and bottom' route when it comes to its range – as opposed to, say, Monitor Audio. Every model it offers (from a lineup that's 30+ strong) is, in some regard, the same speaker.

How so? Because Artcoustic employs the same drivers across all its cabinets – dual ring radiator tweeters and 3in midbass units in its speakers, and 10in low-frequency drivers in its passive subwoofers. As you step up through the range, the cabinet size increases and the number of drivers grows.

This approach is designed to ensure the cinema models can hit very high SPLs. Adding more drivers improves the speaker's sensitivity – to a claimed 110dB in the case of the L/C/R models reviewed here – and allowing it to be driven to reference level without requiring a collection of Lake Michigan-sized power amps. This makes speaker/amp matching a simpler process. 'Amplifier power is meaningless without high efficiency,' espouses Artcoustic UK's rep, Paul Cummin.
Assembling the troops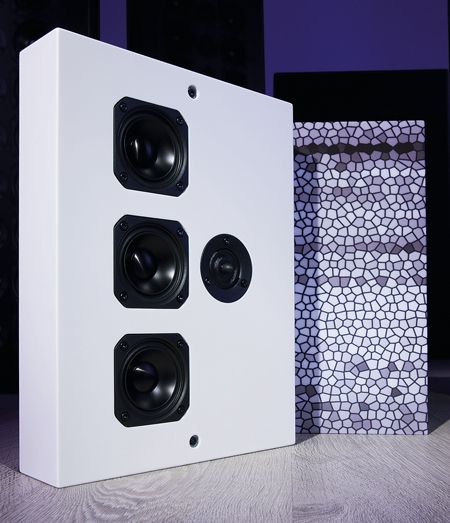 The system tested here is 7.2 (although our photography only includes two of the four surrounds), with the stars of the show being the Spitfire 24-12 SLs. These enclosures are designed for cinema rooms only. They're grille-less and feature a more durable finish than alternative (but technically identically) models offered for rooms where they will be installed on show. Each presents a front baffle jam-packed with drivers. Twenty-four mids and 12 tweeters to be exact, hence the name. The Spitfire lineup also offers two smaller models with fewer drivers – the voice-matching means you can build an array tailored to your room's needs. Artcoustic says the best methodology is to start with screen size and seating position and configure the audio system from there, rather than trying to shoehorn a set speaker package into a space that, acoustically, doesn't need it.
The 24-12s are on front soundstage duty, and in this instance partnered with a quartet of Diablo SL on-wall speakers and a pair of Spitfire subs. The former are less sensitive, but will typically be installed nearer the listening position – more potent Artcoustic surround speakers are offered. The latter are passive designs, ported via a front-facing slot and with twin 10in bass drivers, and fed by separate rack-mountable power amplifiers toting 750W a-piece.

My audition took place at Artcoustic's Chelmsford showroom, in a somewhat lush purpose-built space that the brand uses to show potential buyers exactly what high-roller home cinema is all about. Twin rows of Cine-Italia seating point eagerly at a 170in Screen Excellence projector screen, fitted with Enlightor 4K material to get the optimum image from the newly resident JVC X900R flagship light-cannon. In the rack is an Integra pre/power duo (a DTA-70.1 and a DHC-80.3) priced at approximately £5,000, and a Sony BDP-S790 Blu-ray spinner.

That Enlightor screen material is acoustically transparent; vital as the front soundstage speakers, and dual subwoofers, are mounted behind it.
Controlled aggression
As you'd expect from a speaker array with a price tag nearing the £20,000 barrier, the Artcoustic SLs are highly impressive. That insane quotient of tweeters and midbass drivers does what the manufacturer intends – enable high-volume, home cinema heroics without ever sounding like it's getting out of control.

Detail retrieval and the articulation of movie effects are perhaps the standout performance trait here. With the 2013 science-fiction flick Oblivion, this means the environments created by director Joseph Kosinski and his sound team are alive with clean, delicate – but forceful when needed – noises, making this tale of Tom Cruise moping around a desolate Earth as real-sounding as it can. The rain spattering on his craft's windscreen and the crackling lightning of the storm are succinctly delivered, as are his crunching footsteps and the whistling wind as he trudges around the planet's surface.

The soundstage created is both wide and deep, able to involve you unhesitatingly in the onscreen action. For instance, when Cruise drops into the sinkhole, tracking the beeps of the beacon, the Artcoustics help build the tension, conveying the space of the underground library with smooth pans and a pronounced sense of atmosphere. Sounds hang in the room, rather than stumbling forward sheepishly from the screen. This system has a handy knack of revelling in quiet periods, painting a sonic picture, before bursting into life with shocking dynamism.



This sinkhole sequence features what AV fans will know is a great subwoofer showcase – the descending bass note that illustrates our hero plummeting back underground when his rope snaps. The twin drivers here absolute nail it, maintaining their serious output as the tone drops and drops, exciting the air around you. While it's not up there with the very best subwoofer performance, missing out on that visceral power and size that premium dedicated woofers can offer, it's entirely commensurate with the relatively affordable price point.
For a more bombastic sound mix (although not quite as artful) I turned to Fast & Furious Five and its dramatic dragging-a-bank-vault-down-the-street sequence. This proved utterly fabulous, especially after nudging the Integra amp up a notch – the Artcoustics seemed to delight in the extra power, finding more punch and scale. Gunshots hit hard and fast, with a spine-tingling impact that's exactly what the AV doctor ordered.

Imaging is excellent. As Vin Diesel and Paul Walker thrash their cars through Rio de Janeiro, these speakers track their throaty engines and the spinning, tumbling vault all around the soundfield without a gap in the delivery – a benefit, surely, of the timbre-matching throughout the Artcoustic lineup. The subwoofers have work to do here, and the way they add tight, fleeting thumps to each collision (and there are many) is first-rate, devoid of overhang.

The opening sequence to Pacific Rim continued the fun. I kept the amp running high, and was rewarded with a lively, aural experience, particularly the high-in-the-mix voiceover ('to fight monsters, we created monsters of our own…') and the mid-range weight given to the rousing score. Ramin Jawadi's original composition is a fantastic arrangement of driven guitars and synthetic drums that gradually builds as del Toro moves the pre-credits narrative forward, and the SL lineup had me tapping my foot in appreciation and leaning forward in my seat. And later on, when the largescale action becomes relentless during the attack on Hong Kong, the cracks of falling masonry, screams of terrified residents and pounding Kaiju feet are intensely cinematic and deftly separated.

Dialogue is delivered with believability and verve, and that behind-the-screen placement of the centre channel and L/R speakers really helps locate it to where it's meant to be. Whether it's Idris Elba's stagey shouting in Pacific Rim, Andrea Riseborough's headset chatter in Oblivion or Billy Connolly's gruff King Fergus in Pixar's Brave, the result is natural-sounding voices with presence.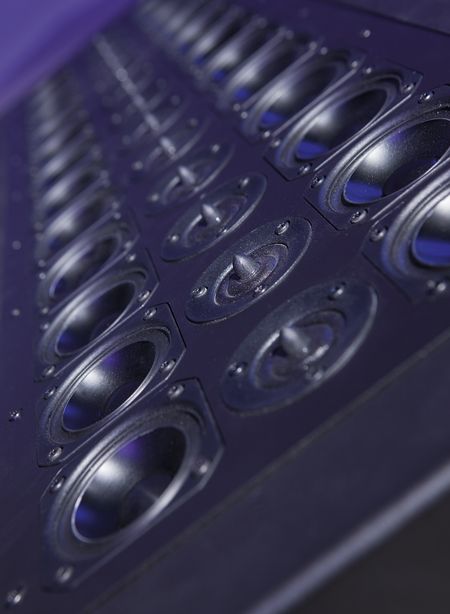 Switching from movies to music gives the SL array a better opportunity to showcase its full-range delivery. Run-throughs of Jack The Ripper (Grooverider) and Swamp Music (Lynyrd Skynyrd) elicit a wide grin. Hi-hats and other percussive effects bounce along atop a fluid, clean midrange. The guitars and vocals of the '70s rock anthem, and the synths and weird, guttural grunts of the drum 'n' bass track, sound real and are thrust forward in the mix, while delicate sounds, such as fingers sliding along a guitar string, aren't lost in the melee. However, with the Artcoustic speakers very much erring on the side of neutral when it comes to tone (and the fact that being installed on-wall means you can't toe them in, as some music buffs would like to do), it's perhaps not the most emotive hi-fi listen at this price point. That said, switching to the Integra's all-channel stereo mode showcased the array's impressive ability to fill a room with power and scale. Equally, you could argue that a custom-built cinema isn't the proper venue for critical music listening.
One for your shortlist
If you're serious about home cinema at the premium level and are planning a projector-based dedicated room, then these need to be on your shortlist. The newly slimmed-down design (the original Spitfire models were nearly twice as deep) will make them easier than ever to install, and Artcoustic's modular approach means the brand, or your installer, should be able to specify the configuration that's most apt for your space (and you therefore may find a more affordable package is relevant).
There are rival systems to consider, of course, but nothing that is an obvious competitor. A Steinway Lyngdorf or JBL Synthesis package (both of which I've heard and loved) will edge this in terms of performance, but will cost you a lot more. Similarly, there are similar-priced setups from more traditional hi-fi brands (B&W, DALI, Quadral...) that have a more musical bent and, perhaps, offer more pride-of-ownership, with their lush cabinet finishes. However, these usually arrive with centre channel enclosures viewable from space, and throw up installation problems of their own. Amp matching becomes a more serious task, too.

What the Artcoustic array offers is therefore highly unusual – potent, room-filling sound with a serious nod to setup and room design. It's no-compromise AV that understands the compromises – and standards required – of a dedicated cinema install.
www.artcoustic.com
Tel: 01245 400904
Specification
Spitfire 24-12 SL
Drive units: 24 x 3in midbass drivers; 12 x 1in dual ring radiator tweeters
Enclosure: Sealed, line-array
Frequency response: 65Hz-40kHz
Sensitivity: 110dB
Power handling: N/A
Dimensions: 1,126(h) x 350(w) x 67(d)mm
Weight: 15kg
Diablo SL
Drive units: 3 x 3in midbass drivers; 1 x 1in dual ring radiator tweeter
Enclosure: Sealed
Frequency response: 50Hz-40kHz
Sensitivity: 88dB
Power handling: N/A
Dimensions: 360(h) x 270(w) x 67(d)mm
Weight: 4.5kg
Spitfire SL Sub
Drive units: 2 x 10in long-throw bass drivers
Enclosure: Slot-ported (front)
Frequency response: 25Hz-120Hz
Onboard power: Driven by separate 750W power amp
Remote control: No
Dimensions: 844(h) x 500(w) x 150(d)mm
Weight: 30kg
Connections: Stereo speaker-level input

SPONSORED VIDEO

SPONSORED VIDEO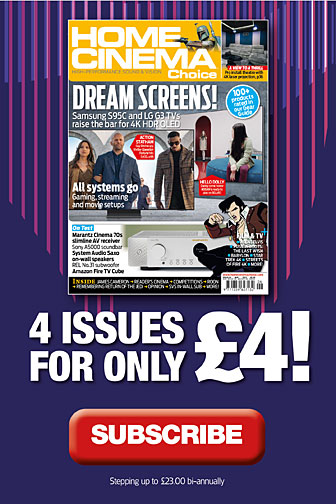 Home Cinema Choice #332

is on sale now, featuring: Samsung's 8K flagship; Anthem AVM 90 processor; B&W 800 Series Diamond; LG smart projector; Hollywood box office bombs; Hitchcock 4K; and more
Want to see your home cinema system featured in the pages of HCC? Click
here
for more info.