Acer V9800 review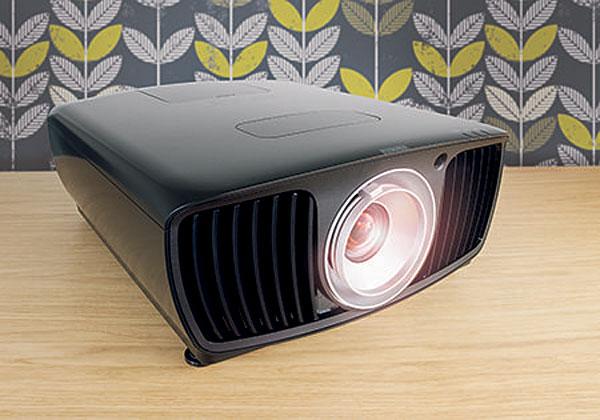 This UHD DLP projector brings new clarity to the home cinema arena at a tempting price
It's been a long time coming, but finally the DLP camp is rolling out UHD projectors for the home. Until now, if you wanted 2160p resolution on the biggest of screens, your choice was either to buy one of Sony's native SXRD offerings or opt for a pixel-shifting pretender from JVC or Epson. The arrival of DLP 4K seeks to blow that cosy duopoly out of the water.
DLP stalwarts Optoma and BenQ have 4K models, but it's Acer – perhaps not the best-known brand in home cinema circles – that got its product, the V9800, to our test bench first.
Physically, it's no shrinking violet. In terms of footprint, it's comparable to JVC's bulky DLA fleet or Sony's opposition. In short, you'll not be using this on a temporary basis. It's a big projector that demands a proper installation.
The chassis is gloss black, with smart, rounded edges. The deep-set lens is flanked by ventilation grilles, while all inputs and power jack are side-mounted. It looks less designed and more… determined.
Connections include dual HDMIs and a VGA PC input, Ethernet, wired remote jack and a mini USB-B terminal. Only the primary input is HDMI v2.0 compliant, although this limitation shouldn't prove too much of an issue if you're using an AV receiver for HDMI switching. For control purposes and screen syncing there's a 12V trigger and RS232.
The IR remote control is a chunky handful, but uncomplicated. For home theatre use, it's helpfully backlit with a vivid shade of blue and offers direct access to the three inputs, alongside key picture adjustments (brightness, contrast, saturation, sharpness, Super Resolution upscaling and gamma).
With the V9800, you'll need a reasonably sized room to supersize your movies. The throw ratio is 1.36-2.03:1, with a 1.5x zoom – you can cast a 100in image (diagonal) from 3m. Both zoom and focus are manual, so no remote zooming here; a test pattern helps snap the projector fully sharp. Lens shift options are fairly generous, with 27 per cent horizontal adjustment, and 65 per cent vertical.
Living with the Acer is par for the projector course – the 4K tech may be new, but it doesn't bring with it any new operational tricks. The onscreen menu comprises a simple, easy-to-navigate tabbed box. If the remote gets lost down the sofa, located on the side of the projector and hidden behind a sliding flap are on-body menu navigation buttons.
Dramatic debut
But enough set dressing. What's this big puppy like in action? Well, my thumbs are up (which makes writing surprisingly difficult). The V9800 delivers images of eye-kissing clarity. You know that stuff that wows on
UHD flatscreens? Well it looks just as dramatic here.
For example, 4K footage from Planet Earth II appears utterly gorgeous. I ooohed and then I ahhhhed. And then I ooohed some more.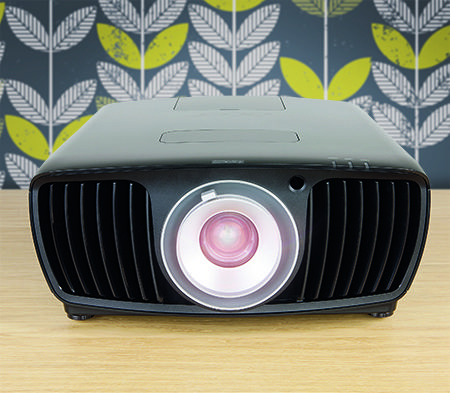 Of course, there are viewing decisions to make. Choose Acer's Standard picture mode and this predictably offers a higher APL (Average Picture Level) than the REC.709 option. In the latter, Planet Earth II's leopard's coat has a distinctly orange hue, its spots providing deeper contrast. Fur and foliage exhibit extraordinary detail and colour cohesion; rain drops fall from a leaf, backlit for extra sparkle. In a fully dark room there's plenty of dimensional depth evident. The Standard mode is comparable, but noticeably a tad brighter.
I'd probably use Standard for TV studio fare, concerts and the like.
More modes are Bright, sRGB, Movie, Dark Cinema, Game, Sport, Silent and a trio of User options.
At full blast (2,200 Lumens), the projector is bright for a dedicated home theatre model. Call up the Eco function and Acer drops it to 1,750 lumens. Either way, the V9800 should be viewed in a dark room environment (keep your popcorn close) to look its best.
While contrast seems high (Acer quotes a typically outrageous 1,000,000:1), the V9800's black level performance is, unfortunately, only average. It doesn't go completely black, more a dark grey and, consequently, subtle shadow detail can be lost. The lamp is a standard UHP job, and at times I really hankered for a laser light source (like that used in Epson's LS models), to give me better blacks. But then the V9800 is also a good deal cheaper than a laser projector, so there's an inevitable compromise to be had.
More comparable projectors price-wise, particularly from Sony and JVC, exhibit healthier black levels. Yet the Sony models are Full HD (such as the VPL-VW65ES) and JVC's don't support native 4K signals.
Acer's gamma default is 2.2, but there are options for 1.8, 2.0, 2.4 and BT.1886. You can save different configurations to the user presets.
Fortitude: Season 2 (Sky Atlantic, UHD) is all white tundra and dark shadows, with occasional gouts of dirty blood. The V9800 delivers this high-contrast thriller with stunning crispness. Headlights beam in the dark, while sequences set around the harbour area are rich in UHD detail – rusty fishing boats and ice-crusted parkas have tangible texture.
Tonality is beautifully smooth, with no noise at all, and there's virtually no sense of rainbow effect, traditionally created by the spinning DLP colour wheel. This colour fringing is usually evident in areas of high contrast, yet while Fortitude gives it every opportunity to present, the image remained flicker-free.
Incidentally, the V9800 only supports Sky Q 4K in 8-bit mode. The 10-bit connection fails to yield a picture. I had no problem with a Panasonic DMP-UB900 using a 12-bit output, however.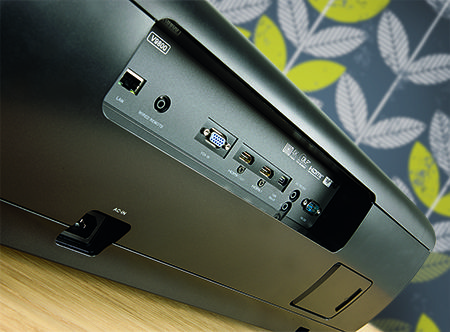 Mirror (x four million) on the wall
So how does 4K DLP work? Texas Instruments has employed ingenious engineering to bring its solution into the home. Beneath the hood of the V9800 is a 0.66in UHD display chip; it's a derivation of the brand's commercial 4K 1.38in cinema silicon (used in the majority of 4K theatres worldwide). By combining the fast switching speed of the digital micromirror device (DMD) with clever image processing techniques, it's able to deliver an 8-million pixel image from four million mirrors.
This has led some to suggest that TI's 4K chip isn't a native UHD device, but this seems a little disingenuous. While there is some similarity in technique used by pixel-shifting 1080p projectors, each mirror is capable of switching over 9,000 times per second, which effectively creates two distinct and unique pixels on the screen.
Your eyes aren't that fast.
And there is no visual sense whatsoever that the PJ isn't delivering a 4K 2160p image. A 4K test pattern is resolved cleanly and accurately; the results onscreen are clearly 3,840 x 2,160. And as this DLP 4K solution is built around a single chip, there is no possibility of panel misalignment, which could theoretically compromise the performance of a three-chip solution like 3LCD.
The projector is also HDR 10 compatible – and it's surprisingly effective. In the world of home theatre, projectors don't generally have the peak brightness to compete with flatscreen TVs, but this Acer debutant can really ping with dynamic fare such as Mad Max: Fury Road (UHD Blu-ray). When Tom Hardy is on the rack, his pupils sparkle with bright pin-prick intensity. In many ways, I felt the Acer's HDR performance to be more immediately impactful than that seen on the Sony HDR-enabled VW550ES. There are two selectable HDR modes (HDR 1 and HDR 2). I preferred the dynamic balance of the first. There's also HDR off.
Jessica Jones, like the rest of the Netflix Marvel TV stable, is a gritty, filmic-looking series that doesn't often reward those looking for UHD detail. But in HDR on this Acer, there are aspects of the image which stand out. Street lights have an intensity you'll not often notice, while the backlit booze in Luke Cage's dive bar provides enormous contrast. While that lack of deep black limits shadow detail, there's still solid punch to the picture. The V9800 makes high-end telly look cinematic.
A potential fly in the ointment when its comes to HDR TV is that Acer says there are no firmware upgrade plans to bring Hybrid Log-Gamma to the V9800. And it's not Dolby Vision compatible, either.
The PJ doesn't support a wide colour gamut. The six-segment RGBRGB colour wheel is REC.709 (Acer ExaColor) and sRGB-compliant only. The projector will take wide colour presented in a REC.2020 container (let's say from a UHD Blu-ray) and apply two-stage colour mapping and gamma correction to make it REC.709 compatible. It lacks the vivid hue reproduction of modern TVs, but – that said – there's no doubting the vibrancy of its images.
While there are no image interpolation modes available to retain detail on fast-moving action, the V9800 thankfully doesn't exhibit excessive blur. More importantly, whether you choose Standard, Sports or Movie mode there are no motion artefacts around moving objects. Pans have a low level of judder, but it's not objectionable.
DLP single-chippers have always had a reputation for ruthless clarity, and that trait is clearly evident here too; the benefit of a single-chip solution like this is perfect convergence. There's blade-like detail to its images when watching Blu-ray and streamed HD.
The Eco setting limits operational noise to around 23dB, down from 26dB. However, the spinning colour wheel has a rather high and constant note which I found a little annoying. This could be an issue, depending on where the projector is located. Any home cinema sound system worth its salt will mask it for much of the time.
DLP delivers
The Acer V9800 is an exciting outing for 4K DLP. It suffers somewhat from a limited black level, but image clarity is high and its HDR performance is genuinely surprising. This is a consistently entertaining projector to watch. Given the fact it's a nascent technology, it's also attractively priced. The sheer size of the unit takes some accommodating, though, and the lack of support for HLG could be a deal-breaker for some TV-centric enthusiasts.
Specification
3D: No 4K: Yes. 3,840 x 2,160 via Texas Instruments 4K DLP chip HDR: Yes. HDR 10 Connections: 2 x HDMI inputs (one v2.0); PC VGA; Ethernet; mini USB-B Brightness (claimed): 2,200 ANSI Lumens Contrast ratio (claimed): 1,000,000:1 Zoom: 1.5x manual Dimensions: 562(w) x 470.7(h) x 216.2(d)mm Weight: 15kg
Features: 4K DLP DMD light engine; RS232; 12V trigger; claimed lamp life of 3,000 hours (Standard)/4,000 hours (Eco); fan noise of 23dB (Eco); ISF calibration; Acer ColorSafe II; Acer ColorPurity RGBRGB colour wheel; sRGB; Dynamic black; horizontal/vertical lens shift; 1.36-2.03:1 throw ratio; one-year warranty (lamp); five-year warranty (DLP chip)

SPONSORED VIDEO

SPONSORED VIDEO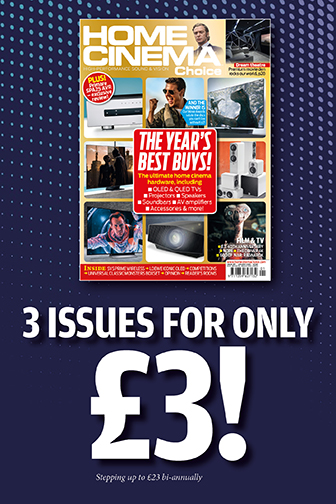 Home Cinema Choice #332

is on sale now, featuring: Samsung's 8K flagship; Anthem AVM 90 processor; B&W 800 Series Diamond; LG smart projector; Hollywood box office bombs; Hitchcock 4K; and more
Want to see your home cinema system featured in the pages of HCC? Click
here
for more info.