A.C. Ryan Veolo media player review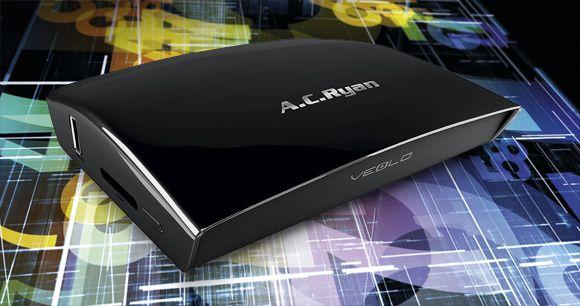 This Android-based player promises a lot, but has some operational flaws
A.C. Ryan has been responsible for some of the better networked multimedia players of recent years. Another entity that started rising to prominence at about the same time is the smartphone. The best-known example of this is, of course, the iPhone, which is rivalled by a range of devices running Google's Android – a Linux-derived operating system optimised for handheld devices. However, some are now taking Android and building it into other electronic gizmos.
One such company is A.C. Ryan itself, which sells the Veolo – a gently-domed wedge containing an Android-based media player. But as an Android device, it can do so much more than play video clips, music or photos. For a start, you get access to the Android Marketplace (since renamed to the less descriptive Google Play). This gives you the opportunity to run your choice of apps – hundreds of which are available. Android smartphone users will already by aware of the flexibility this brings – there are apps for many different applications, most of which are free.
Then there's the ability to conduct Google searches, send/receive e-mail or view websites with a browser that supports HTML5, Flash and Chrome v8 Java. In other words, most modern websites can be accessed. The Veolo can even be configured to act as an NFS or FTP server, with appropriate storage attached. Cool.
Such functionality demands a remote handset that's very different to the norm, and A.C. Ryan has risen to this particular challenge by producing one that has an accelerometer-driven 'touch-and-swipe' system to move a pointer around the screen to select functions (like the mouse of a PC). It also sports a rather rubbery keyboard for text entry, in addition to a few token normal buttons, such as a joypad and standby key.
Unfortunately, the handset is rather frustrating to use and dovetails rather poorly with one of the least intuitive user interfaces I've come across. The keyboard is non-tactile, and suffers from 'bounce' (unwaanted douuble charracters) on the occasions it doesn't ignore your input. Yet it's needed for searches and configuration.
The device connects to your flatscreen via HDMI, and to your network via Wi-Fi or Ethernet. I went for the Ethernet option – more reliable for streaming HD video – but had no luck getting the Veolo to access my shared (SMB) network drives. It was the only player of the grouptest to give me such grief, and not even the patient techie at A.C. Ryan could resolve the problem. NFS didn't work, either – and as supplied the Veolo does not support DLNA/uPnP. There is a workaround to fix the latter, but it requires a lot of messing about. All of which is a pity, as the Veolo was capable of dealing with every file format and codec I threw at it via the side-mounted USB port.
And the apps? There's a store (App Center), but you can also go in via Market/Google Play – something that's denied to the other Android player, the Maxell MMB300, in this roundup. Although some media players offer a limited amount of online content (as do Smart TVs) the app approach ensures you have more choice and are always up to date. YouTube (a Google app) worked well after download, and I also spent some downtime enjoying the excellent internet radio app, TuneIn.
A Google Play search didn't find BBC iPlayer, but I was able to go in through the back door via a regular Google search. The app was claimed to be compatible with the Veolo, but failed to install. A.C. Ryan's explanation is that the Veolo doesn't support the required version of Flash. In all, the Veolo is an interesting idea compromised by flawed execution – and a lack of documentation.
---
HCC VERDICT
A.C. Ryan Veolo
Price: £170 Approx
Highs: Excellent file compatibility; good web browser
Lows: User interface needs considerable work; failed to detect our SMB servers; no DLNA/uPnP networking
Performance: 3/5
Design: 2/5
Features: 4/5
Overall: 3/5
---
Specifications
HDD: no (USB external drives supported)
Connections: Gigabit Ethernet; HDMI 1.3 (up to 1080p50/60); 2 x USB; SD card slot; stereo analogue audio; optical digital audio
Video file format support (verified): MOV; MPEG-1; MPEG-2; MKV/x.264; XviD; DivX; WMV; MP4; AVC-HD; TS; M2TS
Audio file format support (verified): M4A; FLAC; MP2; MP3; WAV; AC3; DTS
Dimensions: 150(w) x 36(h) x 114(d)mm
Weight: 0.375kg
Features: Integrated (b/g/n, 2.4GHz) Wi-Fi; Android 2.2 operating system with app (Android PIT) support; web browser; handset with 'touch-and-swipe' and keyboard; subtitle support; NFS and SMB support; server functionality; file/network explorer; slideshow