2 Guns review
Wahlberg and Washington's action-comedy is surprisingly lacking in firepower
With its mismatched lead characters, dashes of violence and quick-fire comic dialogue, 2 Guns is a clear throwback to the likes of Lethal Weapon and 48Hrs. Yet it's not quite as accomplished as either of those two genre powerhouses.
Denzel Washington and Mark Wahlberg are DEA agent Bobby Beans and Naval Intelligence Officer Stig Stigman, forced to work together to recover a stash of mob money that's also being sought by a murderous CIA kingpin (Bill Paxton). The twist is that, in the beginning, both Beans and Stigman thinks the other is a common criminal…
As an action-comedy, 2 Guns suffers from not enough action and not enough laughs. And as a buddy movie, Washington and Wahlberg just don't spend enough time on screen together. When they do and the bullets are flying, 2 Guns is a real treat, but the tricksy plot drags them apart too often. Definitely worth watching, but you might be expecting more.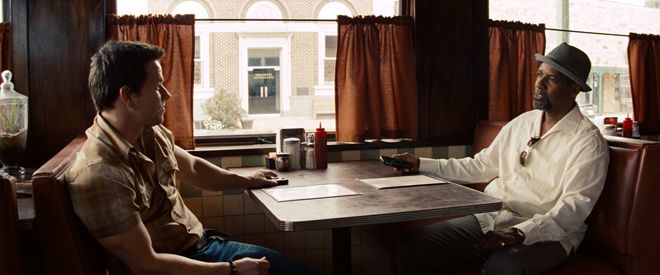 Picture: EntertainmentOne's AVC-encoded 2.40:1 Full HD transfer is not the most natural-looking image – contrast levels are pushed high – but there's plenty of detailing to be found amongst the ink-black shadows and bright sunshine. Colours, including rich reds, seem spot on, and film grain, apart from in a couple of wide shots of the Mexican sky, never becomes a problem. On the other hand, there's no sickening DNR to worry about either.
Picture rating: 4.5/5
Audio: The highlight of 2 Guns' DTS-HD MA 5.1 soundmix is an outrageous action sequence involving a helicopter, explosions, machine-gunfire and a herd of stampeding bulls(!). Here, the sound engineers orchestrate a brilliantly immersive sonic maelstrom, with the chopper roaming around the soundstage and bullets cracking into cars with bass-heavy punch or high-frequency pings as required.
It's a dynamic five-minute set-piece that will get the best from your system – and it's therefore slightly unfortunate that the rest of the soundtrack isn't as adventurous. While dialogue is, for the most part, perfectly legible, and Foley effects ever-so distinct, the score is instantly forgettable and the rear channels occasionally fall completely silent.
Audio rating: 4/5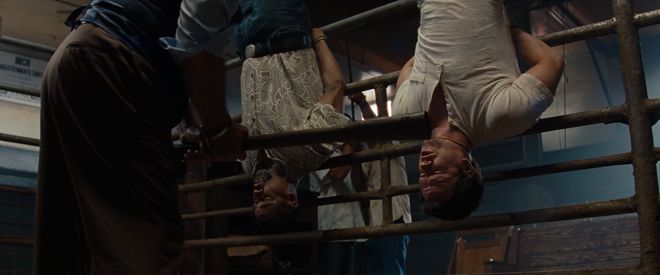 Extras: Fittingly, there are two extras on the 2 Guns BD. Click Click, Bang Bang is a six-minute Making of… feature that offers only a vague insight into the movie's production. You're much better off selecting the two-hander chat track with producer Adam Siegel and director Baltasar Kormákur, which is packed with all sorts of info, from the on-set 'no cowboy hat' rule to the tricks of filming with cattle.
Extras rating: 2.5/5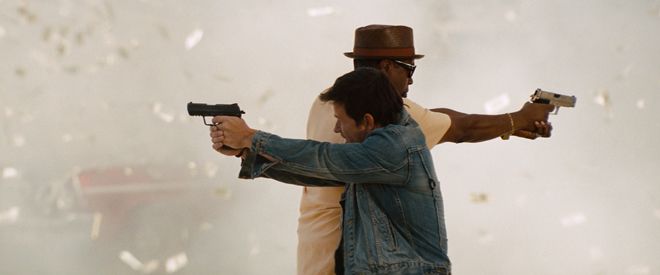 We say: A reasonably entertaining flick on an impressive Blu-ray – but nothing more than that
2 Guns, EntertainmentOne, Region B BD, £25 Approx
HCC VERDICT: 3.5/5